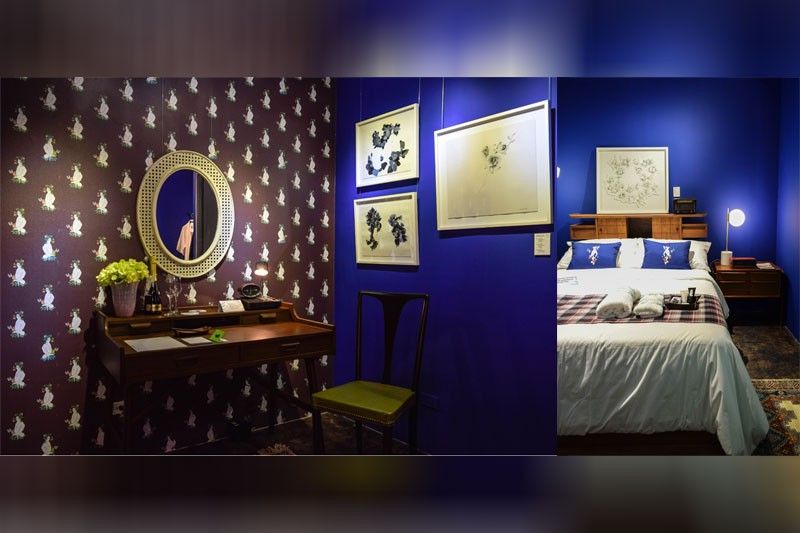 "Wild Orchids" runs until July 26 at the Space Encounters Gallery, Ortigas Center, Pasig. Follow the gallery on Instagram @spaceencountersgallery for information.
Christina Dy's 'Wild Orchids,' in collaboration with Space Encounters, showcases a mid-century modern design that is part eclectic and sensual.
MANILA, Philippines — Those familiar with the aesthetic of furniture design firm Space Encounters must be familiar with the brand's stunning, mid-century modern pieces as displayed in its showroom-slash-gallery along Ortigas. Step into the recently launched Space Encounters Gallery and you will be greeted by bold hues, tufted leather sofas, suede wingback chairs, concrete floors, and exposed ceilings. Altogether, they emanate that fashionable eclectic-industrial vibe. Yet, look a little closer, and you'll see patterns of nude male silhouettes and orchid blooms sprawled on the walls, frames, and pillowcases.
"Wild Orchids," the newest exhibit by Christina Dy, a Cultural Center of the Philippines 13 Artists awardee, marries art and design in an interactive installation: the 124-square meter space is set up to resemble a stylish boutique hotel, replete with accents such as rotary phones, radio clocks, vinyl record players and some eccentric art pieces. The illustrations of male torsos amidst flower blooms serve some character to already vibrant interiors.
Asked on Christina's choice of the male physique as her subject, "Why not? I love hot men!" She replies with a cheeky grin. Christina, who has always drawn the male form, is also well acquainted with the human body and its potential, as co-founder of Polecats Manila. While the naked male torso is pretty straightforward, blink again and they resemble the eponymous wild orchids, as best seen on the wallpaper adorning the room. Drawn primarily using pencil on acrylic, there's a delicate quality to her strokes that blur the sultry and innocent.
Christina's art stands out in that it's intimate yet tasteful, according to Wilmer Lopez, president and creative director of Space Encounters. The "Wild Orchids" concept is a collaborative effort between Christina and Space Encounters' design team, taking note of elements in both artwork and design that complement each other, while still maintaining the nuances of their individual styles.
The Gallery is more of a so-called "creative playground" for the design firm, transforming the space into themed installations as they work alongside a featured artist, and "Wild Orchids" is its latest feat. Although intricate in its execution, the showroom so far is meant to be nothing more than an outlet of creative expression — so we won't be seeing a replica in a hotel anytime soon.
As for Christina, she's thrilled to see the disciplines of art and design come together, making art more accessible to a wider audience. " (This) shows how art can and should be part of our everyday life," she shares.