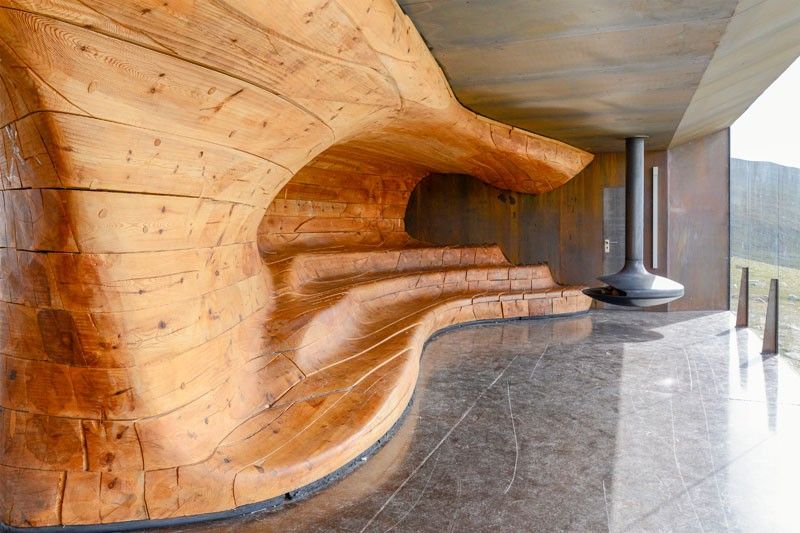 The Wild Reindeer Pavilion in Norway is made of timber and boasts sloping lines that mirror its surrounding terrain. Images courtesy of Artkitektura
(The Philippine Star) - March 10, 2018 - 12:00am
MANILA, Philippines — Gardens by the Bay in Singapore is, no doubt, an impressive man-made ecosystem set upon 101 hectares of reclaimed land. More than a popular tourist attraction, the site acts as a humongous greenhouse that aims to make Singapore a greener city-state, considering its lack in biodiversity (there are probably more malls than endemic species of flora or fauna).
This man-made garden wonder is a prime example of organic architecture — "a synthesis between new building techniques, natural design principles and artistic expression." This approach to architecture takes inspiration from natural surroundings, and is a reaction to a heavily industrialized world. Sculptural, free-flowing forms dominate the works of the pioneers of organic architecture, like Frank Lloyd Wright, Antoni Gaudí and Rudolf Steiner, and their creations have become iconic structures that would make Mother Nature proud.
To further raise awareness on responsible design and its relationship with natural, social and cultural life, Artkitektura Festival of Architecture and the Arts is running an exhibit titled "Living Architecture" at the UP Vargas Museum in Diliman, Quezon City. The exhibit is led by festival director Sarri Tapales, and is curated by lecturer and curator of the International Exhibition on Living Architecture Pieter van der Ree.
"Living Architecture" features images of structures that best exemplify organic architecture, tracing its roots from the latter part of the 19th century up to its revival in the 1950s and '60s, and ultimately, its application in modern times. There's the Whiting Residence in Idaho, USA, an elongated structure designed by Wright that stretches over the landscape. Casa Organica in Mexico, designed by Javier Senosiain Aguilar, boasts soft contours that mimic an embryo. Utmost care for the surrounding trees was given during the construction of this structure. There's also the Green School and Village in Bali, Indonesia, which was conceptualized by John and Cynthia Hardy. This non-profit international school is made of renewable materials like bamboo, grass and adobe, making the entire structure suitable for the area's climate. (The Green School calls to mind works of renowned Filipino architect Francisco "Bobby" Mañosa, also a proponent of sustainable design, as evident in his creations that make use of indigenous materials and are inspired by the elements of the traditional Pinoy house, the bahay kubo.)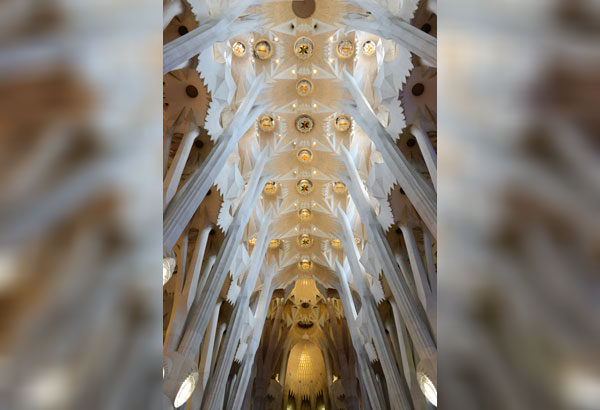 Interiors of the Basílica i Temple Expiatori de la Sagrada Família in Barcelona Spain, designed by Antonio Gaudi, look like a canopy of trees in a forest.
"Living Architecture" kicked off with a series of lectures held at Areté in Ateneo de Manila in Quezon City last Feb. 3 and 4. The exhibit was officially unveiled on Feb. 3 at the UP Vargas Museum, an apt venue considering its accessibility to people in the academe who can be best inspired by the exhibit (hello, future architects and designers!). "Living Architecture" also aims to "support the students in their development… and here, sustainability, art and education are coming together," says Van der Ree.
Vargas Museum's curator, Dr. Patrick Flores, further emphasized the importance of this exhibit by staging two special projects displayed in the museum: Indy Paredes's "Tiyad," which is a makeshift house made of coco lumber and scrap materials attached to one of the museum building's posts; and Junyee's "Bridge," which is a work in progress that will be built on the existing "Bamboo Theater" created by Japanese architect Fuminori Nousaku. "These further stress the Filipino context of making structures… because (what is on display) are largely western samples."
* * *
Catch "Living Architecture" at the UP Vargas Museum until March 31. For more information, log on to www.artkitekturafestival.com.