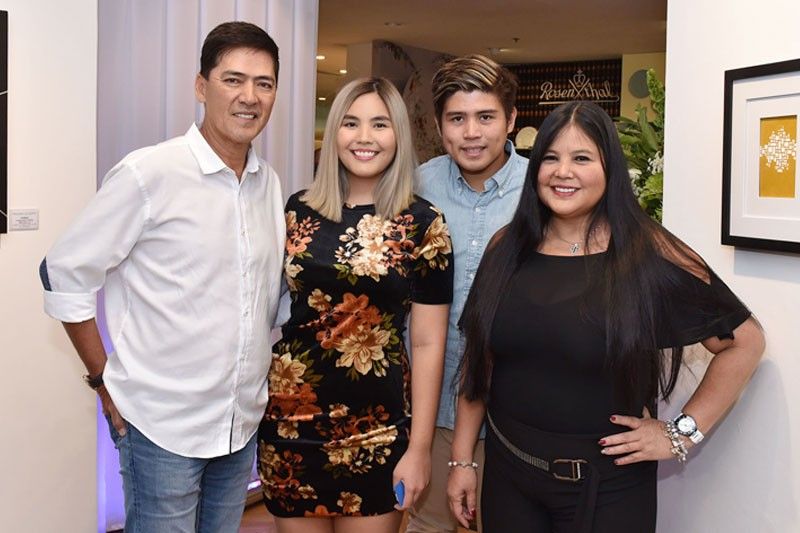 "Siyempre, proud father ako," says Vic Sotto with his daughter Paulina Luna Sotto, her husband Jed Llanes and her mom Angela Luz.
Paulina Luz Sotto: 'I'm doing exactly what my dad suggested — to pursue my lolo's legacy'
While Paulina Luz Sotto moves at her own pace, away from the shadow of her father, showbiz icon Vic Sotto, he is always present in her art shows. They're known to be favorable golfing buddies, and for every art project, Vic was always there to support her. He says, "Siyempre, proud father ako. I see the talent, and she's taking up after her lolo," he says beaming with pride. "I've always believed in her capability to do art. I wasn't surprised at all. Kasi even when she was a little girl, she grew up with her lolo, so at an early age she was already exposed to the arts. Maliit pa lang siya magaling na siya mag drawing," says Sotto, referring to Paulina's relationship with her lolo, National Artist Arturo Luz.
Paulina recalls that when she was just in high school, it was her father Vic who was the one who may have even predicted it all. "It's funny because when I was a teenager, a really long time ago, my dad told me, 'you know what, you should pursue your lolo's legacy because you're the only one who has the right.' It was so weird, because here I am doing exactly what he suggested! What are the chances that this would happen? But he said that, and now I'll never forget that," she says laughing, "So maybe he predicted it."
Paulina says that Vic's house with wife Pauleen Luna has a wall full of artworks by Arturo Luz, and the other rooms are filled her own work. "His dining room, as well as the powder room downstairs, have triptychs of mine," says Paulina. To which Vic responds, he and his wife Pauleen had chosen the pieces themselves.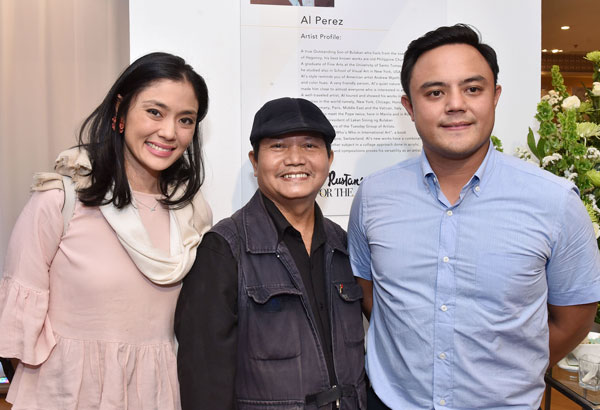 Best known for his depiction of old Philippine churches and the bucolic rural life is Al Perez (center) with Rustan's marketing and communications manager Dina Tantoco, and Rustan's administration manager Paolo Tantoco.
Paulina had her artistic awakening quite late in life, when she was just experimenting with the canvas as a hobby, and posting her work on Instagram. Her fascination with the line and the plane — a rigid one-dimensional figure, so simple yet so difficult to control, sparked her fascination for the abstract arts. She had no idea that it would set the tone for her new direction in her life.
In fact, her first few pieces she did were done in collaboration with her lolo, who was confined at the hospital at that time. "It started when he was still in the hospital and he wasn't really doing any work. So we thought, why not put him back to work? He loves making collages, so I cut up some shapes for him in different colors, because he always talks about how he loves the shapes I make, and left them with him at the hospital. Then he would compose collages out of my shapes and I translated those collages into paintings," says Paulina.
Although they didn't physically work together, the chemistry of the two on the canvas is very evident. "We're both true artists in the sense that we like working alone. Our ideas easily get along because of how similar our styles are," she says.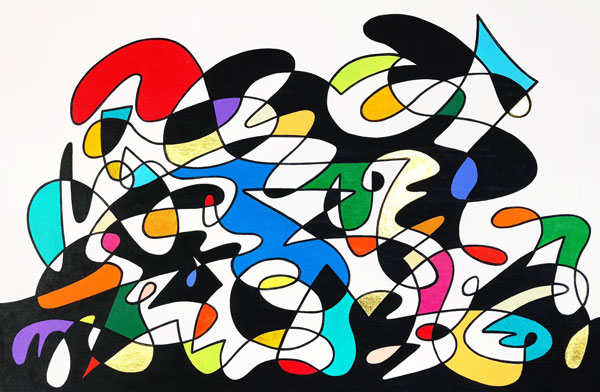 Paulina adds more color to her abstract work, as seen in this piece entitled "Havoc."
Today, she is happy to report that Arturo Luz is out of the hospital, and recuperating peacefully at home. "Although he doesn't leave the house, he is doing well…no illnesses or anything. We are able to collaborate still, but I'm not sure when the next one will be. Hopefully soon," she says.
In terms of advice that the National Artist Arturo Luz has imparted to her: "He always says that less is more. For him, the simpler something is, the better. So I try to apply that to my paintings. I have a great relationship with my lolo, so I feel very honored to be continuing his legacy. It deserves to be continued."
In her new work, she experiments with color, adding splashes of pink, aqua and green, and even tinkering with gold leaf. It is a work that is more courageous and more playful. Perhaps it is telling that the artist is in the process of discovering her intrinsic style.
Traditional Ties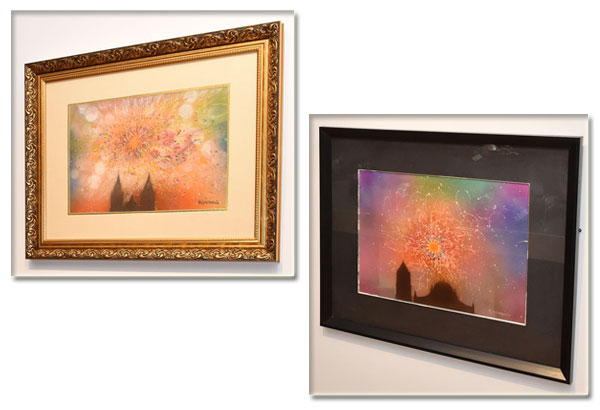 Al Perez brings to life the colorful scenes and rituals in the Philippines.
On the opposite end of Paulina's clean, minimalist work, Al Perez, an artist who hails from the town of Hagonoy, is best known for his depiction of old Philippine churches. His body of work brings to life the colorful bucolic scenes and rituals in the Philippines. His work has toured many key cities in the world, including New York, Chicago, Honolulu, Tokyo, Seoul, and Paris, to name a few. He was the former president of Lakan Sining ng Bulakan, is founder of the Tuesday Group of Artists, and is even listed in the Who's Who in International Art book published in Switzerland.
Purveyor of The Arts
Both the works of Paulina and Al are on display at Rustan's, as they launched their "Rustan's for the Arts" campaign. A staunch supporter of Philippine arts and culture, Rustan's cultivates a renewed passion and appreciation for Filipino arts by spotlighting some of the best names in in the industry. In their latest exhibit, which can be seen at the 4th floor of Rustan's Makati, they fuse the traditional work of Al Perez, with Paulina's modern and minimalist abstract work, converging two styles, to generations, and two ways of seeing. The exhibit takes you on a pseudo journey through our own history of art across time, featuring talents that are both old and new. Pieces on display will be for sale to the public.
* * *
For more information, visit Rustans.com.ph