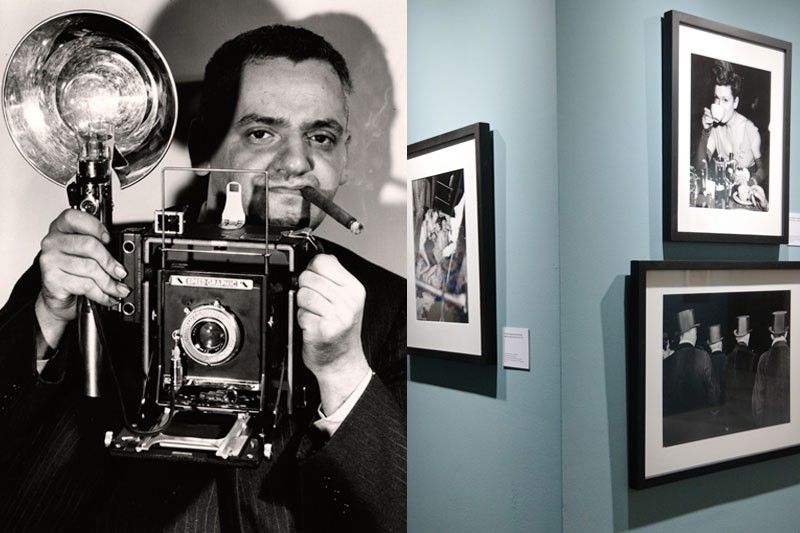 (Left) Weegee, born Usher Fellig, got his phonetic nickname for his uncanny ability to show up at police crime scenes first, armed with a camera. (Right) The Weegee exhibit at Art Fair features 28 original, iconic prints. Photos By Walter Bollozos
The Wide-Eyed World of Weegee
There's a photo by Weegee shown at the Art Fair Philippines exhibit that ties into the Philippines' own recent history so effectively, it might have been staged by Weegee himself. The iconic photographer, who tirelessly prowled New York City with a camera in the '30s through the '60s, captured a bunch of sleeping bodies curled up on an outdoor tenement balcony below his own — cramped, but trying to catch some relief from the summer heat. It brings to mind an AFP shot widely circulated last year of prisoners in an overcrowded jail in the wake of President Duterte's "drug war": a mound of inmates, hundreds of bodies trying to sleep in a facility that looks like something from Dante's "Inferno."
Photojournalism didn't begin with Weegee (born Usher Fellig in Poland before migrating to the US), but his example lives on wherever photographers take to the night beat — and, oh, the places they go.
James Kopp, collections manager at New York's International Center of Photography (ICP), and his wife Carina Evangelista, editor at Artifex Press, were at Raffles Writer's Bar in Makati just before the opening of Art Fair Philippines, which hosts an exhibit of 28 iconic Weegee prints. Also being shown are works by Philippine photojournalists Ezra Acayan and Raffy Lerma, who covered Manila's drug war at night for Reuters and PDI, respectively, and are now freelancers. Kopp will give a talk on Weegee and his influence this Sunday, March 4, at Art Fair.
SUPREME: How did you end up bringing Weegee here for the first ICP exhibit in Manila?
JAMES KOPP: Carina (Evangelista) has contacts with Art Fair organizers, and they approached her to develop some programming.
CARINA EVANGELISTA: We thought about Weegee because he's iconic, he set the standard for this type of gritty photography.
JAMES: And Carina had introduced these crime scene photographers from the Philippines (Ezra Acayan and Raffy Lerma) to ICP people.
CARINA: I seized the opportunity. These guys are really the ones on the ground, covering the night beat every day. We're working with them now on other projects.
Photojournalism wasn't brand new in the '30s and '40s, but Weegee kind of turned it into a job: he was out there every night, covering accidents and crime scenes and selling photos to the police. How did that affect his work?
JAMES: In New York, he said, "There's eight million people living together but, in total, loneliness." His photography portrays that, it's trying to touch the humanity of existence in an urban setting — a gritty, difficult environment.
How important was his instinct? What did he look for first on a crime scene or on the street?
JAMES: I think he worked instinctively, very fast, using infrared film and a fast camera. A lot of his photos were developed in the back of his car, he had a typewriter there. It's funny how he set up his photographs sometimes — there are these juxtapositions of signs in the background of murder scenes, accidents, fires. Because he had such a quick reflex, he probably did compose his pictures with that in mind: "Oh, this is a kind of ironic stance."
Some say he staged some of those classic shots. Like, moving a hat next to a dead body for a better composition. Does that cross the line to—?
CARINA: Theater?
JAMES: Well, as soon as you take a picture, you're making aesthetic decisions, so the debate is: does taking a photo alter reality, or is it recording reality? There's a fine line between fiction, nonfiction. Weegee said photographing dead people was the best because they were just there; they weren't going to be temperamental.
What can young photographers learn from him?
JAMES: He had a very deep feeling for humanity, sympathy for the people he was photographing in New York. So I would look for this kind of depth of feeling.
CARINA: Nowadays, anyone can snap photos. He had a ravenous eye — he could scan prodigiously, he was relentless, he was always in the right place at the right time. I think with the ease that we can just whip out our phone camera, a lot of us just see the surface.
JAMES: He did experience that loneliness of being an immigrant in New York, and I think photography was a way for him to communicate and tell the world how he felt. Agatha Christie said something like, "You can't set a detective story in New York, because New York is a detective story."
CARINA: And Weegee was like, "I'm gonna illustrate this fact."
How did you curate the photos? The ICP has some 16,000 Weegee photos. Here, you're whittled down to 28.
JAMES: We developed a checklist together. It's a broad spectrum, not just murder and accident scenes but people kissing in movie theaters, the juxtaposition of high life and lower society. It really does show the human part of Weegee.
Weegee shot a lot of murder scenes. Today, we're buried in dark, violent visual matter from all sides, including online. Do we risk becoming desensitized to raw imagery? Does it prevent us from caring or connecting?
JAMES: When we look at Weegee's photos in hindsight, you can really sense the humanity there. I don't think you become desensitized.
Yes, he seems to treat each body with a certain character or even dignity; it never really feels exploitative.
CARINA: Hanging out with the young photographers here, they say they really do feel that conflict — whether to help, or take the picture — but they understand that their job is to be there to document. ?
How did Raffy and Ezra start covering the drug war at night?
CARINA: Originally, they were invited along on the nightly police drive. At first, the police really wanted them there because they wanted coverage of the war on drugs — what progress are we making, how are we handling this very difficult issue. But as the tide turned to international attention on this issue, they stopped inviting. But Raffy and Ezra didn't stop. They're now practically doing this on their own dime; they're doing things freelance. But they feel compelled because it's like they're bearing witness, and they're really wringing their hands about this. Because these are people, these are individuals.
* * *
The Weegee exhibit is at Art Fair Philippines until Sunday, March 4.