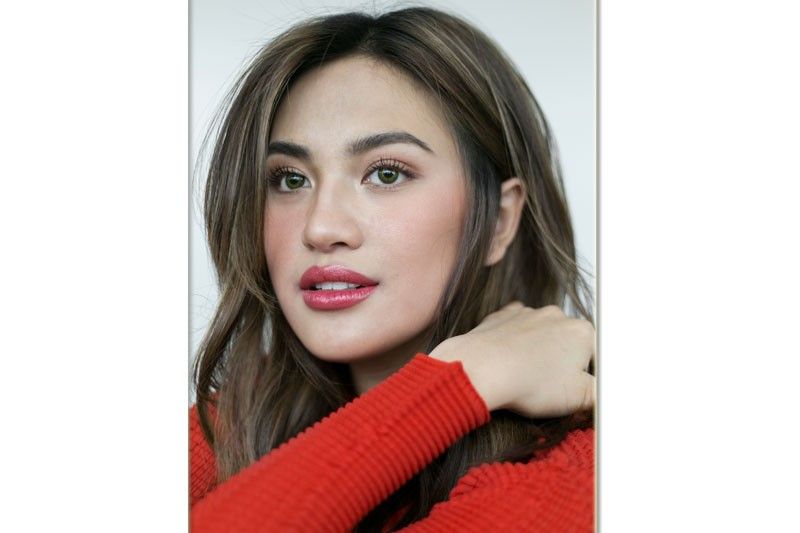 Julie Anne's new single Nothing Left is available for streaming on Spotify and Apple Music.
Julie Anne is our Homegirl
MANILA, Philippines — Stardom is a strange, capricious thing, especially in our neck of the woods where non-singers sell out arenas, non-writers become bestselling authors, mediocre films become box-office hits, and love teams rule the game. In the Philippines, meritocracy is the exception rather than the rule, and talent is not always what dictates the rise of an artist. Too often, the elusive and inexplicable "X factor" trumps skill (that and/or lucking out with a partner who can help you elicit rabid devotion from an audience with an insatiable need for vicarious kilig).
And living proof of that bleak fact is sitting right across us this somber Sunday afternoon, looking like a '90s pop star. Julie Anne San Jose is giving off early Britney Spears vibes with her baby blue lettuce hem top, flared jeans, and parted-down-the-middle tresses. This 24-year-old singer/songwriter/actress is talented AF — a fact that even her haters admit — yet she remains criminally underrated in these parts.
In 2015, it seemed like Julie Anne's unnoticed days were coming to an end. She finally had the game-changing break her fans were waiting for. Or so it seemed. American producer Sydney Brown, aka Ømen, who worked with Beyoncé, Drake, Usher and Ludacris, saw her videos, listened to her songs, and found the doe-eyed Pinay dope — dope enough for him to take a gamble on her and produce a three-track EP and just-as-swaggy music videos. The new R&B sound was a 180 from her ballad beginnings. "She took inspiration from the gutsy urban sass of Beyoncé and Tinashe," Supreme's resident music guy Ian Urrutia wrote in his piece "The State of Pinoy Pop: 2016," and boldly declared, "Julie Anne San Jose reinvented the local pop wheel with the release of her 'Forever' EP." Even the cool kids took notice. Preview, the country's leading fashion magazine, not only put her on their August 2015 cover; marking a first in the title's history, the team produced a fashion-editorial music video for Julie's song Tidal Wave, which they launched in style at Michael Ault's Chaos.
Slick new sound, slick new look, and good buzz emanating from Manila's fashion set: all signs pointed to Julie making tidal waves here and beyond.
So what happened?
The Graduate
Julie, like any artist worth her salt, was willing to "think out of the box" and "explore new things"; and grabbing the chance to work on her "Forever" EP was a way of getting unstuck and unlearning. "Hindi ka naman mag gu-grow di ba if you won't venture out and explore and innovate yourself din," she says, the 4 p.m. sun bouncing off the highlighter on her face. "So I think it's also good na gumawa ka ng bago." But in the midst of all the glittering possibilities, a realization crystallized within: she wasn't feeling the American Dream.
"Half-hearted ako to do it (go international)," she explains, contemplating why that chapter of her career went down the way it went down. Julie knew the value of such an opportunity and how rarely it comes along, but she valued other sure things more: family, school, and the not-exactly-household-but-reliable name she's built for herself here on our shores. Julie couldn't stand the idea of being away from her mom Marivic, her dad Jonathan, and her sisters. Julie also took a gamble on Ømen. "It was a risk din for me… sabihin na natin maganda 'yung opportunity. What if hindi siya mag-push through? What if hindi siya mag-work out, di ba? So what will happen? Mawawala ako dito," she expounds, hyper-aware of the industry's out-of-sight, out-of-mind nature.
At that point, even as the idea of making it big on the international scene was starting to feel intoxicating, Julie never lost sight of her heart's true desire. What she wanted was not something as surreal as a spot on the world stage, but something more down-home: a diploma in her hand. She was a graduating Communication Arts student at Angelicum College, and was too damn close to the finish line to trash four years of determination and sacrifice. "I was doing well in school. I didn't want to take it for granted kasi pinaghirapan ko rin yun. Regular akong pumapasok. Hindi ako natutulog (kasi) I was doing a soap at that time," she says. And again displaying how cognizant she is of fame's fickleness, she adds, "Mas importante kasi sa akin na may fall back ka rin."
On May 31, 2016, what she sought became hers: a gilded off-white diploma that's now safely tucked inside a cabinet somewhere in the San Jose home; a key to more possibilities should Julie decide to open other doors.
The Girlfriend
In this landscape, it's refreshing to see a young star stand on her own two feet, without a pretty boy by her side, their careers inextricable, and their relationship — real or imagined — the crux of their relevance. Julie's had a taste of this heady love team reality in the past, but things worked out differently for her, and she's been happily riding solo since 2013. "Julie" is not attached to any name on a professional sense, but there is the curious case of #BenLie.
The "Ben" in this portmanteau is actor Benjamin Alves. We spotted him recently on the evening of the singer's sold-out intimate concert #JULIE, held at the Music Museum. (It was Julie's way of marking a new era in her discography, but we'll talk about that later.) Ben, who is best recognized for his roles in the Jerrold Tarog gems Sana Dati and Heneral Luna, arrived a few minutes before the show began and sat inconspicuously at the back row.
For two hours and 25 minutes, Julie sang songs in a sequence that conveyed the cyclical nature of love. There were no special effects or elaborate costumes; just one talented performer with a voice that never shortchanges her audience.
As she took a bow with her band and backup dancers, we expected Ben to go up onstage and hand her a bouquet of fat, red roses — a sure way to thrill the audience — but he didn't. He left as quietly as he'd arrived and Julie exited the stage with people clapping for the great show she gave them, not for kilig over her and Ben. (In comments sections of gossip sites, skeptics raise their eyebrows and claim that these two are using each other for publicity. If that's true, dare we say they're not very good at doing "promo." Ben handing her flowers onstage? The headline would have written itself.)
They have been together for nearly two years now, and theirs is a love story that began with simple hi's and hello's and small talk whenever they'd sporadically bump into each other in the hallways of their mother station. "As in after every three months lang kami nag uusap, literal. Nagkakataon siguro," she recalls. Unbeknownst to Julie, he paid attention to the little things they talked about in those pockets of conversation, such as her love for Japanese food. He surprised her one day with a tray of delicious sushi delivered to her dressing room by way of her PA. She found it sweet, but her view of Ben remained the same: a colleague and nothing more.
And then, like a modern-day prince charming, he slid into her DMs.
Through their easy conversations on different social media platforms —Instagram, Snapchat, #BenLie fans would like to say thank you — Julie found a kindred spirit in Ben. "We both like school," she says with a laugh, explaining she's the physics and math nerd and he's the English literature geek. Their interests — books, songs and writing poetry, among other things — are the same, and Ben slowly won her over with his wit, his deadpan humor, and his thoughtfulness. (Knowing how much she loves the written word, Ben surprised her with a customized orange typewriter for no reason.)
If you see them posting lovey-dovey pictures online or leaving cheeky comments on each other's #ThirstTrap pictures, they aren't, in the eloquent language of the streets, being pampam to pique public interest. It's simply two people in love who sometimes feel the need to tell the world about their beloved.
Had her international career taken off, there's no telling if she and Ben (surely one of the reasons why she's blooming these days) would be together now. Maybe she wasn't seeking love, but love, like it always does, sought her when she wasn't looking for it.
The Singer
The conversation is politely interrupted by Lendl Fabella, GMA 7's tirelessly chipper PR girl. Julie is needed back at the studio, where they're taping an episode of Sunday PinaSaya, Channel 7's weekly variety show, in advance. Looking at her now, confident, professional as ever, and armed with an impressive skill set, you can't help but wonder, "What if?" What if she had persevered in her American Dream? Would she be our source of Pinoy Pride in these volatile times? Would she be going toe to toe with the best of them in La La Land? Was trading the possibility of making it in the States and elsewhere worth giving up for her spot in Sunday PinaSaya?
The only answer to those questions that matters is hers, and for Julie, she has zero regrets over her decision to stay. "I felt a deeper connection to my home country and I feel that this is where my music and artistry can make a difference," she says. Homegirl chose home despite it being the land of that random hater who pulled her hair during a mall show, that sick person who vandalized her car over an imagined slight to his/her idol, and those haters who gleefully declare she will never happen (under anonymous profiles and fake names, of course. Typical.) She's developed thick skin and has smartly hired a team to deal with the internet vermin who swarm the comments section. Pest control, if you will.
Julie is that rare artist who can humbly acknowledge that 13 years into the business, owing to factors she can't control, she has yet to reach household name status. "This is a complex and competitive industry, it sometimes takes time and the right opportunity to find your niche," she says. But being a super, super, superstar was never the end game anyway. "The reason why I choose to stay and why I'll always choose to stay is because my purpose is to create music, and not to please people."
Late last year, in another case of what she was seeking finding her, Julie inked a recording deal with Universal Records Philippines and recently released her first single Nothing Left. It's a smooth, mid-tempo R&B jam just waiting to be filed under many a breakup playlist. "Ito yung sound ko na matagal ko nang hinahanap din sa sarili ko," she says. "I'm not really a biritera. I like listening to R&B. Ever since, R&B talaga yung gusto ko." She's still in the process of figuring out the sonic and visual direction of her album and she's taking her sweet time, allowing herself to be surprised by unexpected Eureka moments. Julie tells us the last time this happened was when she was in the thick of creating her next single, a Tagalog love song.
In 2015, homegirl decided to walk away from the American Dream. Julie looks back at that experience with clear eyes and declares with finality, "Siguro blessing in disguise na din na hindi siya natuloy." And looking at her now, with her family and love life steady, standing at the edge of an exciting new music era, who are we to argue?