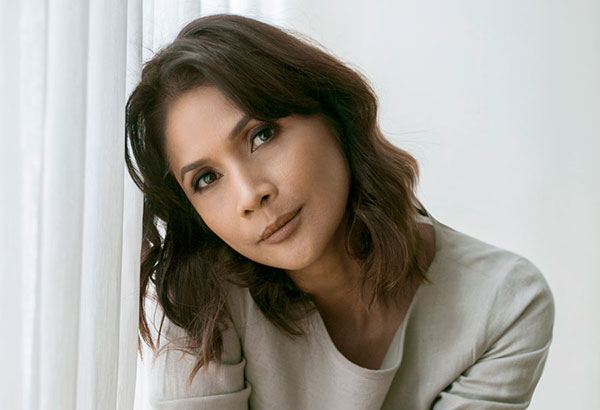 In the Cinema One Original film Changing Partners, Agot Isidro plays Alex — a fearless 45-year-old woman in love with a younger woman… or man. The film will be screened in cinemas nationwide on November 14-28.
Agot Isidro's new love affair
(The Philippine Star) - November 10, 2017 - 4:00pm
MANILA, Philippines — It isn't Valentine's Day yet. But who says we can't talk about love in November?
"From me talaga?" she laughs. "I'm the least person you should be asking that question." She continues to laugh harder after I ask about the best love advice she could give to all single men and women.
She is known for not mincing words, speaking her mind on social media, and showing up at rallies fighting for justice. You may also know her from watching the seven-year-running comedy sitcom Oki Doki Doc back in the '90s. Or from her many love songs and albums over the years. This award-winning actress and singer is still at her prime, showcasing her many talents with continuous TV and film projects, and even theater work under her belt.
This month, Agot Isidro stars in a Cinema One Original musical entitled Changing Partners, playing Alex, a fearless 45-year-old woman in love with a younger woman — or man.
Originally written for CCP's Virgin Labfest, then produced for a full theater performance and now a feature film, Changing Partners is a love story like every other. "It is very real. And for some, it may hit too close to home," says Isidro. "This is for everyone who fell in love hard, fought for the relationship, and made it work," she adds.
But this is no simple romantic narrative. When Isidro first read the script written by Palanca awardee Vince de Jesus for the theater production last year, she felt nothing but utter confusion. This is one love story told from different perspectives, personalities, and gender roles, transcending stereotypes and notions of what love is. "But when you read the script without the character labels, it's really only one love story," explains Isidro.
"Medyo nakarelate ako," Isidro admits as she reveals the similarities between her and the two characters she plays in the film. "Girl Alex is very alpha. She has a very strong personality, sometimes bordering on mean, which is not like me. Lesbian Alex is very different. She is more hurt than angry, which I can relate to sometimes."
Although busy with tapings last year from Ang Probinsyano, Isidro made time to rehearse and performed the show for three runs. It was shown in a makeshift theater, above PETA's main theater. Performing for at most 115 viewers at a time, Isidro explains that the story is truly meant for an intimate venue.
Theater is one accidental love affair for Isidro. As she was taking a break from all the craziness and hectic schedules of showbiz, Isidro wanted to explore the world of theater. Honk! was her first full immersion in this medium. "I liked the process. It was very different from acting on TV and film. So I told myself I'd do theater at least once a year, also to challenge myself," says Isidro.
However, from all the characters she has portrayed over her almost three-decade career in the industry, Isidro shares playing Alex was one of the most challenging roles she had to do. "It's like putting my heart out there and seeing it chopped into little pieces." To put it simply, "Medyo masakit," she says emphatically.
The whole experience was a whirlwind of emotions, from rehearsing it for the play, learning the songs, to performing it onstage and even shooting it for film. Isidro shares that it never gets easier. "The lines hurt because it's something that you've felt before. It opens up old wounds every time."
It is no secret that Isidro is still in pursuit of her one true love. When asked the very slumbook question, "What is love?" she answered, "As Agot, love is a journey with no destination in sight. But in the movie, love is sacrifice."
Isidro reveals that she doesn't have a type, but being outspoken weeds out the undesirables. "I mean, if you're not strong enough to come up to me, then I'm not interested in you, you're not worth my time," she says bluntly. "Now that I'm older, I think I just need someone who I can talk to for hours and hours and hours. And of course, someone I can share my love for food and travel with."
All the emotions are real and the theater audience can feel it. Many have watched the play twice because there are some things you'd certainly miss because of the character switches. "'Di pa sila nakuntento masaktan once," Isidro laughs. "That's why we also have a bar ready after the show. Kailangan ng debriefing afterwards for both the actors and the audience."
"We didn't play it up. The hurt is very real," Isidro warns. The play is short, running for only 75 minutes. But the rollercoaster narrative — just like the journey of any relationship — is an adventure in itself for viewers.
So, to answer the very first question, her best love advice is: "Let it come. You'll know if it's the right person. You don't have to find or look for it."
Photo by Regine David
Makeup by Myrene Santos
Hair by Ogie Rayel