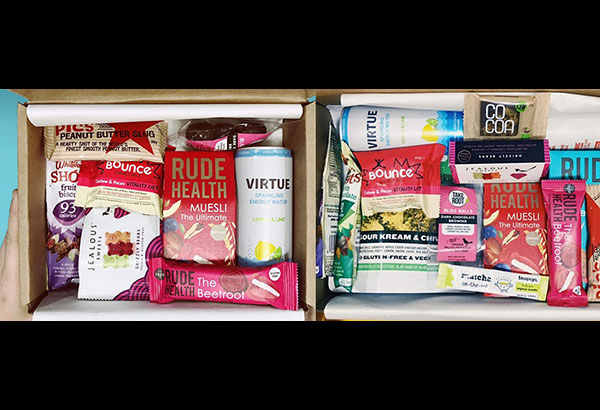 Each Raw Bites Box comes with eight, 10 or 15 new healthy snacks
POST-SCRIPT: Join the rawvolution
So you've done your calorie-counted meal prep for the week or you're subscribed to a meal delivery service designed to suit whatever body goals you may have. Even with the occasional fruit platter thrown in, to be consumed come merienda, admit it: you miss the crunch of potato chips, the gooey chocolatiness of a candy bar. Even cold water doesn't compare to the bubbly fizz of soda on your throat on hot days like today. Well, guess what? There's a healthy version of all that.
Using the subscription box model, Raw Bites Box curates healthy snacks available in the market and allows its subscribers to discover new brands and products by delivering these picks straight to their doorstep. The first of its kind in the country, it is a veritable alternative to your convenience store strolls.
Launched on Feb. 15, they shipped out their first box in April to over a hundred social media-savvy subscribers based around Luzon, Visayas, and all the way to Cotabato in Mindanao. Starting at P945 for a box containing eight items, it's a practical choice. (Have you seen the prices at those imported health food stores?) Each box comes with one or two beverages. The snacks are segmented into categories like candies, bars, blends, spreads, chocolates, vegetable chips and dried fruits.
It's the brainchild of two girls with the same goals to eat better like we all do who created something that they wish existed in Manila to make it easier. On the sales and marketing end is Nathania Gail Go who has eight years of marketing experience in consumer-packed goods and worked for advertising and retail in the F&B market in the UK. She runs, does Bikram yoga, and arm and core workouts. On the back end handling the website, logistics and operations is Jane Heather Dee who, after running international start-ups, thought she'd start her own. She admits she gets the most activity from playing with her dog. Both believe that a healthy body is 80 percent made in the kitchen; it's about what you eat. Supreme caught up with the founders to know more about what's poised to fuel our next snacking addiction.
SUPREME: How did the idea for a healthy snacks subscription box come about?
NATHANIA GAIL GO: I left Manila for London seven years ago and at that time, being healthy was not even a thing. When I came back, everyone's promoting healthy eating as part of a holistic lifestyle. We're just one member in the community encouraging everybody to eat healthy.
JANE HEATHER DEE: We thought, if we can offer healthy organic products, if the price is right, why not? Healthy snacks, too, have become mass produced. They're not hard to come by anymore and the price we offer them is acceptable. We are just making them more accessible in the Philippines
You work with a lot of independent food companies. Is it a conscious decision?
NATHANIA: We want to support small businesses. We are all attuned to a global movement of shifting to a healthier lifestyle which includes the way we shop. For example, this brand of kale chips and superfoods Inspiral from London, the packaging is biodegradable. They've gone far to make it environment-friendly.
You're bringing in a lot of brands from the UK, France, and Australia. Will you also be supporting local brands?
NATHANIA: We put in one local product every month like Natural Health, Summer Farms, The Archipelago, and Take Root. We want to make sure that until the end of the year we have a local partner so we don't put them all in one box. Unfortunately, there are not a lot of local products in the market now that meet our requirements which are the same requirements we ask for from our suppliers abroad. For example, if a local brand says we use corn syrup in our product, we ask them to change it for us.
JANE: All our snacks must meet at least two #Rawvolution rules. They must be organic, gluten-free, or vegan, and have no preservatives and no refined sugar.
What kind of brands will we be seeing in a Raw Bites Box?
NATHANIA: First impression would be nice packaging. We believe that investing in your branding and marketing helps us grow your brand in the Philippines too. We deal with modern men and women who are visually enticed with nice packaging.
As the suppliers of these brands in Manila, after we discover them through the box and we want more, where else can we find them?
JANE: We're going to partner with selected fitness centers to introduce them. In the next year, we want to be available in the supermarkets and mass-retailing. Our goal is to make healthy snacking accessible for everybody.
What are your favorite snacks?
NATHANIA: I liked Rude Health since I was in the UK. They started small with their daily oats porridge. I like Take Root's kale chips. But I'm such a snacker, each time I try something good, it'll be my favorite!
***
Subscribe to the June Raw Bites Box at www.rawbites.com.ph. Follow them on Instagram @rawbitesbox or Facebook rawbitesbox. Each box is shipped out every first week of the month.