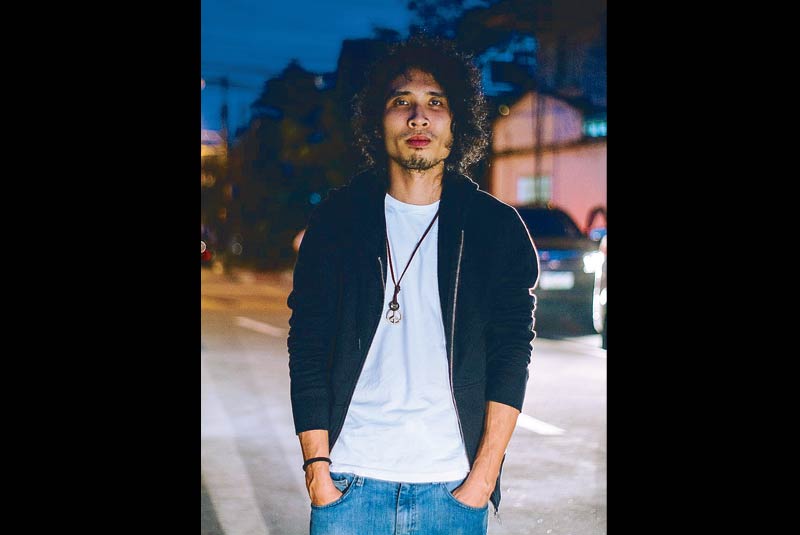 You may remember Pepe Herrera as Ang Probinsyano's Benny, whose demise on the teleserye you possibly lamented a few weeks ago. He's now set to leap onto the big screen once again as Paul in Ice Idanan's Sakaling Hindi Makarating. Photo by Mariel Frances Urbiztondo
FEATURE: His name is Pepe
MANILA, Philippines - You may remember him as Ang Probinsyano's Benny, whose demise on the teleserye you possibly lamented online a few weeks ago. Fans of LizQuen probably still remember him as Cesar of Forevermore. I, strangely enough, know him as the awkward and lanky guy who passed out at our apartment during my 21st birthday party back in 2011.
Upon meeting Pepe Herrera for the first time almost six years ago, I could never have predicted he'd reach the camera-friendly greener pasture he's in today. He didn't even have as much bush on his face at that time. Several stepping stones later, he'd portray a comic relief character on TV, right in front of our couch — the same one he once blacked out on.
Sometimes it feels great to be proven wrong. And now, Pepe is set to leap onto the big screen once again as Paul in Ice Idanan's Sakaling Hindi Makarating.
Fight and flight
Pepe describes acting as "the cousin of singing." Being an alumnus of the prestigious UST Conservatory of Music, he has honed his craft as a thespian and vocalist in several operas, operettas, and musicals. Theater aficionados even had the privilege of watching him belt out classic videoke torch songs as Tolits in PETA's Rak of Aegis. "Nakalakhan ko ang Aegis," says Pepe, knocking back his Cerveza Negra. "For me, it was something new and groundbreaking. I mean, it was jukebox musical featuring an iconic Filipino band! Nag-perform pa sila with us kapag opening atsaka special nights." Little did he know that his stage presence in Rak would swing open gates right before his downturned eyes.
Nonetheless, his journey was nothing short of arduous. To map his success is to chart a personal territory that was fraught with numerous obstacles. Aside from not having been classically trained in acting (until a few years ago when he took up Stella Adler and Ivana Chubbuck acting workshops) and having boarded a ship to nowhere during his drunken and wayward youth, he has also struggled against time. "Working schedule talaga. Growing up, sanay ako na hindi mabilisan ang mga bagay. Mas gusto kong ninanamnam ang process kaya nanibago ako roon."
"I also have different conditions from head to toe," explains Pepe about his departure from Ang Probinsyano. "Accumulated siya through the years due to unhealthy lifestyle. Thankfully, lahat ng conditions ko are not contagious and are treatable. I have acid reflux and a lung condition na I need to go to a pulmonologist pa. It's not bronchitis, though. Right now, the chest feels heavy, pero hindi naman sobrang bothersome because I can still sing."
Audience impact
He remains grateful for the audience feedback despite these unavoidable circumstances. "Sa Facebook lang at sa Instagram, napaka-overwhelming na. It's all very heartwarming, and I even posted something on Instagram about it. I was surprised kasi a lot of kids when they see me in public, they approach me. I think yun nga yung biggest surprise for me, yung epekto ni Benny sa mga bata. It feels good kasi mga bata yun at feeling ko naman lahat tayo ay may soft spot para sa mga bata."
All things considered, is Pepe Herrera fazed by all the hardships he's confronted? He sure as hell isn't. If anything, all of his struggles have turned out to be valuable fuel for him to move further. Karga or hugot, after all, has always been a significant part of the Filipino artist's consciousness.
Pepe behind the wheel
"There were no small or big roles for him," affirms ABS-CBN digital media coordinator and writer France Sajorda. "What we gave him sa Forevermore was small, given his stature in theater, but he didn't mind. He got along so well with his fellow actors and staff. Naging pamilya kami sa Benguet kasi weekends lang kami nakakababa ng Manila. Minsan hindi pa. He would take instructions from directors, producers and writers. But you know, he's a thinking actor kasi he would ask where the story and his characters would go."
Perhaps Pepe's admirable work ethic has played a huge part in landing these roles. At the end of the day, humility and intelligence do go hand in hand with talent. Right now, he is busy helping promote Sakaling Hindi Makarating.
He brings to life the classic textbook case of the abanger. "One of the producers of the film, who's also a visual artist, told me na mukhang swak daw ako sa role," explains Pepe, while gorging on Tomato Kick's nachos. "Hopeless romantic si Paul, eh. It's very relatable. It's because of the way Paul tries to say what he wants without being forceful, kasi tayong mga Pinoy ay kilala naman na hindi confrontational. Gusto niyang sabihin na 'I like you' and 'be with me' pero siyempre hindi niya gagawin."
Hopefully, this character will help break the acting mold he's been forced into, which he doesn't seem to mind anyway. "Hindi naman ako natatakot na ma-typecast. I love the box!"
It's his unwavering drive that keeps his eyes on the road. And when in doubt, he thanks God for Spotify. "I have Fire it Up by Joe Cocker; Fix You by Coldplay; You've Got a Friend by Carole King; You Make Me Feel Like a Natural Woman also by Carole King; some songs by Foo Fighters; and Catch and Release by Matt Simons, which I got from Yassi (Pressman)."
What can be taken away from my less than 45 minutes spent with Pepe Herrera (Maginhawa traffic excluded) is that as long as one doesn't step on another's toes, each person's path is just as valid as anyone else's. Pepe's destination is just as grand as the voyage he's been through, and now he has landed.
* * *
This is a rare Pepe. Share this story to at least five of your friends for good luck.
Sakaling Hindi Makarating is now playing in selected theaters.
Tweet the author @Watdahel_Marcel.