David Milan
(The Philippine Star) - August 20, 2016 - 12:00am
MANILA, Philippines - By now, I'm pretty sure local TV viewers have seen the latest commercial of Century Tuna, which has been airing these past few days featuring James Reid, a Supreme favorite and, without a doubt, the most in-demand actor of his generation. In case you didn't notice, the TV spot relates to transformation, which is quite apropos as James himself has undergone an evolution in his life and career.
It doesn't come as a surprise that he was handpicked to endorse the country's no. 1 tuna, as it can't be denied that James is a perfect match for Century Tuna. With the kid's talent, good looks and a fit body to match — 6-pack abs and a whole lot more—the young actor surely fits the bill. And in such a short period of time, he has achieved what others dream of while keeping his feet on the ground.
It was six years ago in local reality show Pinoy Big Brother when a lanky, admittedly shy, 17-year-old Filipino-Australian teenager, first rose to fame. One of the so-called "halfies" in the show, he was proclaimed the Big Winner among the show's 16 hopefuls. At that time, James, whose father is Australian and whose mother is from Cavite, had already been living in the Philippines for a year. He moved to the country with his father after financial difficulties forced them to relocate back here and start things again.
James, born and raised in Sydney, Austrialia, has come a long way since then. In between the release of a digital dance album and early television appearances, he is now an undisputed household name together with on-screen partner and real-life girlfriend, Nadine Lustre. Together, they form Jadine, one of the most celebrated love teams today.
Through it all, James has strived extra hard to prove and improve himself and his craft as a singer, dancer and actor. "I'm undergoing workshops and learning Tagalog", he shares. He also looks forward to doing an album of his original compositions. James also wants to keep fit and healthy, and has gone through his own transformation as a result of diet, exercise and a fitness regimen. His evolution has caught the attention of many, which led James to being introduced along with Jessy Mendiola, Paulo Avelino and Elmo Magalona, as Century Tuna's new endorsers last year.
Apart from the new Century Tuna campaign, James is busy taping a new television series with Nadine, which is currently being filmed in Greece. "This is definitely going to be more challenging and quite different from the roles I've done before," he says proudly. We briefly sit down with the young actor to catch up on him.
DAVID MILAN: So how has it been since the time of Pinoy Big Brother and the success of On The Wings of Love?
JAMES REID: Early on, I was really overwhelmed and totally unprepared for the attention, the fans calling out my name, but I've since gotten used to it. But it was tough at first, yeah.
How did you and Nadine first meet?
We first partnered in a music video. They were looking for someone I could pair with and I chose Nadine almost instinctively. But it wasn't like there was a spark right away. Our love team started in the movie Diary ng Panget, but we got really close in On The Wings of Love. There was no real courtship stage, we just got to know each other really well.
How do you guys maintain your relationship?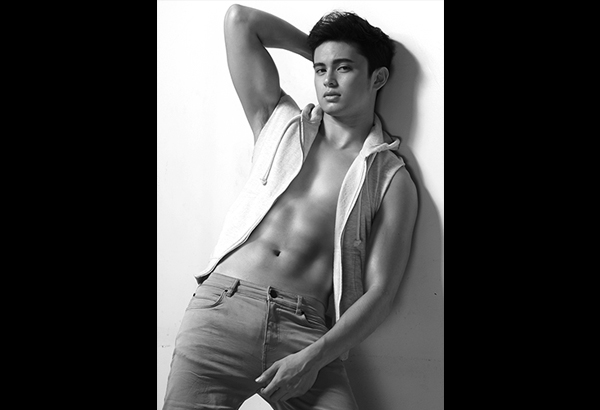 Aside from weightlifting and hitting the gym regularly, James stays away from snacks and sweets, sticking to better carbs and lean protein.
We're very comfortable with each other, since we work hard together, and have been doing so for, like, two years now. We started out as friends and now, we're more than best friends, so that definitely helps a lot.
You guys are in the public eye most of the time. How do you deal with negative comments?
I don't let them get to me. I mean, I can't possibly please everyone. They're free to say what they want while I just try to keep it real.
How about your privacy? Is that even possible now?
It's really a sacrifice. But for my career and for Nadine, I'm willing to give some of it up.
Currently, this is the best you've ever looked. How do you maintain being fit and healthy?
In terms of diet, I stay away from snacks and sweets, as I'm not really fond of them anyway. I stick to better carbs — no rice, just, say, whole wheat bread — and lean protein like Century Tuna. As for my workout, I do a lot of weightlifiting and hit the gym regularly
Any sports you're into right now?
From an early age, I was already into gymnastics and swimming, both of which my dad taught me. I'm proud to say that I've excellent flexibility as a result.
How do you cope with the stress at work? What do you do to escape?
My friends keep me grounded and keep me sane. And I just love hitting the beach! And of course, being with Nadine.
Tell us about your new commercial for Century Tuna?
First of all, I'm extremely proud to be part of the Century Tuna family. I mean, to be in the same company as Anne Curtis and Derek Ramsay. Wow! It's such an honor. I'm totally thrillled as well 'coz the commercial is really just the beginning.
How did you prepare for it?
Apart from the fitness routine that I previously mentioned, Century Tuna for years now is a part of my regular diet and is something I can't live without. Not only does it taste good, it is also good for you!
Sounds like a long-term commitment.
Oh yeah! Do expect more exciting stuff from me and Century Tuna in the coming weeks. I simply can't wait!