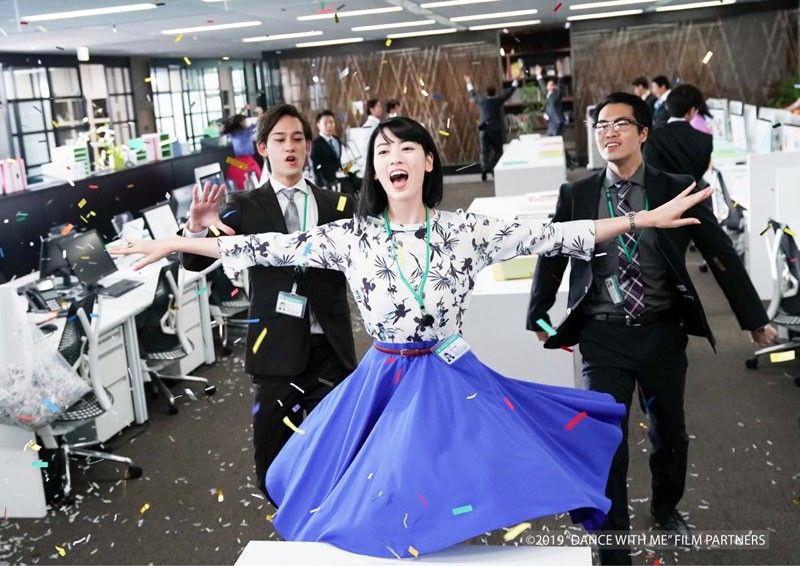 Dance with Me (2019) is one of the 28 films screening online for the 2020 Japan Film Festival.
Japanese film festival shifts online this year
Scott Garceau
(The Philippine Star) - November 15, 2020 - 12:00am
MANILA, Philippines — Fans of the annual Japan Film Festival (formerly EIGASEI) will this year get a plus.
As always, the popular film fest will be free, but this time it's online, due to COVID-19.
Mr.Ben Suzuki, director of Japanese Foundation, Manila, says we can still celebrate Japanese cinema in the Philippines — digitally. "There's no better time to harness the power of art than now," he told media in a Zoom webinar to promote the online Japanese Film Festival Plus from Nov. 20-29. Twenty-eight classic and contemporary films will be available for streaming on their site (see link below) to enjoy in the comfort and safety of your own spaces.
The roster of award-winning features and shorts will include classics, romance, drama, musicals, mystery, comedy, docu­mentary and anime.
Another plus is that the festival this year will reach more Filipinos around the country. Anyone with a smart TV, com­puter, mobile phone or similar gadget with access to the Internet can view the films in the comfort of their homes.
"In this time when we can't go out and visit places, films allow us to take glimpses into new worlds, experience things, see places and gain new perspectives while staying safe in the confines of our homes," said Mr. Suzuki. "Online movies have become the trend because of the pandemic and the Internet as its venue for instant exchange of information and culture."
Cross-cultural exchange is more important now for both film industries, and not just because of COVID. Japan can learn a lot from our country's artisans and directors, and vice versa, says Film Development Council of the Philippines head Liza Diño: "One thing the Japanese have already established for them­selves is creating a global track for their films and being very meticulous in the different stages of filmmaking process." She notes at­tention to detail, and spending time on each part of the process, as values so important to the final Japanese product. "While we are very creative in the Philippines, time is always a problem. We have this kind of 'pwede na, ok ngayon' attitude. And it's really affected the final output of our films. As talented as the Filipino filmmakers are, what we put out there does not represent the kind of artisans that we are."
That can make a difference globally, and online as well, as the world faces a lockdown viewing scenario for the foreseeable future. "With this pandemic, there's an expedited need for us to really look beyond the Phil­ippines as a market. It's important for us to hopefully learn from the Japanese how international standards of filmmaking are being adapted, on how to give time for script development, character development, and especially in the post-production of our films because right now, technical requirements, quality control by streaming platforms is so strict, and unfortunately some of our films don't meet these requirements."
Co-productions are becoming more com­mon, Suzuki says, citing Viva Films money­makers like Kita Kita (2017 romantic comedy, shown at Osaka Asia Film Festival and in Ma­nila) and 2016's Asian Three-Fold Mirror 2016: Reflections with a segment directed by Bril­lante Mendoza. "As a whole, co-production between Japan and other Asian countries has flourished more. Because, first, we Japanese need your philosophy, your talent, your stories." Local governments and film bodies have become more receptive to cross-cultural exchange. "There is a very good movement in Japan in the local rollout of production, it's now more developed. And local bodies will now develop this kind of production even more: they need to open the door to foreign­ers, to the outside world."
In addition to online screenings, the Japan Film Festival will kick off this Friday with a special SM Cinema Drive-in at the Mall of Asia screening of Project Dreams (2020), a Mazinger Z-inspired mix of corporate reality and fantasy, showing 6 p.m. on Nov. 20 and 22. Get tickets for the live screening for P100 at SM Tickets' online portal (https://smtickets. com/sm-drive-in-cinema).
While this year's festival is taking place during a worldwide pandemic, don't expect that "theme" to creep into programming: we all have enough to deal with without seeing COVID onscreen. "In this situation," says Suzuki, "we have to stay at home, so maybe you have many stresses and a depressed mood already, so I think the tendency in selecting films this year is more entertainment-oriented. So please enjoy."
* * *
The JFF Plus: Online Festival is made pos­sible together with Japan Foundation Asian Center, in partnership with JT International (Philippines), the Film Development Council of the Philippines, the Embassy of Japan in the Philippines and SM Cinema.
To view the full schedule of the films, visit http://jff.jpf.go.jp/ or the JFM website (http:// www.jfmo.org.ph). Follow the official JFM Facebook page and social media accounts.