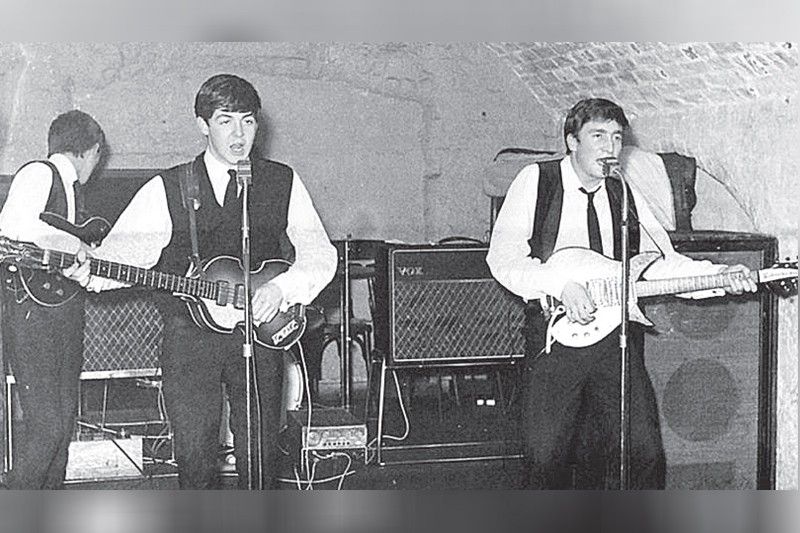 In a dingy Liverpool basement, the Beatles broke through and made history.
Will a Beatles landmark fall to COVID?
We're seeing a really sad phenomenon hitting live music clubs worldwide, thanks to the lingering COVID crisis. Locally, places like Route 196 now face permanent closure because of lockdown, with no sign that things will get better, soon.
And now, even world-famous cultural landmarks — like the Beatles' famed gig spot The Cavern Club in Liverpool — are close to pulling the plug.
One of my fondest memories before all the COVID-19 stuff ruined the world was visiting the Beatles' birthplace back in 2014. Trafalgar brought us by bus to downtown Liverpool, where we walked along a cobblestoned alleyway to where The Cavern Club is located.
That's where the Beatles played their first regular gigs back in the early '60s. The winding stairs take you down to a narrow brick-lined tube that leads to a small stage up against the back wall. The Beatles played here some 292 times up until 1963.
But now, The Cavern Club might become a footnote in history, a victim of a worldwide plague. Club manager Bill Heckle says shutting things down for the last five months means 20 staff members have been laid off; another 20 may get the sack soon. Despite Cavern Club owners storing away £1.5 million "for a rainy day" over recent years, the pandemic scare has been "a thunderstorm" that's gone on so long, half of that amount is depleted already.
The Cavern is applying now for £500 million through the city's Culture Recovery Fund (this funding has also been tapped in the past to save other famous Beatles landmarks), but Heckle says with capacity inside clubs now capped at 30 percent (only 150 out of 500 seats), it could be a struggle to stay open.
That's a shame, and I know it's just another among countless businesses hit by a painfully lingering pandemic. But The Cavern means something special to Beatles fans. Step inside, and you get instant goosebumps when you see that half-shell stage.
It's the place where future Beatles manager Brian Epstein first caught sight of an exciting new band — then including Stu Sutcliffe on bass and Pete Best on drums — performing live. Shortly after, he became the Beatles' manager.
Outside, there's that iconic brass statue of John Lennon leaning against a brick wall — one decorated with the names of all the major bands that have played this club over the decades, from the Rolling Stones and Stevie Wonder to Elton John and David Bowie — ever since the Beatles put it on the world's map.
The merch section itself is a reason to visit: stock up on Cavern mugs, T-shirts and (for cheapskates like me) guitar picks that make great pasalubong. The beer coasters are awesome keepsakes, too.
Sure, you can grouse at the £5 entrance fee and the overpriced "Beatle Beer" and ignore the somewhat perfunctory cover bands that play lunchtime gigs these days (most of them obliged to whip off a few Fab Four covers). The Cavern has a somewhat shopworn feel to it, like a museum that the caretakers don't fuss over very much. It is what it is. A cheesy cocktail menu offers weak nods to the Fab Four ("Lennon's Long Island Tea," "My Sweet George," "Ringo's Rum Drum" and "Macca's Mystery Tour").
But I loved the place. It felt like history to me. And indeed, the walls and corners are lined with Beatles memorabilia, band instruments (which, admittedly, have seen better days), and a look and feel that says: this is where the world discovered John, Paul, George and Ringo.
I liked it so much, I returned the following night for a nightcap. After hours, it's a little more sedate: the bandstand is roped off for the evening, more modern music plays over the sound system, and just a few tourists and locals hang out. It's a relaxed vibe.
Hell, it's not even the original Cavern Club. The original structure was demolished when a fire in 1973 gutted the upstairs club; they had to take the existing bricks and piece it all back together again in 1984. And since then, it draws in about 800,000 tourists a year.
Or did, until COVID. Right now, The Cavern Club has tentatively reopened online for "virtual sets" from bands playing around the world. "We know we're not going to make money," Heckle told the BBC. "It's about really reminding people we're here and the sole aim is to get out the other side. I'm sure we will. But it is about survival."
So the Cavern Club has definitely taken a pounding over the years. And, like so many clubs on the local scene, it's facing the long and winding road to extinction due to COVID-19.
But I've got a feeling — a feeling deep inside — that The Cavern will, once again, take these broken wings and learn to fly, coronavirus or not. People do, after all, still believe in yesterday. And Liverpudlians are remarkably resourceful at extracting government money to protect their Beatles heritage. After all, it's the thing that keeps fans flocking to this seaport city.
Just wish the local music club scene — with so much history behind it — had such generous benefactors.
* * *
Check out www.cavernclub.org and #ThankYouRoute196 for more visuals and follow the author @scottgarceau on Instagram and x-patfiles.com.