Top lady law warriors discuss world's first cyberheist lawsuit, a celebrated concubinage case & bank default cases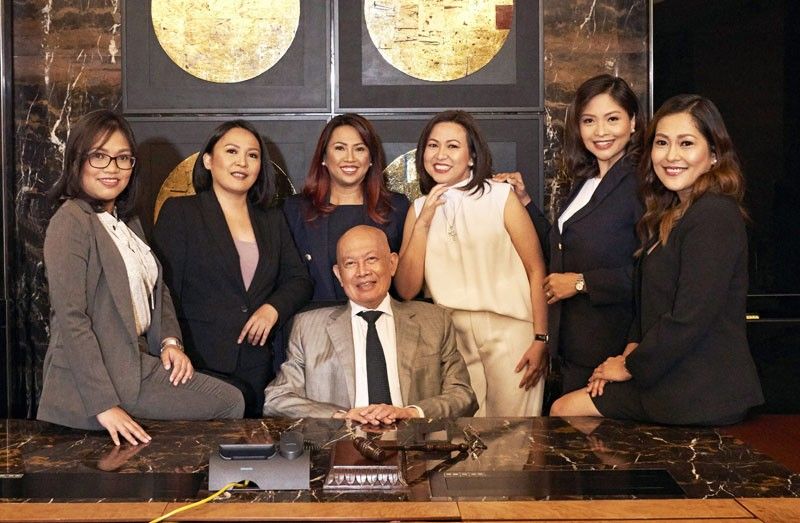 One of the Philippines' most accomplished law firms is the award-winning Villaraza & Angangco Law Offices (V&A Law) led by its legendary co-founder, chairman and CEO Atty. F. Arthur "Pancho" L. Villaraza. Also known as "The Firm," it is celebrating its 40th anniversary this year. Unknown to most people, 60 of its 100 lawyers are talented female legal eagles who have been with the firm for an average of 30 years.
Of these women lawyers, six gave The Philippine STAR an exclusive interview — Atty. Thea T. Daep (UP Philosophy, cum laude and UP Law top 20 of her class; hometown is Daraga, Albay); Atty. Raquel Wealth "Kelly" A. Taguian (Ateneo Legal Mgt. & Law; Infanta, Pangasinan & Aparri, Cagayan); Atty. Rashel Ann C. Pomoy (UP Philosophy, magna cum laude, and Law, Dean's Medal for Academic Excellence; Siargao, Surigao del Norte); Atty. Maria Concepcion "Con" P. Simundac (Ateneo Economics and Law, second honors; Biñan, Laguna); Atty. Dianne Marie V. Roa-Oarde (UP Psychology and Law; Cagayan de Oro, Misamis Oriental); Atty. Fritzzie Lyn "Fritz" F. Español (UST Economics, Ateneo Law, second honors; Labo, Camarines Norte & Naguillan, La Union).
Here are excerpts of our no-holds-barred two-hour interview (some of the prominent litigants' names have been obscured due to confidentiality clauses or ongoing court case gag orders) with these lady warriors.
Philippine STAR: What are your most unforgettable cases?
Atty. Thea T. Daep: It's the Bangladesh cyberheist with $80 million lost by Bangladesh from the Federal Reserve of New York. Our client is RCBC and we are also representing some of their officers who were charged with money-laundering. This incident happened in 2016, three years ago already, now in Trial Court. This is a precedent-setting case, so as a lawyer, it's all very challenging and exciting. It's also cross-border in nature and involving jurisdictions of Bangladesh, New York and the Philippines. RCBC had also filed a civil suit against Bangladesh Bank here in the Philippines.
Atty. Kelly Taguian: Those special cases against the Philphos, San Miguel Holdings Corporation and Jollibee on breach of contracts. Our client had a $44 million claim and I had to lead a group of men to go to a province, we had to physically attach the properties, an ammonium plant. In another case, Jollibee was claiming against our client — a Hong Kong-listed logistics firm — for almost a half billion pesos. We're famous for fighting for the other side. Even if I'm a woman, I go directly to the sites, sometimes I'll even go undercover. We look harmless, but we're attack dogs for our clients. (Laughs)
Atty. Rashel Pomoy: I have the privilege of working with our senior partners like Atty. Thea, Atty. Pancho Villaraza, Atty. Al Navarro, Atty. Gus San Pedro, benefitting from these brilliant minds. I worked with Atty. Thea on the RCBC case, Atty. Thea and Atty. Fritzzie on family members claiming inheritance from a top businessman in what is arguably the biggest estate case in the Philippines involving $3 billion, but there's a gag order in this case. We have 10 cases that are offshoots of the main estate case.
Atty. Con Simundac: I'm in the corporate department, so my practice mainly involves transactional work. Instead of going to the courts, I do most of my argumentation and negotiation in the boardroom. I'm currently working on two of the biggest and most significant transactions in the Philippines today. I'm part of the team handling the 3rd Telco Project. I'm also involved in the Hanjin case, which is dubbed as the biggest financial default in Philippine business history involving $1.3 billion, out of which a significant portion was owed to our clients — three major universal banks in the country. Hanjin in Subic had more than 30,000 employees at one point prior to its rehabilitation.
Atty. Fritz Español: I specialize in complex commercial and civil cases like corporate rehabilitation, insolvency, taxation, banking and finance. I was part of the Bangladesh and Hanjin cases. We had a case where our clients filed directly with the Supreme Court because of transcendental issues of public interest affecting the investment and banking industry, involving the tax treatment of certain bonds with face value of P35 billion and interest of at least P5 billion. We went up against the BIR and the Bureau of Treasury. We won. In another case, our client, a major universal bank, had a foreclosure case against a big developer and we were able to foreclose almost 1,000 properties in three months.
Atty. Dianne Roa-Oarde: I was part of the Bangladesh and Hanjin cases, also in the case on the expulsion of the ex-partners of The Firm, including former Ombudsman Simeon "Sonny" Marcelo and ex-defense Secretary Avelino "Nonong" Cruz. Another unforgettable case I was involved in was the dispute for control of the parent company of The Medical City and all of its affiliate hospitals. We won an injunction for our clients, and successfully defended against back-to-back TRO and injunction attempts of the other side to reassume control over the company.
Atty. Daep: I was involved in a celebrated and bitter fight between a husband and wife, both high-net-worth individuals. I represented the ex-wife. Despite the inherently unfair laws towards women, which is a fact that we have to live with in the Philippines, we were able to make the concubinage charge against the ex-husband stick. Our laws make it harder to go against an erring husband. You need to be able to show either a) sex under scandalous circumstances; b) cohabitation, commonly known as "live-in"; or c) keeping the mistress in the conjugal dwelling.
In this case, did you as a lawyer have to act like a sleuth to ferret out the facts?
Atty. Daep: Of course. Preparation was key. The ex-wife was raring to sue, but we made her wait until we were ready to fire with adequate evidence. One of the secrets to litigating is you have to be able to rein in your clients, control them, prevent them from being driven by emotions. In disputes like this, the lawyer cannot be emotional.
What are your success secrets? How did you become lawyers?
Atty. Daep: I come from a family of doctors. I wanted to do something different. I'm always looking for action and I used to watch TV shows about lawyers. I am a hardcore litigator, meaning I get my adrenaline rush from complex, hard-to-solve and novel cases. I never give up on my clients. I became a partner at one of the best litigation firms in the country in 2005 and I was then the lone female partner in the male-dominated litigation department. I was 34 years old then. How did I do that? It was purely grit and I worked harder than anyone else… Never be shy and never be afraid no matter who is in front of you. Fear and shyness are all in the mind.
Atty. Taguian: My father and elder sister are lawyers; dad is a litigator. As a young girl, I grew up in courts… My goals, at the end of the day, are what my client's goals are… My most lethal weapon is the fact that I am more prepared than the lawyer standing next to me, and most likely, even more prepared than the judge… I do not take "no" for an answer. There is always a way but when the sh*t hits the fan, the most important skill is to be able to "damage control"… I do my job with passion and compassion.
Atty. Pomoy: Since elementary, I dreamt of becoming a lawyer since lawyers get paid to argue (laughs) … I do not cower when faced with older, more experienced lawyers in court, because I go to court prepared… I'm not afraid to sacrifice time and energy for work. Once, I packed a suitcase and stayed in the office for almost a month without going home, sleeping in my office sofa and barely got three hours of sleep a day for the entire month. Lawyering demands hard work and out-of-the-box thinking.
Atty. Simundac: It was my businessman father's dream that I become a lawyer, the first in our clan, I knew this even when I was still in grade school… To be the best lawyer, I believe I don't need to follow any mold… My ability to keep levelheaded during the toughest negotiations has allowed me to be strategic, which makes me an effective ambassador of my client's cause. Instead of being rigid, I am empathetic to my clients' needs, which is very important in giving the perfect solution.
Atty. Roa-Oarde: Unlike other lawyers whose fathers were lawyers, my businessman father didn't want me to become a lawyer. He warned that I'd go to hell daw (laughs), but it just fell into place that I became a lawyer. I cannot imagine being anything else. While still a law student in 2010, I had also volunteered for a public interest case to oppose the privatization of the Angat Dam that was being sold to a state-owned Korean firm. I helped in our filing with the Supreme Court against the sale of Angat Dam, where they immediately obtained a Status Quo Ante Order (a rare remedy that is reserved only for extremely compelling cases) from the highest court. From what I could recall, it ended with the government renegotiating with Korean Water. They resolved that case in 2012, just when I was taking the bar exam.
Atty. Español: My religious parents didn't want me to go into law. I had deferred my law school plans for six years and worked for a bank, and my dad wanted me to get an MBA degree. My accountant father warned: "Buhay ka pa, masusunog na kaluluwa mo (You're still alive but you will already burn your soul)." My reply to him was: "That's why you're religious, so you could pray for my soul." When I said I wanted to study law, he didn't talk to me for almost a year. Now I'm very fulfilled as a lawyer doing service for others.
* * *
Thanks for your feedback at [email protected]. Follow @wilsonleeflores on Instagram, Twitter and Facebook. Read also https://investment.fwd.com.ph/experts/asia-s-business-leaders-and-what-we-can-learn-from-them.