The pandemic has made me a lover of masks. Why? Because the mask expresses how I feel at the moment. And, there's the fear of arrest, especially with the recent announcement by President Duterte that those caught without masks would be arrested.
When Lifestyle editor Millet Mananquil gave me this assignment, she told me, "The mask has to be weird/funny/quirky but also protective. Masks have become a reflection of one's personality, an expression of artistry, an outlet for angst, a canvas for dreams, an absorber of nightmares and a conveyor of humor."
My interest in masks started when the lockdown began. I searched every day on IG and the Net for a mask that was unique and funny. I liked some of the masks I saw, but most of the ones I picked have an element or design that expressed who I was, or what I loved, or even how I was feeling for the day.
Don't get me wrong: I got a few hi-tech masks, but many of what I have are works of art (at least, as far as I am concerned).
For this piece I asked a eventologist Tim Yap, writer/visual artist Igan D'Bayan, GMA-7 director Louie Ignacio, sculptor and multidisciplinary artist Leeroy New, visual artist Olan Ventura and costume designer Dimple Lim about the masks they wear and why they wear them. So, here they are with their masks and what they mean.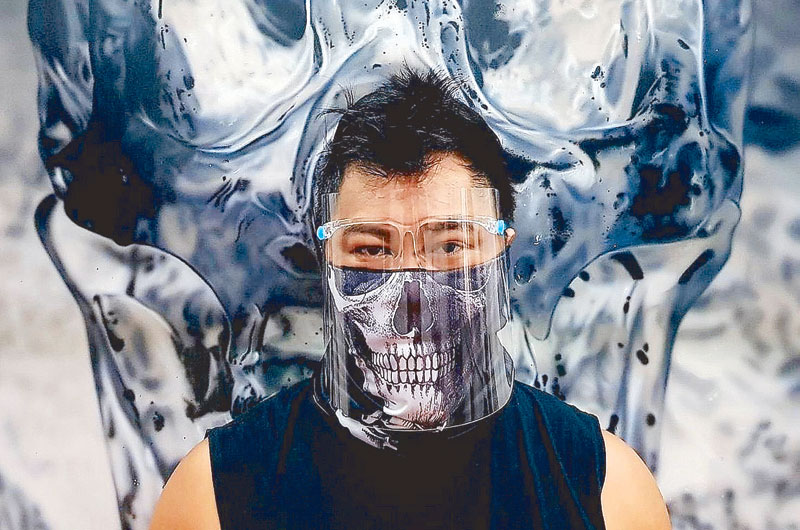 Olan Ventura: Free trip to heaven with Kamatayan
I always wear my skull mask — touted as "effective and essential" in these dangerous times. It is a reflection also of the type of artworks that I do. When you go out, there is a 50-50 chance you will catch the virus, so we have to be extra careful, not just for ourselves, but our family as well. Gin and showers are not enough; masks, goggles and face shields are. I always warn the people around me not to take this pandemic lightly, so, just look at the message on my shirt: "Free Trip To Heaven" — with an image of Kamatayan. If that doesn't make you think, I don't know what will.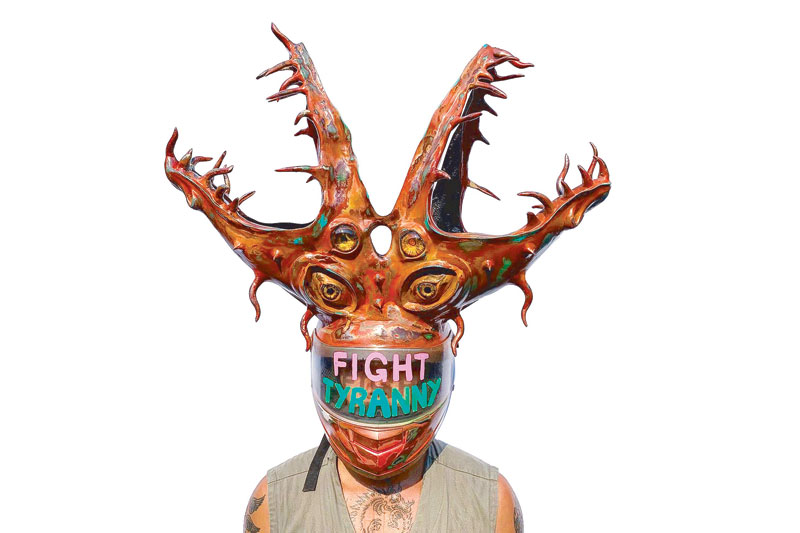 Leeroy new: Life at the edge of the world
The mask is an actual full-face motorbike helmet modified with a combination of painted fiberglass and epoxy sculptural elements. I made this mask as part of a solo exhibit titled "Dressing For The Edge Of The World," which opened just a few days before the pandemic lockdown was imposed in Manila. At the time of its making, the threat of COVID-19 was becoming more apparent, but also, motorcycle helmets invoked among Filipinos images of riding in tandem, poor transportation infrastructure, as well as the attempt of the LTFRB to halt the operations of Angkas, a local passenger transport service. This mask-helmet has a more symbolic function for protest, but is still actually wearable. It does keep your droplets to yourself despite the added weight.
My masks are a confluence of my sculpture training as well as my predisposition for collaborating with movers and performance makers. I make masks for many different reasons, but they're nonetheless aligned: as a means of livelihood, creative expression, a form of protest, and occasion for collaboration.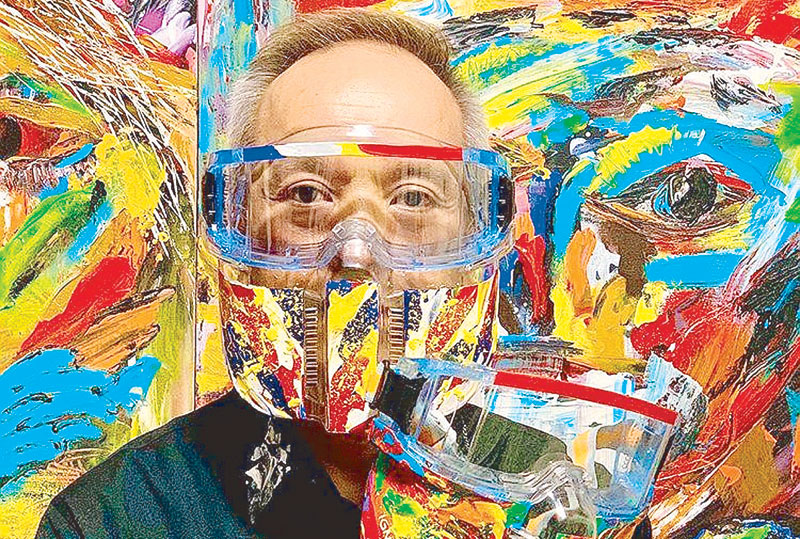 Louie Ignacio: Malungkot na ang paligid, lagyan naman ng masasayang kulay
I designed it according to my style and choice of colors. My style in painting my mask is freestyle hand-painting. The colors of the Pinoy flag and rainbow (happy and positive colors) are the inspirations behind this mask. I want it a happy mask for positivity. Malungkot na ang paligid, lagyan naman ng masasayang kulay. This is my daily and working mask. Pag nakikita ng mga tao, at least napapasaya ko sila because it's a happy mask and head turner nga kaya nakakatuwa gamitin.
This goggle mask is made of a high-quality protective cover to protect the face and eyes. And I used acrylic paints for the design.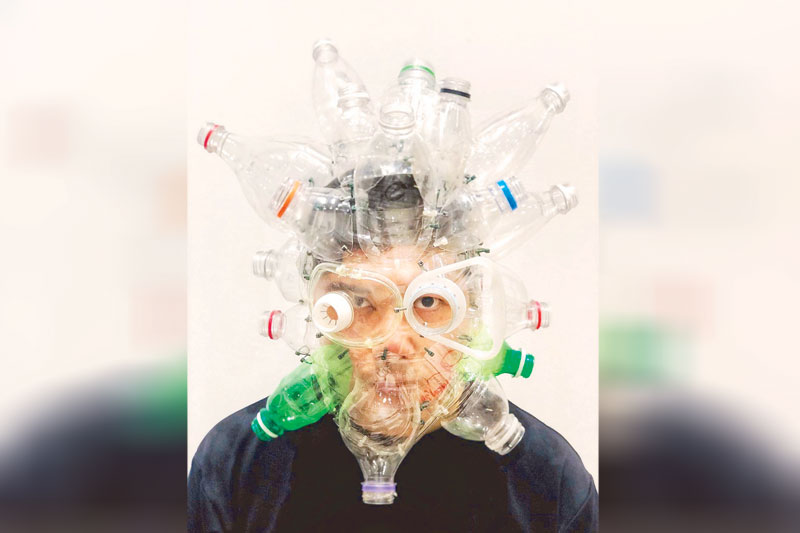 Tim Yap: Bottled-up feelings
I chose this mask because I love how my dear friend, artist Leeroy New, recycles trash into treasure, this time in the form of a mask.
Last October, Leeroy and I collaborated on a Halloween Ball — it was called "Apocalypse" and, looking back, a lot of the imagery we used became very prophetic of the times we live in now. Back then we had no idea that there would be a pandemic; that we would be living like this.
This mask is made of plastic bottles. Just like what we used to decorate our event, it was all recycled stuff. Nothing went to waste.
For me, a mask represents the situation we are in at the moment. On the surface it looks like rubbish, but there are lessons to be learned to be able to make the most out of it.
Yes, I do wear masks depending on my mood. But now I wear it primarily for protection. And then next is expression.
All our choices reflect our personality and even in times of pandemic, what we wear — from PPE to mask to shield — represents who we are.
I think this mask is good protection against COVID-19 because I don't think any droplets can penetrate that plastic layer — it's like a mask and a shield at the same time. And also no one will want to come near you, so it automatically enforces social distancing.
I like anything that's different. We live in different times, so these masks somehow reflect that.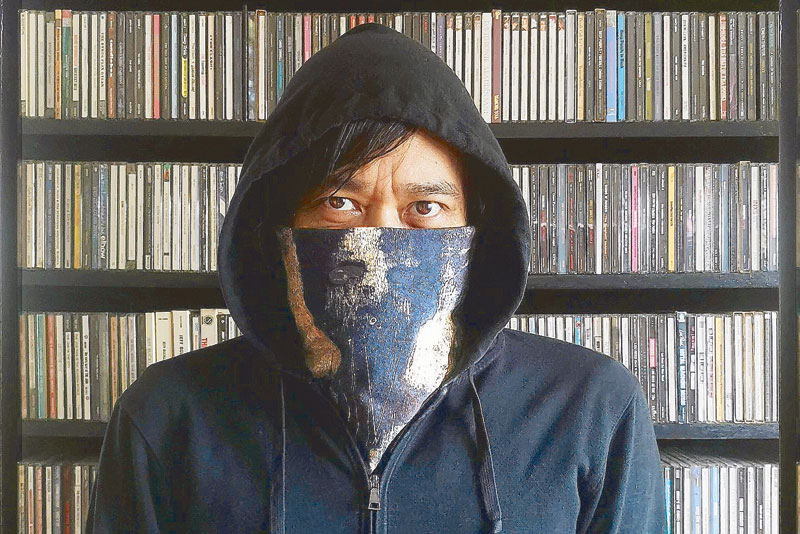 Igan D'bayan: Just imagine the seven hells
At the beginning of the lockdown, when it was hard to procure facemasks (because they were either too expensive or out of stock), my girlfriend Avee repurposed old shirts of mine. I think this was a Walking Dead or an Alice In Chains zombie tee. This mask was inspired by the muse called Exigency: nothing fancy about it, we just needed to have one. You could wear it every day, yes. But — since it is made of thick cotton-polyester material — it is a bit hard to breathe through. But you get to learn to live with conditions like this in the new abnormal. You can just imagine the seven hells our medical frontliners have to go through every day. This mask, in combo with a heavy-duty welder's face shield from Ace Hardware, should do the job. Although not a minute goes by that I don't think about those pre-COVID days when you could just meet up with friends, dig for vinyl, watch live gigs and drink in bars. Those days, for now, are long gone. And, maddeningly, as the Orange Man in the White House says without saying anything: "It is what it is."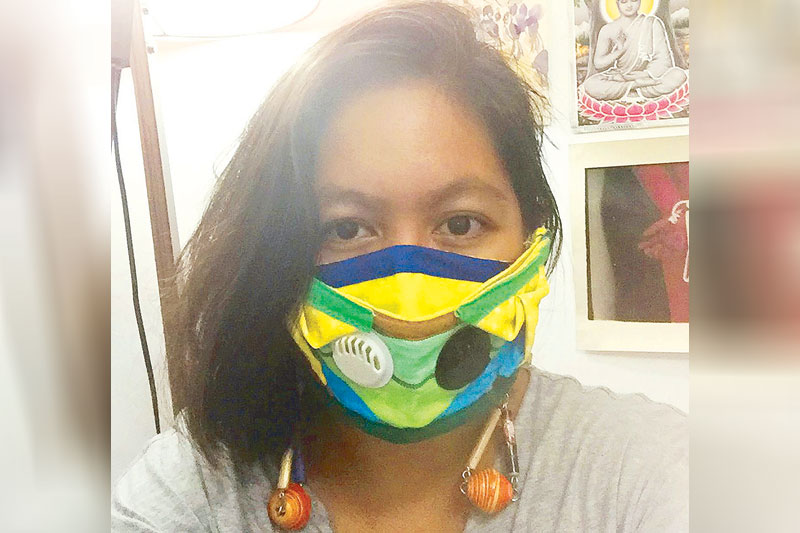 Dimple Lim: Letting my inner child do all the playing
I combined some of the vivid-colored fabric strips from my stash with "kantarina," a handwoven fabric from Abra. It is made of a different type of cotton, so it's breathable. The construction of the mask is very simple. I did some folding here and there, very much like the origami way. I've been collaborating with the Itneg community lately and I'm very much inspired by how they play with colors. So, I decided to break the rules that I learned in design school and just let my inner child do all the playing. This mask is also derived from what I post on Instagram (@dimplelim): the origami mask, which comes in different Crayola combinations. I think we should not let the pandemic taint our core being, and one way of expressing our personality is through facemasks. The situation is still very far from our favorite dystopian novel, but I guess wearing something fun can uplift our spirits in these trying times.