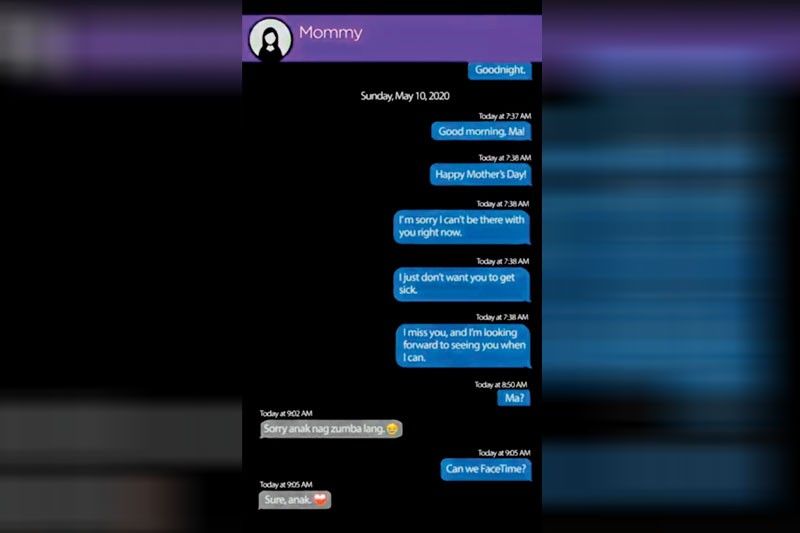 Sending motherly love through a screen
MANILA, Philippines — As lockdowns force people to stay at home and stop the spread of the coronavirus disease 2019 (COVID-19), technology has allowed Filipinos to stay social through virtual channels. This Mother's Day, The Philippine STAR and Suntrust Properties, Inc. (SPI) explored just how strong a mother's love can be not even a pandemic can stop her from sending her brand of motherly love, albeit virtually.
In a special Mother's Day video titled Can we FaceTime?, a mother chats with the son. A short and sweet "Good morning" is followed by a few updates, even an accidental sel? e and food photo before asking if she can call via FaceTime.
Unfortunately, the son replies back, "Hi, Ma. Sorry I can't now, naka-duty ako ngayon." For the next few days, the mom dutifully sends messages and asks the son for a FaceTime call. Again, she is declined.
Days pass before everything comes clear. The son, who works as a frontliner, deeply misses the mom and dad. However, he can't go home for fear of inadve rtently passing the virus.
So, on Mother's Day, he lets all his bottled up emotions out: "Good morning, Ma! Happy Mother's Day! I'm sorry I can't be there with you right now. I just don't want you to get sick. I miss you, and I'm looking forward to seeing you when I can. Can we FaceTime?" he tenderly asks. Her answer? "Sure anak!", with a small heart icon.
In the age of social distancing, separation is important and necessary in the ? ght against COVID-19.
We are forced to stay away, even from the people we love, in the hopes that we can protect them from the unseen disease. But no matter the hardship, count on a mother's love to bridge any physical distance for the ones who matter most.
Watch can we FaceTime? today on The Philippine STAR and Suntrust's Youtube and Facebook pages.