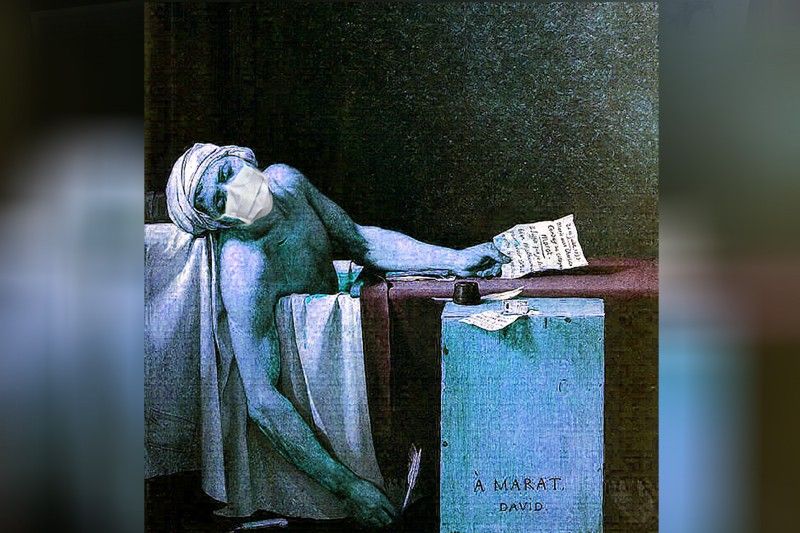 Computer graphics by Igan D'bayan based on "The Death of Marat"
Is no art at all, or at least nothing resembling our preconceived notions of it.
Forces us to go back into ourselves, deeper than a spiritual retreat, a quarantine like no other.
Before the "veerus" maelstrom took over, had the opportunity to do the quick rounds of a couple of galleries, to see what's up with some artist friends dating back to Midweek days — i.e., more than 20 years ago.
Planned for an omnibus review of Ian Victoriano's "Rogues Gallery and Other Stories" at a Pasong Tamo art space, and Pinggot Zulueta's "Melankolia" at Shangri-La mall, before events superseded faster than a bat's wing.
At this moment of dawn in Mandaluyong, am looking at Victoriano's "At Sea," a face with an expression of being caught in limbo, on a ship refused to dock for fear of the "veerus." Of course, this reading is already updated, in time with the invisible arc of a bat's flight. You know it's flying somewhere, just can't see it.
Then along comes Zulueta and his "Guardian of Dreams," a horse rider's head lost in the clouds of what — cannabis sativa or some related opiate — the better to guard your dreams in continuity, the vivid rendering.
In March, what a month that was, a fund-raising event for the ailing poet journalist Pete Lacaba was held at Kamuning Bakery, of which STAR columnist Wilson Lee Flores is proprietor. Lacaba edited Midweek, whose office on A. Roces Ave. in Quezon City was the occasional hangout of Victoriano and Zulueta, before the usual round of beer and caldereta in the late afternoons at nearby D&E restaurant corner Quezon Ave. Art in the time of post-EDSA.
The Kamuning Bakery reunion was perhaps the last big one of crowds and such before the onset of physical distancing, although others would much prefer social media distancing. Cooky Chua drinking mineral water in a resto across the bakery before her scheduled set, and bassist Simon Tan looking none the worse for wear before a plate of grilled liempo in the great outdoors.
Jess Santiago with guitar as appendage and long white tresses looking like Father Time himself, and we couldn't help remark, "It's very hot here in the Philippines," not like in Baguio. Other people whom we hadn't seen in years, maybe decades.
Of course the very next day several kilometers up north in Sagada was a rededication or refurbishment of the old Santi Bose mural on what could be a school building by his kindred artists of the Cordilleras, including Kawayan de Guia and John Sabado, Victoriano's old cohort in the artists' group ANG (acronym for "Artistang Gutom" maybe, but your guess is as good as mine) and at Philippine High School for the Arts on an altogether different mountain. This was art before the time of…
High school literature Ma'am Teret De Villa asked a classmate to transcribe some hieroglyphics flashed on a Facebook story, thus:
Para kay Pete (so long as you get to live yours)
Clutching at straws from a barely remembered dream,
I tried reconstructing a poem half-finished, whose lines
Flew from my grasp into the open air, and onto
Scrolls of paper used to wipe the sweat of an audience
Straining toward a furnace of a bakery to save
A fellow poet from the templates of doom
Don't know if the song was written in acrostic
Or acoustic but the interval of fourths
Gave us chance to improvise and disappear like a downbeat
Into the kamuning evening.
Meant to be read preferably with background music by Keith Jarrett, So Long As You Know You're Living Yours, the one with Jan Garbarek on sax.
What little we know of art is best left on the roadside, there to gather dust and other funny smells in the name of.
No more visionaries, props all dismantled. There may be truth to a philosopher's ramblings, how there's just too many people for us to believe in an afterlife.
An old Visayan riddle dusted off by a poet of non-attachment: if you remember, you'll leave it behind; if you forget, you'll bring it along. Amor seco. Is no time at all.