Serenity in the city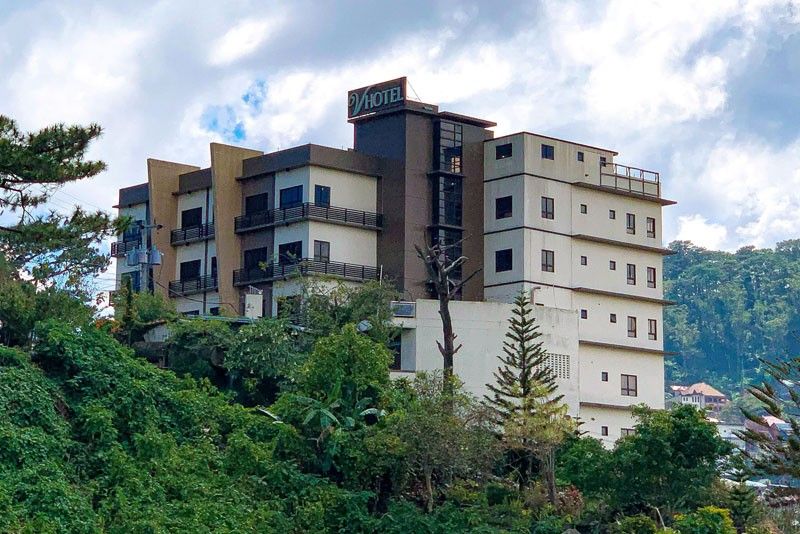 Ever since I was a child, Baguio City has been a very special place for me. My late grandfather Lolo Pat used to take my siblings and me there during the summer to stay at the summerhouse.
The highlights of my numerous visits to Baguio were the pony rides around the oval-shaped garden filled with a riotous bloom of flowers, roasting marshmallows during bonfire parties on Gibraltar Road, devouring warm raisin bread from the Country Club. We smeared the raisin bread with peanut butter and dolloped it with Good Shepherd strawberry jam. We also enjoyed shopping for woven bags and rabbit paw key chains from Mines View Park.
For adventure, we explored Crystal Cave and went strawberry picking in La Trinidad Valley. Years later, we dined in Pines Hotel with my late parents, accompanied our late Lola Caring to Mass in St. Joseph Church, played hilarious mini-golf games at Camp John Hay with my siblings and spent hours disco dancing at the Hyatt.
Though our elders have passed, and these hotels no longer exist, in my heart they still do. Every time I go up to Baguio, I always have a wondrous time there. Through the years I have collected a treasure trove of lasting memories.
On a recent trip last week, I discovered something new and enjoyable with my family and household staff. Despite Baguio City's frenetic atmosphere, we were whisked to a serene enclave.
It was the birthday weekend of my nephew Vince Soliven and we all went up to Baguio. His parents Benny and Michelle are close friends of Michael and Angie del Rosario who invited them to stay in their V Hotel and Apartel. The del Rosario family also runs two other hotel properties namely Hotel Veniz on Abanao Street and V Hotel on Session Road. They also manage the family-owned Sunshine grocery as well as the French Line bakery, which bakes and sells delectable goodies. I am so happy I joined them this time because not only were we so comfortable and well cared for, I experienced another side of Baguio I never had before.
V Hotel and Apartel is located on 14 Bukaneg Road. It is walking distance to the historic Burnham Park, the bustling Baguio Market, Our Lady of Lourdes Church and Kisad Road where many of Baguio's popular restaurants are found. Also, it is walking distance to Harrison Road, venue of the night market.
The V Hotel and Apartel has well-appointed rooms and apartments, some with kitchenettes in a down-to-earth property. The hotel has the most honest staff who even returned a fine jeweled ring to a delighted customer. It features wonderful linens and comfortable pillows, spacious beds and an amazing café called Quoted that serves the most enticing breakfast in town. If you are looking for spacious lodging for a couple or for family, this is the place for you. Even if you are alone, you will find serenity in the city here.
V Hotel and Apartel has 35 cozy rooms with nine apartment units where you can cook if you wish and keep your produce in the fridge or freezer. It has the fastest free WiFi, 24-hour front desk concierge and free parking with security. Nearby landmarks are Philippine Military Academy (2.5 km) and Bell Church (2.6 km).
My faithful Yaya Vivian, who loves shopping, cooking and eating good food, was like a gleeful kid in Disneyland going to the Baguio market so early in the morning for fresh produce and Baguio delicacies. She would then walk to the Baguio night market in exhilarating cold from 9 p.m. onwards every night. Eating fresh hot balut and soupy penoy is one thing I relish in this weather. (It was 13 degrees Celsius when we were in Baguio.)
Baguio City, for my family, is always equated with quality bonding time. We love to laugh and we love loving each other. That's one value our late parents taught us — to love each other. We also love to eat.
Would you believe my brother Mark consumed a whole kilo of strawberries dipped in condensed milk in one sitting with our sister Michelle? I was happy to discover that there is an abundance of huge Sagada oranges and sweet-as-sugar longgans locally grown in the province.
Benny, my health-conscious brother-in-law, loved walking to Burnham Park before breakfast with his playful wife Michelle who liked dancing Zumba under the pine trees. With their son Vince, they strolled through the old quarter and discovered quaint cafes. They stumbled upon the best-tasting carrot cake with cream cheese frosting in a cute art café called Blak n Whyt.
Our sister-in-law Mylene, who is a Marian devotee, enjoyed doing the offertory at a Mass in Our Lady of Lourdes Church. It felt so comforting to have a church close by. After we all attended the Sunday Mass, Mylene showed us the Farmer's Store within the church grounds where they sell produce and unique products like pineapple vinegar, chia seeds, black, brown and red glutinous upland rice, adlai, and a nice variety of local herbal teas.
Another highlight of our stay at V Hotel and Apartel was the Quoted Café where we dined to our heart's content. Yaya Vivian, who is a passionate and gifted cook, declared her morning fare of tocilog (tocino, fried rice and sunny-side-up egg) and daing na bangus the best breakfast she ever tasted. We agreed!
I tried the seasoned bangus with two fried eggs and garlic rice served with local coffee that was so fragrant and smooth. Served, too, were delicious Baguio longganisas, cheese omelets, freshly baked bread, butter, blueberry jam, tapa and scrambled eggs, tocino and ham. I savored every bite of my honeyed French toast with peaches and whipped cream. Room stays come with breakfast so you can enjoy these tasty choices.
Our Saturday brunch at Quoted Café with the gracious loving couple Michael and Angie del Rosario was a special time to share family stories over sumptuous bowls of hearty fresh mushroom soup with garlic croutons, crisp tender calamares with aoli dip, cheesy nachos and fajitas, a refreshingly delicious watercress salad, parmesan chicken, lengua and steak with mashed potatoes. For dessert there were luscious red velvet, strawberry shortcake and banoffee pie. Michelle swooned over her favorite hot matcha creamy green tea mixed to perfection and toasted to a true celebration of friendship between our families.
On Sunday morning, Michael emerged from their bakery on the premises to surprise us with several bags containing pretty pieces of light purple ube cheese pandesal for us to try. As we bit into the soft tasty bread, the cream cheese burst onto our palates: the experience was a scrumptious explosion of sheer delight. It is so good that you won't mind driving to Baguio and continue to make even more memories in this lovely City of Pines.
As we continue to visit Baguio and havens like V Hotel and Apartel, we create endless moments to cherish today and for always.
* * *
For more information, please log on to www.vhotelapartel.com or call (704) 6190793 to 95 and (0977) 8750770.
E-mail the author at [email protected].