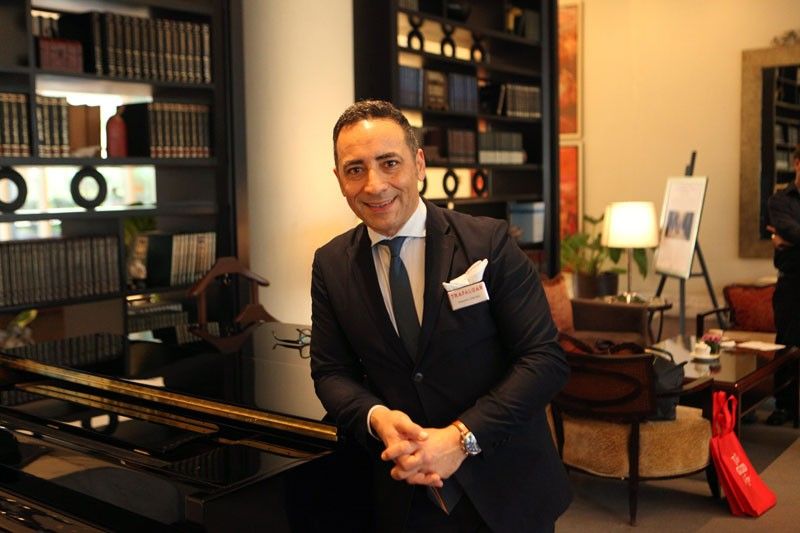 Trafalgar travel director for Italy trips Giacomo Giamboi touches down in Raffles Writers Bar.
Joey Viduya
Trafalgar lets you relive 'The two Popes'
It's a no-brainer that when Filipinos visit Italy for the first time, they make a beeline for the Vatican (Roman Catholic kasi).
But what if you could take a special Vatican City train that runs right to Castel Gandolfo, the papal summer residence featured in the Netflix film The Two Popes? What if you could tour the 70-hectare gardens that Pope Benedict and Pope Francis roamed around in, discussing the Church, modern morality and pop music? Or what about an exclusive after-hours dinner inside the Vatican Museum, surrounded by 14th-century art?
Those are the kind of exclusive, immersive experiences that Trafalgar promises guests. At the recently concluded Philippine Travel Agencies Association (PTAA) expo at SMX, the guided tour company unveiled great offers for destinations that aren't usually top of mind. But these days, people tend to want more unique, off-the-path experiences — things like baking bread in a Georgian village, or sampling rakija, a local Macedonian brandy; making pasta with a Florentine chef, or mixing perfume in one of France's oldest perfumeries. These are the kind of hands-on, "Be My Guest" encounters with local culture that have lifted Trafalgar to the top of the travel game for 100 years now.
One of Trafalgar's key figures in delivering guests special experiences like these is Giacomo Giamboi — he's been Trafalgar's travel director for Italy trips for 10 years, and he loves his country. He will wax poetic about his birthplace, Sicily, where you can eat a sunset dinner at the foot of Mt. Etna volcano in the bayside of Taormina (one of those Be My Guest experiences, actually), and reel off a recipe for Sicilian parmigiana that's to die for ("You layer the eggplant, parmesan and fresh basil, put it in the fridge; you pull it out when the temperature's right and cut it like a cake; it's delicious!").
But it's those Vatican insider exclusives that will really lure Filipinos. "Guests understand the privilege they sometimes have with us," says Giamboi, who was trained as a lawyer, became a chef, then turned to the travel industry. "The Vatican gates open at 8 a.m., but with Trafalgar, we can enter 7:30, 7:40. So that gives us an extra 30 minutes' advantage — you arrive at the Sistine Chapel as one of the first, which means more time to sit around and digest the wealth of the Michelangelo frescoes."
Giamboi himself loved the movie The Two Popes — even if it was "a bit romanticized" — and says Trafalgar has a new itinerary that practically lets you walk in the footsteps of Popes Francis and Benedict. "There's a private railway system inside the Vatican Museum, called St Peter's Station, and a private train we take into Castel Gandolfo." Yes, you can tour parts of that incredible estate shown in the movie. "Guests can really experience the home of the pope outside of the Vatican. It's huge — used to be an old palace — and now it's the pope's summer residence."
Giamboi will rave about a famous Tuscan villa, Castello del Poggio, where the conspiratorial Pazzi family plotted to murder members of the Medici family in the 1400s during a Mass held in the Duomo cathedral in Florence. The way he tells it, it rivals The Godfather or any Scorsese gangster epic. And Trafalgar puts guests right in the room where it went down: "Guests dine in a special room where this historical plot was said to take place — not only that, they're eating in a 1400s venue, with the coat of arms designed by Raphael. It's amazing."
For Giamboi, the best travel directors always weave a good story. "You have to. Storytelling is the key to success." Whether it's sharing how he helped one guest in a wheelchair live out his dream of riding a gondola in Venice (it wasn't a complete happy ending, but still), or expounding on why Sicily is one of Western civilization's great gateways for food and culture. "Sicily was a junction of civilization," he explains. "It was in the middle of the Mediterranean where everything was happening 3,000, 3,500 years ago — the Greeks, the Romans came, the Arabs came — they brought ice cream! — and the Spanish, the French, the Moors. Sicily has always been in the blender."
Traveling and cooking are Giamboi's two great loves, and with Trafalgar he gets to indulge both, sharing local knowledge and local recipes. "I think empathy with guests is most important for a travel director," he says. "Guests want to be a little bit spoiled, want to be introduced to a new country, help to understand the culture, trivia, facts, history — but most important is they want to feel you care for them." Or as Trafalgar CEO Gavin Tollman once told me, "See the journey through the guests' eyes."
In this social media era, tour agencies face a bigger challenge: how to come up with experiences that are truly unique, not things Instagrammed a thousand times by other people. Along with innovations like Be My Guest — which Tollman introduced over 10 years ago, immersing travelers in local farms, households and interactive, curated experiences — public relations manager Florence Ang says they also encourage guests to really ask around and choose their own adventure: "We now weave in some optional free time, and encourage guests to take the opportunity to dive in yourself, to wander off and do your own thing."
Young travelers today are more informed, more daring and more willing to try new things, Giamboi says, so he urges guests to ask the locals for suggestions on where to eat, what to see or do. "Ninety percent of the time, they will give you a wonderful suggestion. So I say to my guests, don't be afraid to ask questions, to learn a few words that can help you get around. The Internet is important, but don't let your life be ruled by opinion. You must taste it, experience it yourself. It's kind of menu à la carte."
* * *
Visit http://www.trafalgar.com or call 8536-1265/8523-1990 or email Trafalgarmanila@panpacifictravel.com.ph.
* * *
Follow @scottgarceau on Instagram and visit x-patfiles.com.