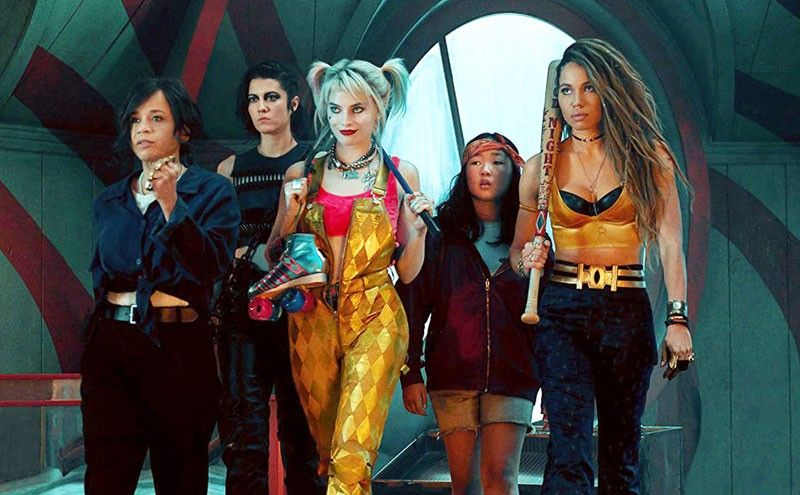 Harley Quinn (Margot Robbie) flanked by Rosie Perez, Mary Elizabeth Winstead, Ella Jay Basco and Jurnee Smollett-Bell in Birds of Prey and the Fantabulous Emancipation of One Harley Quinn.
Warner Bros. Pictures.
DC's all-girl vendetta squad
It's no mystery why Margot Robbie was the only Suicide Squad cast member given a sequel besides the fact that most of the dudes in that film died, Harley Quinn was the most interesting character in sight.
So in sequel Birds of Prey (longish subtitle: …and the Fantabulous Emancipation of One Harley Quinn), female director Cathy Yan (Dead Pigs) works from a script by Christina Hodson (Bumblebee) and pretty much lets Harley by Harley. Which is mostly a good thing.
Robbie, returning as the PhD-trained psychiatrist and mental case with really bad taste in men (Jared Leto's Joker, nowhere in sight, mercifully) plays it both dumb and smart, and she's not afraid to let us know that Harley's kind of an a-hole at times. She's messed over quite a few people — mostly men —whose grievances are listed down onscreen whenever the director's hyperkinetic pace has a moment to collect its thoughts.
But then again, if you're looking for deep thoughts in Harley Quinn, you're on a misguided mission. To quote Cher from Clueless, that would be like "trying to find meaning in a Paulie Shore movie."
Harley's had it with Mr. Joker — a bad breakup leading to a clichéd crying-in-her-tub-of-ice-cream scene — and her observation on a women's place in conventional society is key: "They say that behind every great man stands… a badass broad."
Birds of Prey features a full five-finger force of badass broads, including Rosie Perez (Det. Renee Montoya), Jurnee Smollett-Bell (Trueblood, Friday Night Lights) as club singer Black Canary, Mary Elizabeth Winstead (Cloverfield Lane, Fargo) as Huntress, and LA-based Pinoy Ella Jay Basco (Veep, Grey's Anatomy) as Cassandra Cain, a pickpocketing kid who accidentally lifts a diamond that's very important to Gotham club owner and wannabe Joker replacement Roman Sionis (Ewan McGregor).
Roman is not only dismissive and misogynist towards his female employees and club guests, but his psychopathic subordinate Victor Zsasz (Chris Messina) has a boss crush that would make The Simpsons' Mr. Smithers blush. All the dudes are either out to put down Harley or collect a bounty on her head; she responds in kind. Females get shabby treatment from Gotham's testosterone squad, so it's quite cathartic when the Birds of Prey (for that is what Harley's posse eventually call themselves) decide to fight back.
You'd have to look back at Tarantino's Kill Bill for this kind of estrogen squad. Think Fox Force Five, but they've actually got each other's backs (most of the time). Mix that with Deadpool's adult tone and hyperkinetic pace, and you get Harley Quinn's general gist.
McGregor is over the top as an exuberant wannabe underworld kingpin; Basco stands out as a tough kid (Pinoy roots, y'all) who is befriended by Harley and her pet Hyena (named Bruce, after Gotham's most famous billionaire). The rest of the crew make up for the dark, stultifying mood of Suicide Squad with a more, er, lighthearted approach to kicking butt.
Check out Harley's one-woman invasion of a police precinct, shotgun in hand, firing pellet bags and confetti at cops dumb enough to stand in her way (she's not homicidal; just likes leaving dudes stunned in her wake). And she's no dummy; the point is made more than once that Harley is a doctor. She's smart, but her judgment is sometimes not so. Harley Quinn, in its way, points out society's double standard: after all, plenty of "smart" males make stupid choices in life, despite their credentials.
There are some bravura setups, punctuated by Harley's maniacal grin and lots of slo-mo: her pursuit of the perfect egg sandwich, interrupted by two sets of weapons pointed at her; a showdown in a police evidence room that's a kick; and an epic finale in a carnival funhouse that's bursting with cotton-candy pop colors. Roman's known as Black Mask, so his followers are all dressed in makeshift masks that make them seem like an army of incels hiding behind anonymity, ready to do war on women. That makes their takedown all the more satisfying.
For Harley, gone are the stripper pole moves from Suicide Squad; franchise or no franchise, she's now center stage.
* * *
Follow @scottgarceau on Instagram. Visit x-patfiles.com