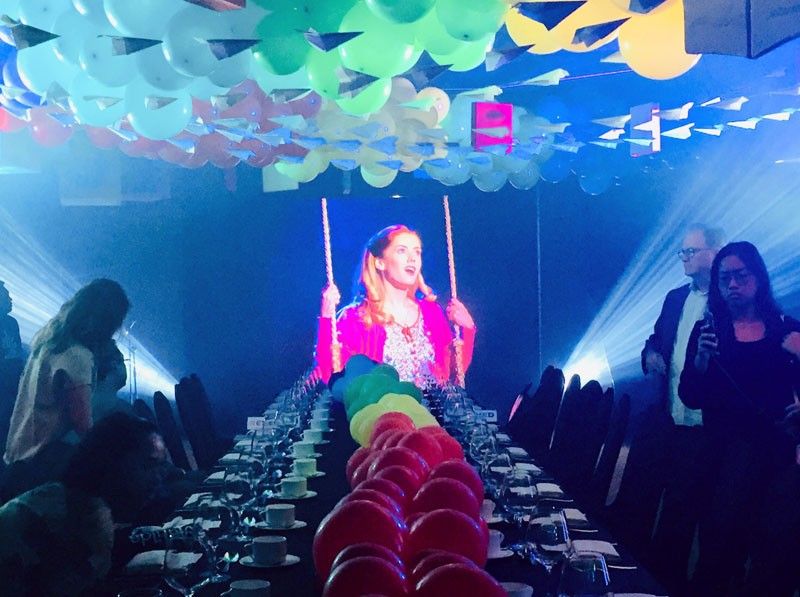 Diamond Hotel was the setting for a tea party-themed Matilda: The Musical press launch.
'Matilda The Musical' comes to Manila this March
MANILA, Philippines — Matilda is a musical that Pink Floyd's Roger Waters could love. Based on Roald Dahl's book, and set in an oppressive British school, it features kids under the iron rule of a demented principal exercising rigid control; but instead of marching those kids into a meat grinder à la Alan Parker's The Wall, the waifs rebel and plot their revenge under the precocious talents of young Matilda. Instead of "We don't need no education!" you can substitute "We're revolting!"
Now, GMG Productions, based in Manila and sourcing international shows for Southeast Asia, along with Virtus Live, brings in Matilda: The Musical to The Theatre at Solaire for two and a half weeks, running from March 5 to 22. GMG heads Carlos Candal and producer Robert Sewell launched the news with a "proper" tea party held at Diamond Hotel's Constellation Room — well, proper for kids, anyway, with school desks, balloons, street games and a Matilda-themed lunch menu ("Little Bruce Pig in a Blanket," "Zinnia Chicken Shawarma," "Matilda Cheesy Beef Slider").
There was no preview performance, but we got to talk to Candal and Sewell about upcoming shows. First off, why is the Philippines suddenly a barometer for Southeast Asian tastes?
Sewell says: "If there's anywhere that loves music, theater, dance, art, it's here. And in general, the Philippine market will enjoy anything that's successful in California. So it's predictable — anything that works in California will work here. You can't say that about the other markets around the region."
Following last year's Cats, and the other "Big Four" musicals that are always a hit in Manila (Miss Saigon, Les Miserables, Phantom of the Opera), GMG is on the lookout for the next big hit here. After Matilda rolls in, we might see School of Rock.
"We want to do the big shows," says Candal. "The famous Broadway shows, the Royal Shakespeare Company shows, the Andrew Lloyd Webber and Cameron Mackintosh shows — that's where we're aiming at."
It used to be a hard sell, bringing Broadway-level productions to Manila. Not anymore. Candal recently said GMG wants to "build on what's here and improve on it." In what ways, I ask?
"In terms of access to product," he says. "Some of the leading producers may not have wanted to come here before — didn't have enough faith, perhaps, before — but they definitely are now. We're in the lucky position where we're being offered shows on a daily basis."
The biggest hurdle still facing the Manila theater scene (besides coronavirus fears)? Both agree: "Traffic."
So what about Matilda will appeal to Filipino audiences? "It's a very family-oriented production," points out Sewell, even if Roald Dahl often shows us the dark side of the family dynamic. "You're not just selling it to, you know, the 38-year-old females, you're selling it to the entire family; they all have an interest in it."
Then there's the music: catchy, witty tunes by Tim Minchin (When I Grow Up, Naughty, School Song, Revolting Children), make it akin to Wicked's underdog message. The book by Dennis Kelly is wry and sharp and it's directed by Tony winner Matthew Warchus. With such a short run (two and a half weeks), this traveling production won't be using any Filipino kids in the cast, and we don't know who most of the lead kids are yet, but cast includes Hayden Tee (yes, a dude as Miss Trunchbull), Haley Flaherty (Miss Honey), Nompumelelo Mayiyane (Mrs. Phelps), Claire Taylor (Mrs. Wormwood) and Stephen Jubber (Mr. Wormwood).
* * *
Contact GMG Productions at gwbentertainment.com and @gwbenter for more ticket and booking information. Visit www.matildainternational.com.