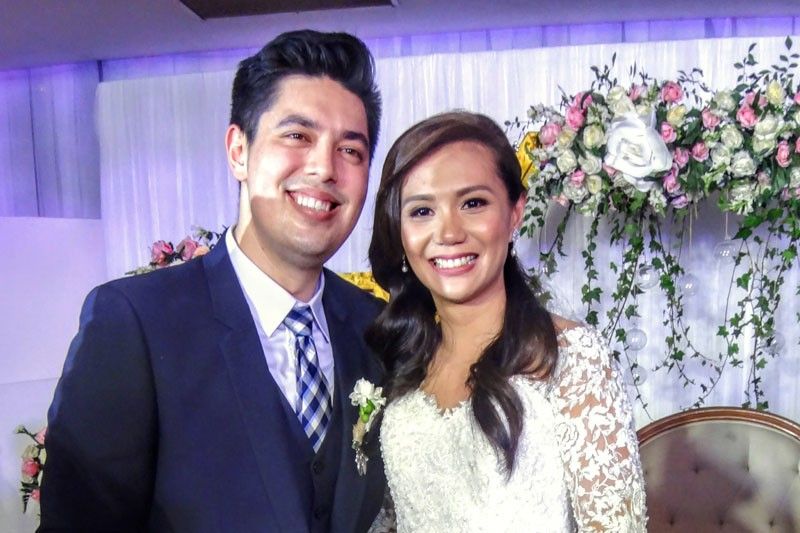 Newlyweds David Abesamis Koenigswarter and Stephanie de Vega Mercado. The bride wears a wedding gown by Bessie Besana.
A Wedding Patrick De Koenigswarter would have loved to photograph
David Koenigswarter & Stephanie Mercado
De La Salle University (DLSU) student David Abesamis Koenigswarter was smitten by DLSU's volleyball star athlete Stephanie dela Vega Mercado. After going out for a spell, he was ready to take it to the next level by asking her to be his girlfriend, but was almost turned down when he asked the already physically exhausted Steph to meet him at the opposite end of the DLSU campus at midday— she had just finished four long hours of volleyball training and two tedious classes. However, love ruled in the end and they have been a couple for almost a decade.
During a trip to Lake Tahoe last year, David had the sweetest surprise for Stephanie by proposing on a snowy peak during an outing with family and friends.
"He connived with our ski instructor to take us to the top of the highest ski run with champagne and plastic glasses buried in the snow as he popped the question in the middle of a small blizzard with a beautiful ruby and diamond ring in his hands," Steph happily recounts. "I was stunned."
During their recent wedding ceremony at the Santuario de San Antonio, the statuesque bride walked solo down the aisle and, upon reaching the middle nave, she was met by her parents (famed athlete and multi-awarded sprinter Lydia de Vega and Paulo Mercado) as she lovingly made "mano" to show her respect and love, a Filipino custom that is fast losing its appeal with the younger generation.
Fr. Julian Mazana, the groom's Colegio de San Agustin high school principal, officiated at the wedding ceremony and shared his message for the couple: "As your principal, I always want the best for you. You have proven your love and we are happy you have reached this sacred moment of getting married, a commitment to be together."
It was doting mother of the groom Eva Abesamis who shared how she always wanted to have a child when she married Baron Patrick de Koenigswarter and was granted her wish when she finally had David.
Though separated for many years, Eva and Patrick have remained friends. Sadly, he passed away a couple of years ago, but had readily given his blessing when he found out that couple was serious about their wedding plans.
Her lovingly succinct message to the newlyweds said it all: "On this special day, may God fill your hearts with much love; your soul with peace; your mind with wisdom; and your body with good health. As you both embark on this new life today, always be happy and above all, be compromising. May your love for each other take hold of the world with a happy heart. Live a long life with your children. To love, loyalty and commitment!"
Despite the couple's busy careers, with Steph playing professional volleyball for the Petrogazz Angels and competing in the Premier Volleyball League, while David followed his childhood dream by becoming an airline pilot for AirAsia, they were hands-on with their wedding arrangements since they wanted an intimate, joyful affair celebrating their love, with the groom even performing with his popular band, the Brat Pack, to the delight of the guests.
* * *
For comments and ideas, please email the author at jacinto.fa@gmail.com or follow her on IG @ frannie.jacinto.