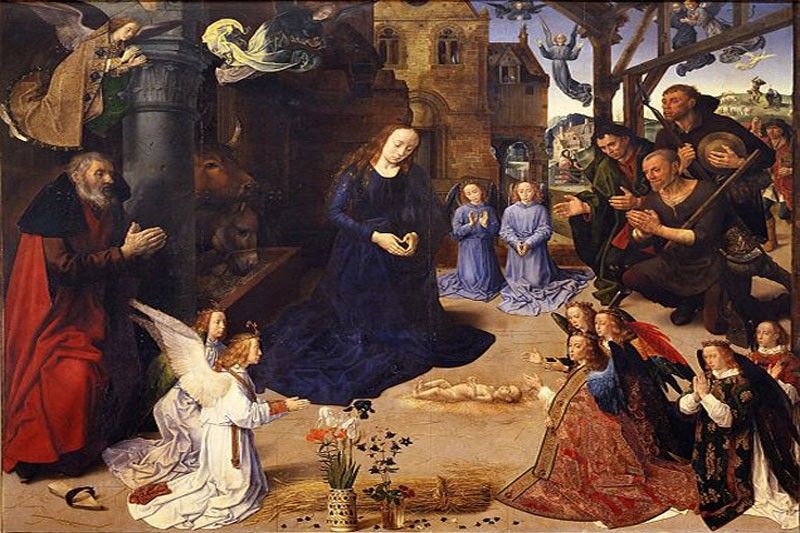 Hugo van der Goes' "Portinari Altarpiece"
It was the first Saturday of the new year. My husband and I had an important date with my son. We were going to pick him up and he would take us to a chapel with healing priests in Silang, Cavite. Sometime in the middle of last year he had invited us, but we could not go for various now-forgotten reasons. I was determined to go this time.
Loy, my husband, looked like I had to drag him to keep this appointment. I could sense him arguing with himself but in the end he decided to get dressed. In the car I asked Gino to tell my lawyer husband Loy, whom he calls "Pattorney," the story of the chapel. "I don't tell the story very well," he said. "I will leave it to my friend Junie to tell you the fuller story but it is a simple chapel that they call Munting Sabsaban. That's Tagalog for 'Little Manger,' where Jesus was placed after He was born. My friend says he knows of four people who were cured of cancer. I know four people and a dog."
I laughed. I knew he was talking about his pet dog Lionel, who had aged with him, was dying about five years ago but they found a "friend" for him, an askal, slang for asong kalye, or street dog. Lionel died only recently of cancer and old age but I know Gino went to this chapel constantly to pray for him. And his prayers were answered. Lionel was given a five-year life extension.
The chapel was without walls. There was a roof, wooden beams and posts. It was not too big but there were many plastic chairs; only a few were unoccupied. I noticed that most of the women were wearing white veils. We decided to enter at the back where a nice woman carrying a basket of white veils stopped me and handed me a white veil with a tiny black clip. "We would like you to wear a veil but please give it back to me before you go," the woman said. "Also, I will hand you this booklet of Prayers to the Most Precious Blood of Jesus Christ so you can pray with us. You also have to return it to me after Mass or if you want to keep it, just give me five pesos." I nodded. Something in her filled me with awe.
Was it the woman or the place that filled me with awe? We found seats. I put on the veil and clipped it on so it would not fall. We faced a wide altar with a monstrance, like the one used in Benediction when I was in grade school. Before the Mass formally began the chorus sang Tantum Ergo. The priest held the monstrance up and the altar boy waved incense. I held my breath. I had not been to a Benediction in decades.
The Mass was in Latin. I remembered some of the responses. When communion time came we were guided to the cushioned communion rail where we knelt and opened our mouths to have the blessed wafer laid on our tongue. Immediately I slipped back to the 1950s when my mother and I lived near the Malate Church, where I walked alone to attend daily Mass, where I received communion every day. Those were my pious years, I used to think, but suddenly I realized those were my blessed years. Suddenly I felt like crying but I could control my tears.
After Mass we were asked to approach the communion rail again to accept the healing blessing. A lady approached me and said she would tell me what the priest would do since we seemed to have a hard time getting down on our knees. They had observed that my husband and I could not kneel down on the cement floor during the Mass. We are, after all, 81 and 75 years old and could not easily make it down there but we realized we could kneel down at the cushioned communion rail. I told her that and she let us.
We knelt down and the priest came to bless us while one of the ladies held Our Lady of Guadalupe's tilma at our backs. The tilma, according to Google, is a cloak made of cactus fiber, upon which the Virgin's image is imprinted. It is held to be miraculous by devotees.
Loy and I were both extremely moved. We met Gino's friends, Meg and Junie, and they invited us to lunch when they would tell us the history of the place. I will share that story with you eventually.
The next Mass at Munting Sabsaban will be on Feb. 11, the anniversary of the chapel. We will be there. If you want to go just look up "Munting Sabsaban" on your Waze. You will find your way. You might also find a lost piece of yourself.
* * *
Please text your comments to 0998-991-2287.