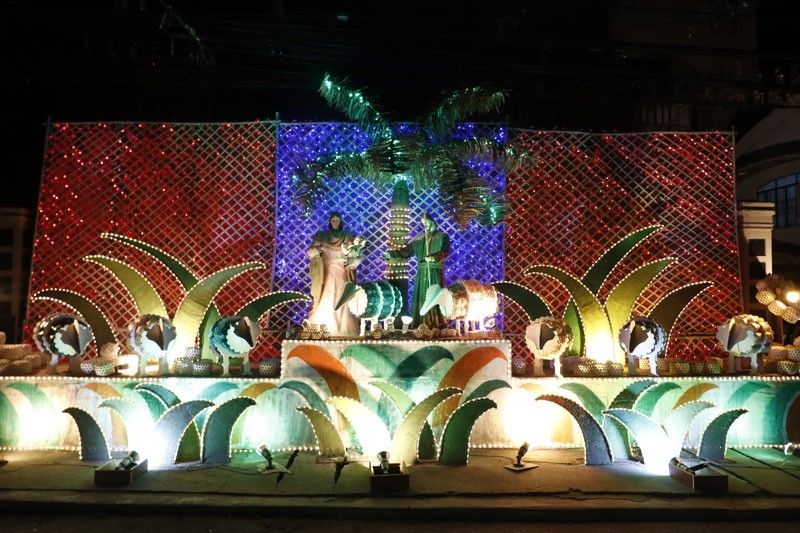 Inspired by the Shepherd's Fields in Nativity scenes, San Roque Parish Church's winning belen is made of 500 pieces of bamboo bird cages, bamboo trellises and abaca cloth bedecked with colorful LED lights.
Photos by Tarlac Heritage Foundation
Tarlac's own brand of grand spectacle called "Belenismo sa Tarlac" is now in its 12th year and is going strong!
This year is extra special in that Tarlac is not only celebrating a 12-year-old tradition of honoring the birth of the child Jesus through its famed crèches. This year, the Belenismo sa Tarlac is very relevant as Pope Francis recently urged the display of the Nativity scene in public and private places.
In a document — the apostolic letter Admirabile Signum, signed in the Italian hill town of Greccio, where St. Francis of Assisi, the pontiff's namesake, created the first crèche back in 1223 — Pope Francis, on the first Sunday of Advent this year, urged Christians to keep the "beautiful family tradition" of preparing these scenes before Christmas, but also to keep the custom of setting them up in the workplace, in schools, hospitals, prisons and town squares.
"Great imagination and creativity is always shown in employing the most diverse materials to create small masterpieces of beauty," Pope Francis wrote. "As children, we learn from our parents and grandparents to carry on this joyful tradition, which encapsulates a wealth of popular piety. It is my hope that this custom will never be lost and that, wherever it has fallen into disuse, it can be rediscovered and revived."
He said that the poor are "a privileged part" of the mystery that is the birth of the Son of God in a humble manger. Pope Francis also wrote, "The poor are often the first to recognize God's presence in our midst."
His letter continues: "By being born in a manger, God himself launches the only true revolution that can give hope and dignity to the disinherited and the outcast: the revolution of love, the revolution of tenderness. From the manger, Jesus proclaims, in a meek yet powerful way, the need for sharing with the poor as the path to a more human and fraternal world in which no one is excluded or marginalized."
According to the pope, St. Francis carried out "a great work of evangelization," one that continues today to touch the heart of Christians, offering a simple but authentic way of portraying "the beauty of our faith."
Whilst still unknown to a lot of Filipinos, the Belenismo sa Tarlac has for the past 12 years exemplified this great work of evangelization through its magnificent belens. Significantly, a prayer in English, Kapampangan, Tagalog, and Ilocano may be found singly, paired, or in groups of four before each of the belens.
At the final judging last Nov. 16, Belenismo sa Tarlac 2019 officially marked this year's start of Christmas for the judges composed of Julie Yap-Daza, Ding Mercado, Reina Tan, Carlo Rojas, Mike Mina, my sisters Michelle Dayrit-Soliven and Yvonne Dayrit-Romualdez, myself, and members of various media networks, as we visited the 27 belens that made the cut to the Finals Night.
But more than a competition — the Belenismo sa Tarlac showcases Pinoy creativity, ingenuity and resourcefulness. The Filipinos' innate love for all things celebratory is evident in the assemblage of masterfully crafted crèches both large and small, depicting the Nativity scene — the heart of Christmas.
For 12 years, the indefatigable mother-and-daughter tandem of Isabel Cojuangco Suntay and Dr. Isa Cojuangco Suntay, founders of the Tarlac Heritage Foundation, Inc., have been tirelessly bringing together individuals, barangays, municipalities, schools, organizations and business establishments in orchestrating Tarlac's greatest attraction during this holiday season of merriment — transcending economic class, political and religious choices.
This year's winners are:
Grand Non-Municipal Category:
1st Place - SM Prime Holdings Inc
1st Place - The AFP Belen
3rd Place - Robinsons Land Corporation
Monumental Category:
1st Place - Nay's House Inc
2nd Place - McDonald's Capas
2nd Place - Maxi's Resto Bar
3rd Place - TARELCO
3rd Place - Don Bosco Technical Institute
Grand Municipal Category:
1st Place - Municipality of San Manuel
1st Place - Municipality of Moncada
1st Place - Municipality of San Clemente
1st Place - Municipality of Capas
2nd Place - Municipality of Ramos
3rd Place - Municipality of Sta. Ignacia
Church Category:
1st Place - San Roque Parish – Fr. Cris Lozano
2nd Place - San Lorenzo Ruiz Parish – Fr. Noel Paguinto
2nd Place - Parish Youth Ministry - St. Catherine of Alexandria Parish
3rd Place - Our Lady of Fatima Parish
3rd Place – St. Niño Parish
Community Category:
1st Place - McDonald's Concepcion
2nd Place - Rizzel Ann Lanoria
2nd Place - Balingcanaway
3rd Place - Almaville Subdivision
3rd Place - House of Cruz
3rd Place - McDonald's Luisita
The Belenismo sa Tarlac and other Nativity scenes everywhere move each one of us because they are a representation of God's love for humanity, according to Pope Francis: "The Creator of the universe lowered himself to take up our littleness. The gift of life, in all its mystery, becomes all the more wondrous as we realize that the Son of Mary is the source and sustenance of all life."
* * *
Belenismo sa Tarlac runs until January 2020. Email me at miladay.star@gmail.com.