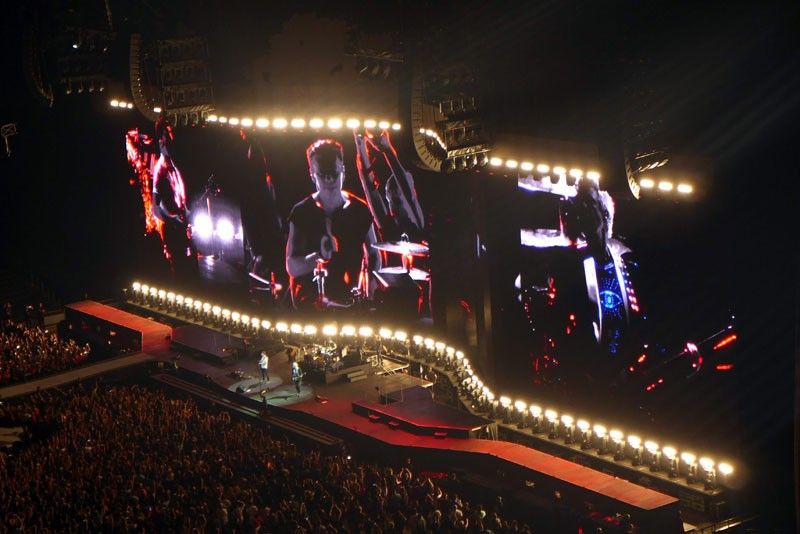 "Heard this could be a church": At Philippine Arena, U2 finally had its sacred "Manila moment."
U2 and Bono take manila to church
Heard this could be a church," U2 singer Bono observed as the band took the stage at Philippine Arena, the 55,000-seater Iglesia Ni Cristo forum last Wednesday. Someone must have tipped him off about how this place usually gets stuffed to the rafters with the faithful, hands aloft for very different reasons, its parking lots crammed with buses and multitudes.
He offered this up to the masses: "Our prayer for this evening is for an epic night of rock 'n' roll transcendence. Anything can happen. Anything will happen." Then launched into the arpeggio chords of Bad.
U2's first visit here was a long time coming. "It's taken us four decades to get here," Bono said, working the Manila crowd. We feel very welcome."
The night opened with a random playlist of '80s hits and scrolling poetry across the stage screens, from Walt Whitman to Beats like Gregory Corso and Ferlinghetti, mixed with Filipino voices (Eric Gamalinda, Jessica Hagedorn). The Filipino touches kept coming throughout the night — though no Big Political Statement, as some had expected. Just Bono whipping the band moving through a set of early faves, then the entire "Joshua Tree" album from 1987, followed by a generous encore that tore through recent hits.
Bono did come to preach, but it was more about delivering his peculiar brand of audience contact high. Voice still strong, he's the not-so-secret weapon balanced against The Edge's chunky and versatile guitar foliage. The set opened with the galloping Sunday Bloody Sunday, then came Gloria from "Boy" (The Edge shifting between piano and chiming guitar harmonics; a multi-tasker, that one), New Year's Day, Bad, then Pride (in the Name of Love). The audience stayed on its feet, phones aloft.
I'd forgotten how "The Joshua Tree" plays out organically as an album. We're all so saturated by the power ballads Where the Streets Have No Name and I Still Haven't Found What I'm Looking For from countless karaoke nights, we tend to forget the Eno/Daniel Lanois-produced album is punctuated by meditative ballads, like Running to Stand Still, Red Hill Mining Town, Mothers of the Disappeared and Exit — the latter of which had Bono down on his knees, supplicating the heavens. Well, he did promise a church…
There is clearly a dichotomy lurking behind Bono's tinted glasses. At a press conference for Philippine Red Cross the day before, you could see him inwardly debating whether to address Manila's political situation directly. The foreign press — BBC, AFP — happily sidestepped question "boundaries" (we were meant to promote only Zipline, a blood-delivery system that Bono advocates) and baited the U2 singer to comment on D23. "President Duterte has many supporters here," Bono quipped. "He doesn't need me on his side." Pressed further, he added this: "My impression of the Philippines is that you are a very sophisticated, very caring people, and I understand that when progress is made, sometimes people make what they think are compromises for that progress. And I'd just say you can't compromise on human rights. That is my soft message to the President."
That's about as partisan as it got. Humility was more his message: "I'm an over-reported, over-regarded rock star with an overinflated opinion of myself. And I know I am not a hero. I'm delighted to be the lead singer of U2 — I'm not giving it up easily — but I know what real heroes look like."
And yet, the U2 concert played a lot like messaging. There was that clip from a '50s TV Western called Trackdown, featuring a snake oil salesman named Trump who wants people's money to build a wall to protect the town from a coming apocalypse. (Yes, really.) And this bit before In God's Country: "Many of us consider our own country to be God's country, but we have to be careful: even the most beautiful landscapes can turn ugly in the blink of an eye, if we don't watch out."
Most of the messaging was of the musical variety, though. As "Joshua Tree" faded, the band dropped the infectious Bo Diddley-influenced rocker Desire before slipping away briefly for a break. Bono was soon back in top hat and makeup to announce the "glam" part of the show. He mucked about with his bandmates, teasing them about their former band, "The Drifting Cowboys" (actually Hank Williams' backing band); then unleashed a stream of "dad jokes," ribbing bassist Adam Clayton about being the "ladies' man" of the group back in the day, now being ordered around by his two-year-old daughter. Then the imagery of the set shifted into the '90s ecstasy phase of "Zooropa" and "Pop," all candy-coated colors and thudding riffs. After "Achtung Baby," it seems U2 became more of a singles band, and while the later hits still resonate — Elevation, Vertigo, and especially Beautiful Day — they do so without being especially thematic or conceptual-minded. U2 is a band that knows its strengths: Bono's keening vocals, lifted to the heavens; pleading melodies and anthem-like hooks; and the supple rhythm tandem of Clayton and drummer Larry Mullen Jr. Not to mention the durable gift that is The Edge, clearly the George Harrison of his generation — always supplying just the right texture and color to fit each song, though he got plenty of rock star mileage from the psychedelic slide-meets-Hendrix workout on Bullet the Blue Sky. At other times, he's a restrained foil to Bono's crooning, such as his piano accompaniment during the plaintive duet, Every Breaking Wave. U2 can do gentle hymns as well as Baptist church stompers, when they feel like it.
There were enough transcendent moments during the 2.5-hour set to help me temporarily forget what a freaking logistical NIGHTMARE the Philippine Arena is. What with parking, lining up for security, securing your seats (upper box for us), not to mention lengthy snack lines and the UNBEARABLE thought of exiting that parking area at some point, it was enough for me to swear off the venue forever. God Himself would have to descend on a flyboard bearing milk and honey to ever entice me to visit the Arena again. (Though I have a strong suspicion U2 came and went using the nearby helipad.)
Somewhere in there, Bono appeared to settle down and get "serious." He wiped off the stage makeup with a towel, as though to rid himself of all that glam camouflage, removed his top hat and slipped on those sunglasses again. (We hear he has glaucoma.) This was Bono getting ready for the final sermon of the evening, a section devoted to "HERSTORY." As the pro-women Ultraviolet (Light My Way) from "Achtung Baby" rang out, Bono fronted a digital billboard screen sprinkled with Filipina faces — Cory Aquino was there, Pia Cayetano, but also Lea Salonga, and Maria Ressa — the latter choice striking some as "political." Well, Bono did have a few things to say about the importance of a free press, bless his naïve and perfect heart (face it: we're no angels), and even this can count as contentious in this day and age. He left us with this: "The incredible thing is, all of you can grow up to be the president, or Maria Ressa. That is the wonderful gift that is the Philippines. God bless you."
As though to underscore the "people have the power" message, Bono and his band concluded their Manila stay with One, but the stage itself was left unlit. Only a roomful of thousands of swaying cellphones lifted aloft to light the way.
* * *
Follow @scottgarceau on Instagram.