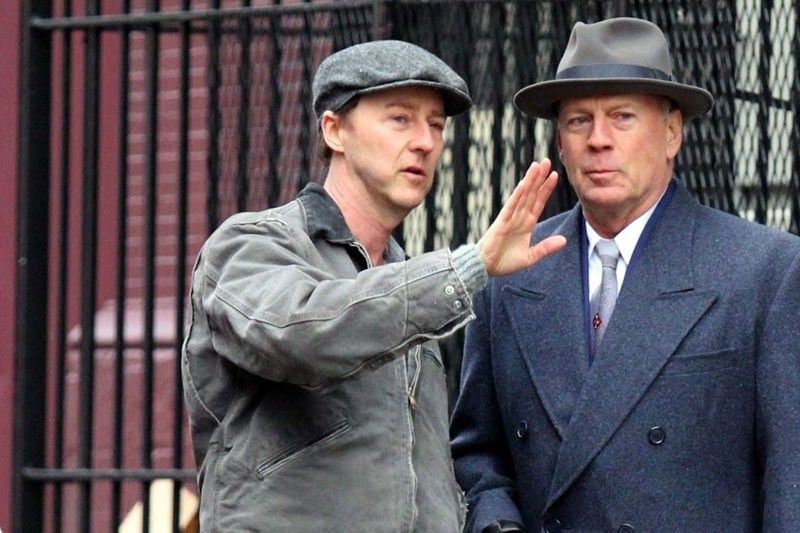 Ed Norton directs Bruce Willis in Motherless Brooklyn.
'Motherless Brooklyn' plays like a bebop murder mystery
The last time many of us saw Ed Norton, he was doing a roast of Bruce Willis on Comedy Central. At the podium, he bitterly lamented that Willis gets paid gazillions for each movie and is treated "like an effing rock star," even though he barely learns his lines; while he, Norton, the intellectual New York thespian, works hard to create art… for peanuts.
Motherless Brooklyn, Norton's latest art project, one which he wrote for the screen and directed from a Jonathan Lethem novel, doesn't look like it cost peanuts. It's a lush, '50s period piece that owes as much to Weegee images of New York City as it does to intricate crime mysteries like LA Confidential and (especially) Chinatown. It's also daffy as hell at times, but as mysteries go, it pulls you along for the ride. And Norton's performance — distracting at first — elicits our sympathy.
Norton plays Lionel Essrog, a private detective with Tourette Syndrome who works for an agency run by Frank Minna (Bruce Willis). His head is crammed full of images, conversations and numbers — he has a photographic memory — but it blurts out a staccato stream of word salad, usually pornographic, whenever he's stressed. This makes him an alienated, lonely man at times. Still, Minna keeps him on the payroll along with other former orphans Tony (Bobby Cannavale), Coney (Ethan Suplee) and Danny (Dallas Roberts) to track down insurance cheats and straying husbands. Frank gets in deep with evidence against shady, hat-wearing goons and ends up shot in an alleyway; Lionel spends the rest of the movie trying to figure out who done it, entering a deeper and deeper labyrinth of lies and conspiracies that takes him up to the top of the city's food chain — a "man of the people" city developer named Moses Randolph (a bulldog-like Alec Baldwin) who wants to clear out African-Americans from slums and gentrify the property for the rich.
Norton, a Manhattan guy, is clearly tuned into the material and its Trumpian overtones. (Lethem's novel came out in the property-booming early '90s. We will recall that, in the '70s, young Trump and his dad were sued by the US Department of Justice for barring African-Americans from renting their apartments in Queens). The depictions of '50s Brooklyn are gorgeous snapshots, whether it's the Brooklyn Bridge at night or carefully reconstructed jazz clubs, hat stores and diners. In scope, it's certainly leaps and bounds beyond Norton's first directorial effort, Keeping the Faith.
It takes you about 10 minutes to acclimate to Lionel's condition, which is akin to having a radio dial that skips around erratically from one manic DJ to the next. He's not only got Tourette's, he's OCD, which means he has to repeat certain movements to keep his "crazy brain" functioning. Lethem's source novel is equally idiosyncratic, weaving a murder mystery out of a private detective who accidentally shoots himself with his own gun, and his razor-smart protégé whose spasms can break pretty much any romantic mood. (One funny scene: he tries lighting a pretty blonde's cigarette with a match, but involuntarily blows it out over and over again before it gets to the tip.)
Norton has done this kind of "affliction" role before, notably in Primal Fear with Richard Gere, and with Brando in The Heist. Like Greta Thunberg, the young climate activist with Asperger's, we're invited to see Lionel's condition as a kind of superpower: he can tune so deeply into a bebop jazz solo that he anticipates the coming phrases with his own parallel scatting. His most persistent outburst is "If!" — as though he's about to recite a Rudyard Kipling poem. It's stagey at first, and a bit unnerving, but you come to accept it as part of his character, and move along.
Lionel starts scoping out Laura Rose (True Detective 3's Gugu Mbatha-Raw), an African-American who works for Rose Horowitz (Cherry Jones) in opposing the gentrification of Brooklyn. The Wire's Michael K. Williams (Omar) appears as a sexually fluid jazz trumpet player; Willem Dafoe (another Wes Anderson alumni) turns up as a cranky architect who wants to bring down Randolph, and enlists Lionel (posing as a reporter) to keep digging; and Leslie Mann has a funny bit as Frank's widow, all crust and '50s patter. Oh, and Thom Yorke offers up a ballad to the soundtrack, apparently at Norton's request, a sign of the director's artistic clout.
Lionel's voiceover (shades of Fight Club) mixes literary riffs with clear exposition, gives this mystery an unusual perspective; it's only when he's flustered that the Tourette's comes on. Willis, playing a former Marine who took in this ragtag crew of orphans and misfits and made them into detectives, has a mere 15 minutes onscreen, but serves as an iconic presence. (Lionel even takes to wearing Frank's overcoat and hat.)
It's, of course, ironic that Norton roasted Willis for only doing movie roles for money; the two notably appeared together in Wes Anderson's Moonrise Kingdom, which was anything but a big-budget action picture. Norton also noted that, when he asked Willis for a favor — to appear in his next passion project, which I guess turned out to be Motherless Brooklyn — the big movie star agreed without hesitation. So maybe Willis has some class after all.
Politically, you can't help but look at a screen depiction of a rapacious New York property developer and not think Donald Trump — it's kind of baked in there — and the extra dialogue about Moses' predatory sexual appetites ("I moved on her") seems lifted straight from the "Grab her by the P***y" hot mic moment that hit Trump before the 2016 US elections. And let us not forget: Baldwin has a sideline job playing the US president on SNL.
Setting aside that readymade association, Motherless Brooklyn also has overtones of '70s classics of cynical cinema like Chinatown — from its property development angle to its puzzling questions about paternity — and its plot is as tangled as James Ellroy's LA Confidential, but in the end it's a little overstuffed, as overly crammed with twists and angles as Lionel's crazy brain.
That's the challenge of turning a literary work into a movie — the novel will always have more going on than a movie can handle, even at nearly two and a half hours — but Norton does a solid job of keeping enough distractions and side trips laid out to at least extend, and reward, our patience.