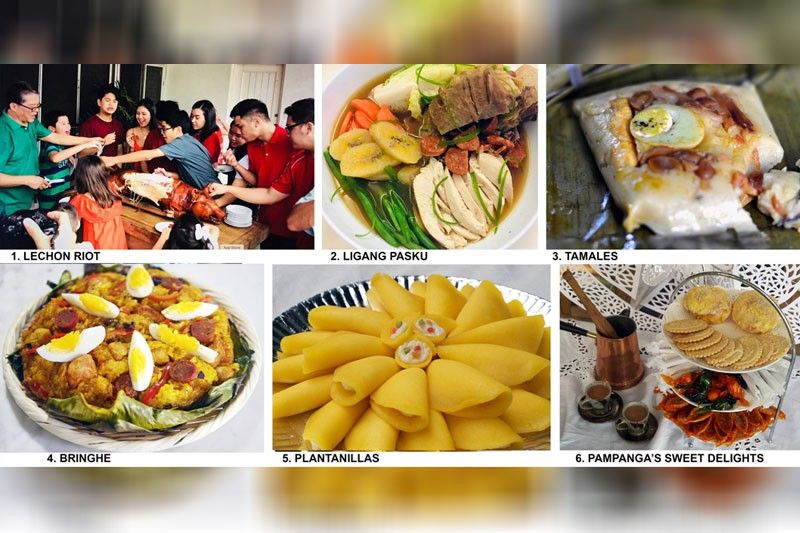 Ang pagkaing walang kwento, walang kwenta
Pasko! Pasko! Pasko na naman muli. Ang pag-ibig naghahari!" So goes the refrain of one of the most popular Filipino Christmas songs that every Filipino knows by heart. ("Christmas! Christmas! It's Christmas again. Love reigns!" Translation from Tagaloglang.com; composed by National Artist for Music Felipe Padilla de Leon.)
It is a known fact that our country celebrates the longest Christmas season in the world. And, atypical of our epic reputation for tardiness, like clockwork, it starts precisely on time on the first day of the "ber" months — Sept. 1. Christmas carols will be played on the radio, as well as shopping malls, like trumpets blaring to announce the (unofficial) start of the Yuletide season. The malls will be decked out with brightly colored decor. And, like a refrain of an old favorite song, we never tire of it. Year in and year out.
Lamentably, Christmas in big cities has boiled down to this — crass consumerism at its best. We have barely recovered from the Halloween and Thanksgiving sales (for heaven's sake, most Filipinos don't even know what this American tradition stands for!). The mallgoers are subliminally primed for another spending and eating spree.
Masses have been held inside the malls, and so with the Filipino tradition of simbang gabi or pre-dawn Mass, albeit held in the early evenings nine consecutive days prior to Christmas Eve. After all, in this age of paralyzing traffic jams, the one-stop shopping mall must provide it all. This is the new reality of the city dweller. It's a generic, homogenous mall culture, where the "happy meal" in some fast-food chain has long replaced the idea of a good meal with good company. Is this the new Filipino culture we're heading to, or are we there already?
Closer to home, where I was born and raised in Angeles City, Pampanga, traditions die hard, especially culinary traditions. True, we have our fair share of shopping malls and all its attendant consumerism. But, they're quite recent. Our family and religious traditions are deeply entrenched; they will be observed year in and year out. I'm pretty certain, too, that every province, every region, still continues to value their respective traditions, in spite of the pervasive onslaught of western culture.
It is exactly this seeming repetitiveness that gives each locality a sense of pride — where continuity is still a virtue and the goodness of community still counts. To put it simply, there is pride of place.
It is this persistence of tradition that gave rise to Pampanga's gastronomic fame. The Kapampangans are known to be fastidious in the kitchen — we simply live to eat.
Thus, we have different sets of dishes served for a specific occasion, starting with the first crawl of a child (lelut balatung or rice porridge with mung beans and coconut milk, believed to make the child's bones stronger), to the wake of a beloved family member (palaman/putung babi and balut, believed to keep awake the mahjong players during a lamay or vigil in a wake).
A wedding or any anniversary's spread will depend on what time of day it is held. A breakfast/brunch reception must have pistú with pan de sal, ensaimada and chocolaté de batirol, asadong babi, etc., and is completely different from a lunch or dinner reception, mostly western fare like roast beef, baked salmon, pastas, salads and the like.
Town fiestas will see the appearance of bringhé, see po egg, lengua estofada, kalderetang kambing, asadong manok, etc., and always a pabaon (takeaway present) of leche flan or embutido. But, whatever the occasion, every host's worst nightmare is kurilyo, which means "to run out of food." If that happens, one loses face. And you'll be the main course in succeeding parties.
Religious observance also dictates what's on the table. The scarcity of food during the Lenten season (dried fish and mung bean soup at best) is glaringly contrasted with the overindulgence during the Christmas holidays. And, on all occasions except Lent, the table will be groaning with snacks and sweet indulgences of all kinds.
Handcrafted candies like carabao's milk pastillas de leche, caramel, petit fortunes, yemas, empanaditas, ensaimada, sans rival, silvanas, turrones de casoy, aleyang ubi; and an assortment of sweet rice cakes like kalame, biku, suman bulagta, as well as the savory rice dish bringhé, empanada, panara and of course baked ham, queso de bola, pandesal and imported fruits for all-day/night snacking.
As a child growing up in the 1960s, the first telltale sign that Christmas was fast approaching was the arrival of an elderly woman selling duman, the young green glutinous rice, harvested during the cooler days on the last week of November. She came on Dec. 1 or 2, on a tricycle all the way from Sta. Rita, Pampanga, and would make the rounds of her usual clientele from Angeles and Mabalacat, year in and year out.
Our mother, Imang During, would ration it out to us, already soaked in warm chocolaté de batirol. My wife Mary Ann, who grew up with her grandmother Apung Pepang de la Cruz, also had indelible memories of the precious grain. "Talnan me, bawan me. Takman me, ditak ditak. Pilasan-lasan me" ("Feel it, smell it. Taste it bit by bit. Savor it"), advised Apung Pepang to her young roommate of six years.
By mid-December, the Christmas spirit will be on overdrive. The Lubenas ning Pasku will be held. According to Robby Tantingco, director of the Center for Kapampangan Studies, Lubenas is a yearly tradition of the Angeleños dating back in 1830. It is coined from two Spanish words luz (light) and novena (nine consecutive days). It is a pre-Christmas devotion, wherein the image of the barangay's patron saint is carried in a procession, preceded by lighted lanterns (parul/parol) made with Japanese paper on bamboo frames. Held on Dec. 16, it's the first of nine simbang bengi/gabi or pre-dawn Masses before Christmas day.
During the procession, the faithful pray the rosary or sing the "Dios de Salve," with the accompaniment of a band, guitars or a capella. The oldest and more prominent barangays of Angeles have continued this tradition since 1830: Barangay Sto. Rosario, Cut-cut, San Jose, San Nicolas and Pulung Bulu. And in each barangay, the whole community gets involved in its production, ensuring it will be passed on to the next generation. And it goes without saying, bibingka and puto bumbong kiosks will sprout around the heritage plaza fronting the Holy Rosary Parish Church, where the Lubenas procession will start and end. And make that with a warm cup of chocolaté de batirol.
To date, the Lubenas is also being practiced in Mabalacat City, Magalang, City of San Fernando, Mexico, Concepcion and Capas, the latter two towns, though politically part of Tarlac province, are populated by Kapampangans. (Source: Joy Lansang-Cruz and the Center for Kapampangan Studies, Holy Angel University.)
In my immediate Tayag family (70-plus and counting, from us 12 siblings), the Yuletide celebration culminates on Christmas Day lunch. It's just a three-course menu, short and simple by Kapampangan standards. It starts with free-for-all lechon, linagang paskú, and buko sherbet. This was what our Lolo Jose Tayag served his brood of 16 children and numerous grandchildren in the 1950s. His dipping sauce of choice for the linaga is a mix of mashed chicken liver, patis and kalamansi. Today, his great-great-grandchildren still swear the linaga wouldn't be complete without his signature dipping sauce.
And so, Christmas is family. Family gathered around a table. A table groaning (or laden?) with cherished food. Food with stories. Stories that link several generations together, both the living and the departed made alive through food.
Ang pagkain walang kwento, walang kwenta.
Maligayang Pasko sa inyong lahat!