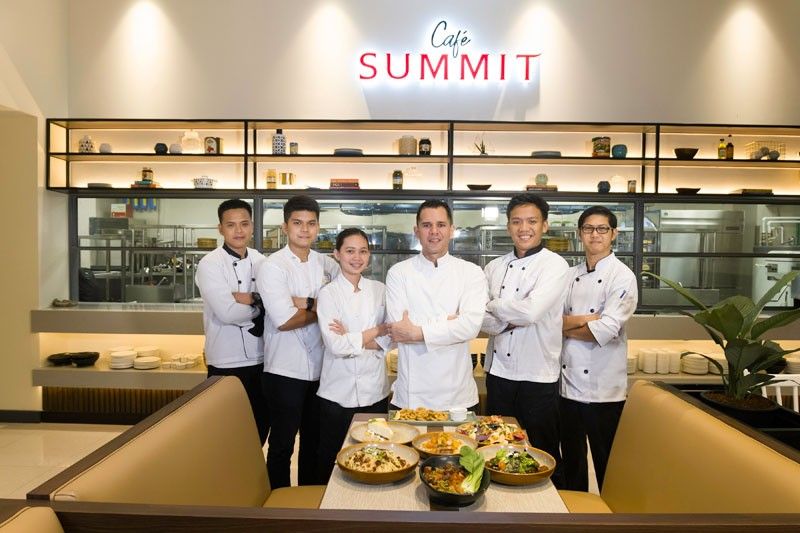 Summit Cafe executive chef Daniel Lachica with (from left) Mark Lapiad, Roden Rivera, Krystal Jocson, Daniel Lachica, Mark Bertulfo, Elvis Ocampo
When dining at Cafe Summit, ask for the chef's secret menu
Let me let you in on a little secret. There's a newly opened hotel along Annapolis St. in Greenhills that's the talk of "foodie" town because its in-house restaurant offers interesting and delicious dishes that are on — and sometimes — off the menu.
Cafe Summit at Summit Hotel Greenhills is a community-centric restaurant that offers something old, something new but familiar.
"As a hotel, we have customers from all around — residents in the area, balikbayans, foreigners and whatnot," explained Cafe Summit executive chef Daniel Lachica. "And so, we didn't want to focus on a particular cuisine in general. We really wanted to create something for everyone. Taking your familiar dish and putting a different twist to it."
Summit Hotel Greenhills is the first branch in the Summit Hotels Group to open an in-house restaurant. Previously, the hotel partnered with concessionaires for their food and beverage (F&B) needs.
Chef Lachica had me at Chicken Tortilla Soup. This bowlful of love — loaded with shredded chicken, roasted tomatoes and topped with colorful tortilla chips — is packed with bold, but well-balanced Mexican flavors with subtle hints of cilantro and lime.
"It's the perfect hangover soup," shared the Fil-Italian chef who grew up in the US. "I love Mexican fare. Whenever I have free time, I love going on a food trip to Mexico. That's my happy place."
In conceptualizing the menu for Summit Cafe, chef Lachica digs deep from his roots, his travels and his culinary experience. The result? Casual, contemporary dishes — made from scratch — he himself would enjoy.
The Biang-Biang noodles is a good example.
"We know that there's a big Chinese community here in Greenhills so I wanted to introduce something different — a noodle dish that one can't find in nearby Chinese restaurants," enthused Lachica.
And it is different. The hand-cut flat noodles are chewy and quite tasty as though they're soaking in all the flavors of the meat (lamb), which is spiced with cumin and other spices, in soy and black vinegar sauce. Hot oil is poured over the noodles to finish.
"Biang Biang is a noodle dish from Shaanxi province in China," explained chef Lachica. "And it's getting popular in New York. We hand-rip the noodles in-house. And since my mom is Italian-American, making pasta is something I do on a regular basis." For Summit Cafe, he even puts a Filipino twist on some of the pasta dishes like the sisig carbonara.
You can have these delicious items at Cafe Summit any time of the day. But if you want something special, just ask the wait staff to give you a minute with the chef.
"I can whip up a special dish just for you from my secret menu," the amiable chef said with an impish grin. "I love experimenting in the kitchen. And I love to be challenged. We can even design a degustation menu for a group of eight."
Chef Lachica may have a secret menu, but his open kitchen at Cafe Summit has nothing to hide.
"Here, everything is made from scratch. And nothing frozen comes out of the fridge," the chef assured us.
Get to know the commander-in-chef
Chef Daniel Lachica started dabbling in the kitchen since he was seven.
"It was kind of forced on me at first," admitted chef Lachica. "My two younger siblings and I were raised by a single mom. While she was working, I had no choice but to cook for them. I learned how to fry eggs. Some days, it was Hamburger Helper Mac & Cheese."
Unknown to many, chef Lachica is a skilled electrician. He even had his own electrical company back in the US.
"I wanted to know my Filipino dad. So when I finally got reconnected with him, I decided to trace my Pinoy roots," shared Lachica. "But my dad warned me that I would have a hard time finding a job here as an electrician."
And that's when the homecook in Lachica kicked in. He enrolled and took up culinary arts at the Global Culinary and Hospitality School in Las Piñas.
"I've worked for several restaurant chains here in Manila prior to joining the Summit Hotels Group," noted Lachica. "I also do my own catering in Laguna.
"My father's family lives in Aklan and we would go down to Boracay for vacation," he adds. "And every time I'm back in Manila, I always think of the calamansi muffins (from Real Coffee and Tea Cafe) so I set out to do a cheesecake version for Summit Café."
The Calamansi Cheesecake is Summit Cafe's signature and best-selling dessert. And we're not surprised why. The soft texture and sweetness of the cheesecake blunts much of the fruity sourness of the local lime.
Cafe Summit also serves buffet breakfast for guests and walk-ins. The menu is composed of local and international dishes made from scratch. And one of its popular breakfast fares is the house-made corned beef.
You might mistake the corned beef for another dish because it doesn't have that bright red color we're used to. Also, it's not as oily as the ones sold commercially.
"The beef is cured and left in a brine for seven days, then slow-cooked for hours," explained chef Lachica.
The well-curated breakfast menu changes every week but it always highlights one or two Filipino dishes.
Other Summit Hotels will soon open a Cafe Summit, while the restaurant will be the flagship restaurant of new Summit Hotels that will open in 2020, in Naga and General Santos City.
The future of hospitality is here
The newly opened Summit Hotel Greenhills is moving toward the future of hospitality as it introduces innovations and sustainability measures to keep up with the changing times.
Here, guests can check in by themselves. Self-check-in kiosks are found in the cozy lobby. After the booking, guests receive an email containing all the details of his/her stay. A reference number is used for the self check-in. It's a paperless transaction, which is also aligned with the hotel's sustainability efforts.
The homegrown Summit Hotel brand is under the Robinsons Hotels and Resorts group, a subsidiary of Robinsons Land Corporation. And it has been in the forefront when it comes to sustainability.
"We're big on sustainability," noted Summit Hotel Greenhills general manager Katrina Lardizabal. "This is the first property in the group to have soap dispensers instead of the single-use plastic containers."
Another green measure the hotel employs is the use of pitchers in the room instead of the usual bottled waters. Two filtered water dispensers are placed in hallways in each floor.
With these measures, the hotel is expected to eliminate 5,000 plastic water bottles a month and an average of 453 kilograms of plastic a year from the bathroom amenities alone.
"Even at the restaurant, we are exploring new ways to remove plastic," shared Lardizabal. "In the kitchen, it's much harder, but we're doing our best to have everything reusable or biodegradable."
Summit Hotel Greenhills also uses inverter air-conditioning units, energy-efficient chillers, highly efficient heat pumps, LED lights, faucet aerators and dual flush toilets.
And since the hotel is located a few minutes away from Greenhills Shopping Center, and a short drive from Robinsons Galleria and Magnolia, it has a shopping concierge. The concierge can pick up guests' shopping items at any nearby mall then delivered directly to the room.
Summit Hotel Greenhills, the sixth Summit Hotel in the country, has 100 rooms, a restaurant and bar, a fitness gym and an indoor pool.
"Our slogan is 'Enriching moments,'" enthused Lisette Area, Summit Hotels and Resorts senior marketing manager.
And I agree. From the warm reception to the well-designed rooms, thoughtful amenities down to the littlest of details, Summit Hotel Greenhills makes the staycation truly enriching for us, their guests.