Nam Vo does glow jobs for Bench beauty
December 8, 2019 | 12:00am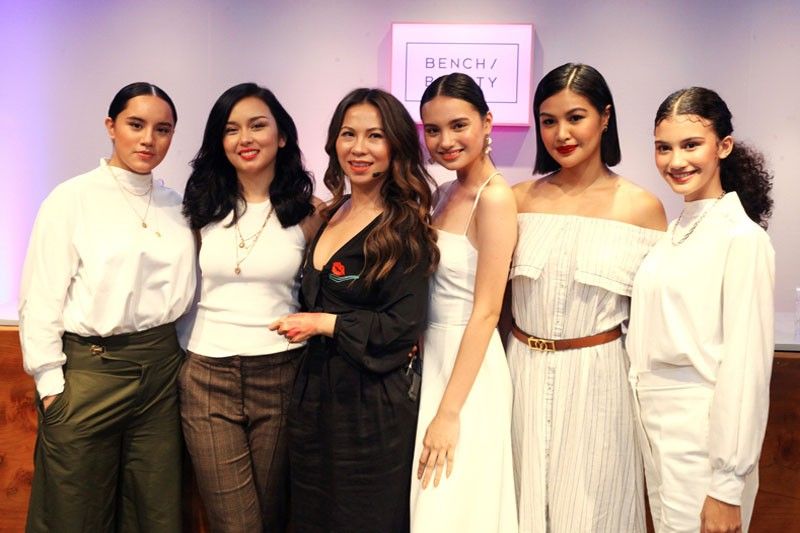 Bench recently invited celebrity makeup artist Nam Vo — the Queen of Glow who made "dewy dumpling" cheeks an aspirational look on beauties like Kylie Jenner, Chrissy Teigen and Rosie Huntington-Whitely — to do a series of glow jobs using the full range of Bench Beauty products.
"Bench Beauty has been around for a while, but we've repackaged and re-launched it," says Bench honcho Ben Chan. "Most of the products are made in Korea and they're really good quality."
Chan discovered Nam Vo through Bench baby Juliana Gomez, who followed her on Instagram. Then, providentially, Juliana's mom Lucy Torres-Gomez went to Bangkok to do an ad campaign, and guess who the makeup artist was? "Lucy told Ben, 'Why don't you bring (Nam Vo) to do the launch of Bench Beauty here?'"
Chan himself doesn't discount the possibility of having Vo collaborate on a future Bench Beauty x Nam Vo product line.
Vo flew into Manila at the height of Typhoon Tisoy but made good use of her time, getting a full facial at the Aivee Clinic and asking her hairstylist to give her "sexually threatening" hair for the launch. Here are the highlights of our interview:
THE PHILIPPINE STAR: What are your first impressions of Filipinas and the way they do their makeup?
NAM VO: Everybody's very gorgeous. The weather was not cute yesterday; to be honest with you, I haven't been able to see much. I literally have been sitting in my hotel room, but it's been great.
You normally work with the best luxury makeup brands in the world. What drew you to a very democratic brand like Bench?
I think that their makeup is really not about pricing. If you look at buying behavior, for example, somebody might wear Gucci shoes but a Forever 21 dress, and people's buying behaviors are very high-low. And Bench Beauty is very affordable, but the formulations, the textures — everything is just beautiful. It reads more like luxury to me, if anything.
Are your wearing Bench Beauty right now?
Yeah, I'm wearing Swoon (lipstick), the contour stick and the highlighter stick as well.
What are the essential Bench Beauty products to get the Nam Vo glow?
Well, I love the contour sticks, the highlighter, and I also really like the loose powder, because it takes away oil but not the glow. I think a mistake that a lot of women make is they tend to over-mattify and over-powder, which can be very aging. So I like that the powder is so fine that it takes away the oil, but it doesn't make you look cakey.
How did this collaboration come about?
They just brought me in for this special event. They contacted my agent and from what I hear, the movement in the Philippines is you're very much into glowy, dewy looks right now, and that's what I'm about. And then if you look at the Bench aesthetic, it's very fresh and healthy. So I think that's great in alignment of my aesthetic as well.
For the longest time we were into mattifying because we're so afraid of looking sweaty or oily.
Embrace the oil. Oil means youth.
How do you tailor your "dewy dumpling" technique to oily skin, dry skin and more mature skin?
Well, if you're oily, I keep you oily. If you're not oily, I add oil. I just like very moist, luminous moist skin. I think being oily is amazing, actually.
In terms of getting the look, how much is skincare and how much is makeup?
I think it's both. You should always start with skincare rather than creating the illusion of dewy skin and flawless skin. I think you should work for good skin and then from there, you can build upon makeup. The better the skin, the less makeup and illusions you're going to have to create. Rather, just work to really have gorgeous skin.
How did you first get obsessed with the dewy dumpling look?
Well, since I was a child, my mom is Vietnamese and she had melasma and sunspots, so she always traumatized me about that: 'Do you want sunspots? You'd better wear your sunblock.' I guess it's very natural I've always just gravitated towards skin-focused work.
We live in a tropical, humid country where layering oils and creams might feel sticky or heavy. What's the minimum amount of product we can use to get a glow?
Layering all the thick oils and creams, maybe do that more at night. I would go heavier on the treatment at night and then sheer it down for the daytime, especially in a climate like this where everything wants to melt off your face.
What about in terms of retouching throughout the day?
I don't mind the cheeks being a little bit more shiny, but I always retouch with a little bit of powder around the nose, around the smile lines and the middle of the forehead. I like the rest of the face to shine.
In terms of color cosmetics like eyeshadow and blush and lipstick, do you think warmer tones are more suited for Asians, or do you think we can also rock cool colors?
I think that we can rock cool colors. I tend to be very attracted to warmer tones, like I love peachy, pinky, caramel-ly, nudie. I think that's universally attractive, but I also like pops of color. I think Bench does a really good job of doing those gorgeous matte lips, and if you look at the campaigns, it's quite seamless and kind of effortless.
If you could do your dream makeup and skincare line, what would be in it?
Well, we know it would be very glowy. If I could do my dream skincare, it would probably be like a marriage between French and Asian. I like a lot of Korean textures, like the sponge textures, and they're light years ahead when it comes to beauty. I do like Japanese textures, too.
Are you a fan of glass skin?
I love it. The glass skin, the glazed donut, the dumpling — I love it all.
Who are your favorite celebrity clients to work with in the States?
I like Chrissy. I've worked with Chrissy Teigen many times; she's very sweet. She's a dumpling. Kylie is always easy to work with. She's great, too.
Is there anybody you still dream of working with?
I'd like to do Beyoncé. I'd like to make her into a dumpling.