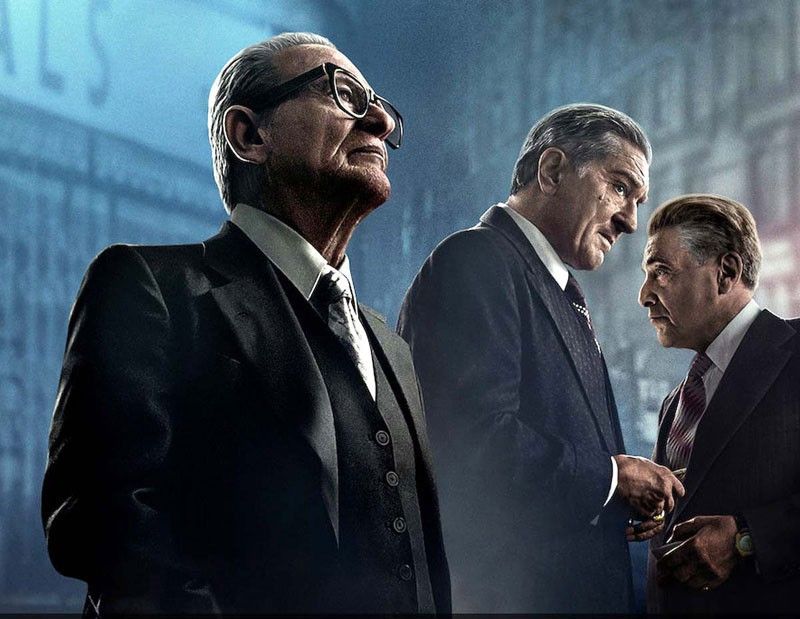 Titans of Crime: Joe Pesci, Robert De Niro and Al Pacino bring it all back home in Martin Scorsese's The Irishman, now on Netflix.
Scorsese's 'Irishman' is an elegy to american crime
The Irishman, now on Netflix, is a Martin Scorsese-directed acting tour de force, bringing together three icons of cinematic violence Robert De Niro, Al Pacino and Joe Pesci in one deeply unfurling road trip elegy to American crime. (See Igan D'Bayan's Nov. 10 review in STAR for more in-depth background.) To see them together though never all in one scene; that's almost too much acting power, like seeing Godzilla, King Kong and Ghidorah in a simultaneous dustup is to feel immense awe at the possibilities of what Scorsese calls "cinema," give or take the prevailing tentpole Marvel movie.
Weaving together the fates of Frank "The Irishman" Sheeran (De Niro), papal mob boss Russell Bufalino (Pesci, lured out of retirement) and US labor leader Jimmy Hoffa (Pacino, arriving 45 minutes in with a bang), Steve Zaillian's script aims for the fences, tracking the American post-war dream, its inevitable '60s nightmare (political assassinations), as well as the '70s-'80s hangover and the repercussions of the moral choices we all make.
There are sequences here recalling Scorsese's earlier mafia epics, GoodFellas and Casino (he even reels in Harvey Keitel, the morally conflicted Charlie from Mean Streets, for a small role), but the tone is all late-game regrets: Frank sitting in a rest home wheelchair at the movie's opening, telling us how it all went down — from stealing sides of beef on his truck route to working for Bufalino (Pesci at his most measured, yet still menacing), then finding a mentor (not unlike Hyman Roth in Godfather II) in Jimmy Hoffa, a mobbed-up Teamster leader who gripes at being singled out by the Kennedys for persecution (after helping Jack bag the White House, ferchrissake!).
The Pacino-De Niro sitdown scenes will likely go down in cinema history for that trademark balance of humor, menace, and imminent violence that only Scorsese, even at this age, can do so well.
Women, typically, play a background role in Scorsese's mob epics, but note Anna Paquin's quiet moral authority as Frank's daughter Peggy she's seen what gruesome violence her dad is capable of, once witnessing him break a shopkeeper's hand on a neighborhood street as a kid. Her smoldering silence eats away at Frank.
The Irishman, for all its exuberant windups of sudden violence and captioned epitaphs about how certain characters meet violent ends, also plays a bit like those elegiac Westerns of Peckinpah, like The Wild Bunch realizing that time has moved on, and yet there are no quiet retirement options in their field of work. There's even a musical score by ex-Band leader Robbie Robertson that channels not just mournful Ennio Morricone Spaghetti Western themes and hints of Nino Rota's Speak Softly Love, but a bit of Godzilla. (Fitting for The Titans of Crime.) De Niro once again plays a conflicted peacemaker, the everyman who in GoodFellas and Casino tried to rein in Joe Pesci's rage, here trying to harness Hoffa's loose tongue. (His performance comes together in one brilliant apogee during a phone call to Hoffa's distraught wife.)
Spanning decades from a key '70s road trip back to WWII, where Frank learned to kill without conscience The Irishman skips across time via the wonders of Industrial Light CGI and aging makeup. What you're left with is Frank, alone, estranged from family and his past, in a wheelchair, asking a hospital attendant to "keep the door open a little bit" as she leaves, a moment that echoes the famous final door closing in The Godfather as well as, perhaps, a minor Raymond Carver short story ("Bicycles, Muscles, Cigarettes") in which a young boy first glimpses his father's true potential for violence when he threatens a belligerent neighbor; later, tucking him in at bedtime, the son asks his dad to "please leave the door open," but the dad, thinking better, closes it halfway. We see what we're allowed to see in this life.
* * *
Now on Netflix.