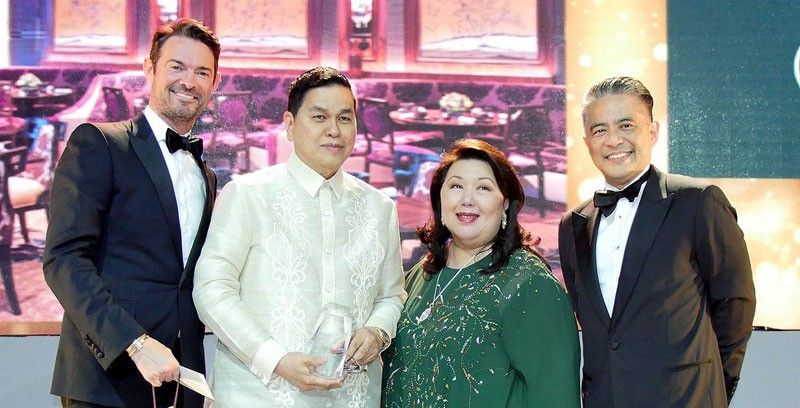 Nationalist retailer Ben Chan receives the Diamond Award from Tatler's Brendan Monaghan, Irene and Randy Francisco
Filipiniana stands out at Tatler Ball
Sophisticated Filipiniana elegance stood out during the 18th anniversary of the exclusive Philippine Tatler Ball for its handpicked 500 guests.
"I feel we are very fortunate to have the perfect way to thank our friends and supporters through the annual Philippine Tatler Ball," said managing director Irene Martel Francisco. "Aside from hosting our friends to dinner and dancing and awarding exemplary individuals, we are able to raise funds for a carefully selected beneficiary each year. It is through our guests and Tatler's combined efforts that we are able to showcase the best of Filipino society... the part that wants to give and show care for others."
Ideas and implementation took about five to six months of careful planning with a small team that included Shauna Popple Williams and Karla C. Santos, along with charming daughter and creative strategist Isabel Francisco, kept top secret so that there was always an element of mystery for the selected guests such as the surprise appearance of Journey's Arnel Pineda who rocked the evening with the iconic band's top hits that proved that his voice is at par with his idol, original member Steve Perry.
Inno Sotto, topped the list of Philippine designers favored by the well-dressed ladies. Ito Curata, Joey Samson, Monique Lhuillier, Albert Andrada and Rajo Laurel also made several gowns. Colored gowns and ternos outnumbered the staid black gowns and frothy tulle dresses; fluttering chiffons and slinky jersey fabrics seemed to be the most favored materials.
Filipiniana chic stood out with a number of women opting to wear our national dress in different variations. From vintage redesigned ternos chosen by Patroness of the Arts awardee Sofia Zobel Elizalde in Inno Sotto and Kai Lim in Ramon Valera to elegant high-fashion designs worn by Mia Borromeo in a black/white eyelet Ito Curata terno and Anya Cajucom in a rich silk black terno by Ivar Aseron.
This year's awardees were all highly applauded for their endeavors:
Sofia Z. Elizalde, Patroness of the Arts, for bringing ballet and dance to various sectors of society.
Joanna Preysler Francisco, Most Stylish.
Alice Eduardo, Most Charitable Force with her quiet philanthropic works.
Joey and Marissa Concepcion, Couple of the Year, proving that being married and working together can be a plus in this 33-year-old partnership.
Ben Chan, Diamond Awardee for his excellence as a retailer and nationalist advocate of ''Love Local'' and terno revival.
WWF was chosen as the ball's beneficiary with more than P12 million raised and amounts still trickling in. As with all Philippine Tatler's balls, 100 percent of all funds collected from donations and auction proceeds are given entirely to WWF as it remains at the forefront of helping Mother Earth in conserving wildlife and marine life, fighting climate change and providing livelihood programs in the hopes that Filipinos can live in harmony with nature.
Tatler's sponsors are Mercedes-Benz, The Global Real Estate expert, Santos Knight Frank, with supporting partners Bulgari, HSBC Premier and Subic International Golf Club.