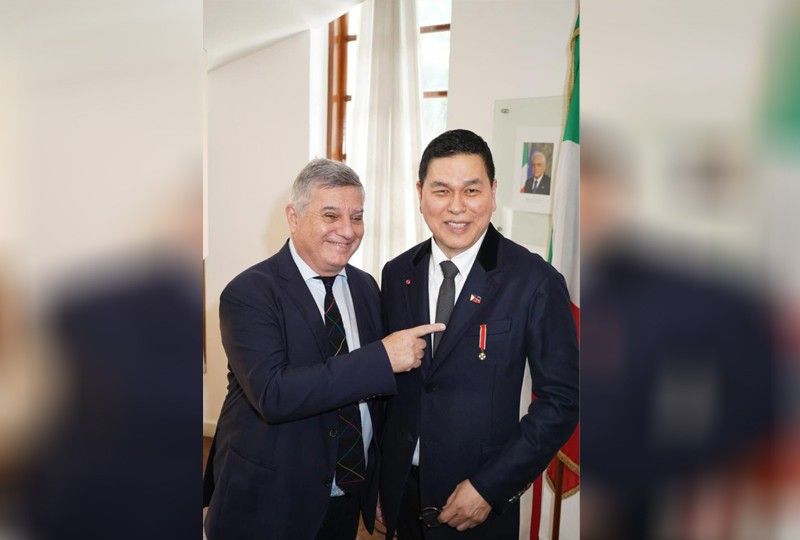 Italian Ambassador Giorgio Guglielmino points at the medal awarded by the Italian government to Ben Chan along with the title of honor, Cavaliere dell'Ordine della Stella d'Italia".
Miguel Pastor
'It is my honor to serve as your cavaliere,' says Ben Chan on his award from the Italian goverment
To Ben Chan's job descriptions as retailer, restaurateur, traveler, art and culture advocate, add a new one: knight.
The Italian government has awarded him the title: Cavaliere dell'Ordine della Stella d'Italia ."For his outstanding contribution in building relationships between Italy and the Philippines,"says Italian Ambassador Giorgio Guglielmino who conferred the title to him, along with the medal and plaque.
Does that mean that Ben is now a Knight of the Italian Round Table? Maybe more like a knight who promotes Italian tables.
As Ambassador Guglielmino says: "Chan Tian Siu, also known as Ben Chan, is a prominent Filipino-Chinese entrepreneurial who is behind the successful fashion clothing line Bench, which over the years. has become the most important local brand in the fashion and lifestyle industry.
"In addition to this, Ben Chan's innate creativity and exemplary entrepreneurial skills also focused on distributing high quality Italian furniture brands and design, such as Cappellini and Foscarini, to the Filipinos. It is this sector that he developed a solid relationship with Italy by bringing the highest quality of Italian design to the Philippines.
"Ben Chan has significantly contributed to raising Italy's visibility by promoting excellence. Through his Dimensione showrooms, Italian products have become synonymous with beauty and elegance for thousands of Filipinos.
"In consideration of this, the President of the Republic of Italy, Sergio Mattarella, has awarded the title, Cavaliere dell'Ordine della Stella d'Italia, to Mr. Chan for his outstanding contribution in building relationships between Italy and the Philippines."
Ambassador Guglielmino shares that Ben was one of the first people he met when he arrived in the Philippines two years ago. "One of my first moves was to give the residence of the Italian ambassador a more modern look. It is important not only to present the classical, but also that we show that Italy is always evolving. So one day, while walking at the BGC, I entered Dimensione. " And that was where he found out that there was a Filipino promoting Italian excellence.
In accepting the award, Ben said in his speech:
''Grazie di cuore. Maraming salamat po. Buongiorno.
''I am deeply humbled to receive this honor from your great and beautiful nation, the Order of the Star of Italy.
''Before I became involved in fashion, I was a practising interior designer.
''Even before there was Bench, I first put a shop selling furniture pieces that I designed. I gave it an Italian name: Dimensione. Little did I know that under that name I would later be importing the finest Italian furniture and selling it in Manila. Under that name I also make yearly pilgrimages to the Salone Del Mobile in Milano, a great source of inspiration and education for me, something I cannot miss. And now because of Dimensione I am receiving this knighthood from the government of Italy.
''I am very proud to be a purveyor of Italian goods.
''Every Italian product is like an ambassador of Italian culture. It could be a chair, a shirt, or a plate of pasta. There is something about Italian goods that makes you feel there is nothing better, that this is the best you can get. I think it's all due to Italian passion.
''We Filipinos have a lot to learn from Italy, which holds the highest standards in quality, craftsmanship, respect for traditions. And most of all: design. What I admire most about Italian design is the good mix of modern and classic aesthetics combined into one functional new form. Whether Italians produce furniture, objects, fashion, or interiors, it is always an allegiance to the past to create a modern statement for the future.
''Let's carry on in forging closer ties and exchanges between the Philippines and Italy, between Filipino culture and Italian culture, Filipino products and Italian products.
''It is my honor to serve as your cavaliere.''
Ben Chan. A knight in shining armor. Or should we say Gucci coat?
* * *
Follow the author on Instagram and Facebook @milletmartinezmananquil. Email her at mmmananquil@philstarmedia.com.