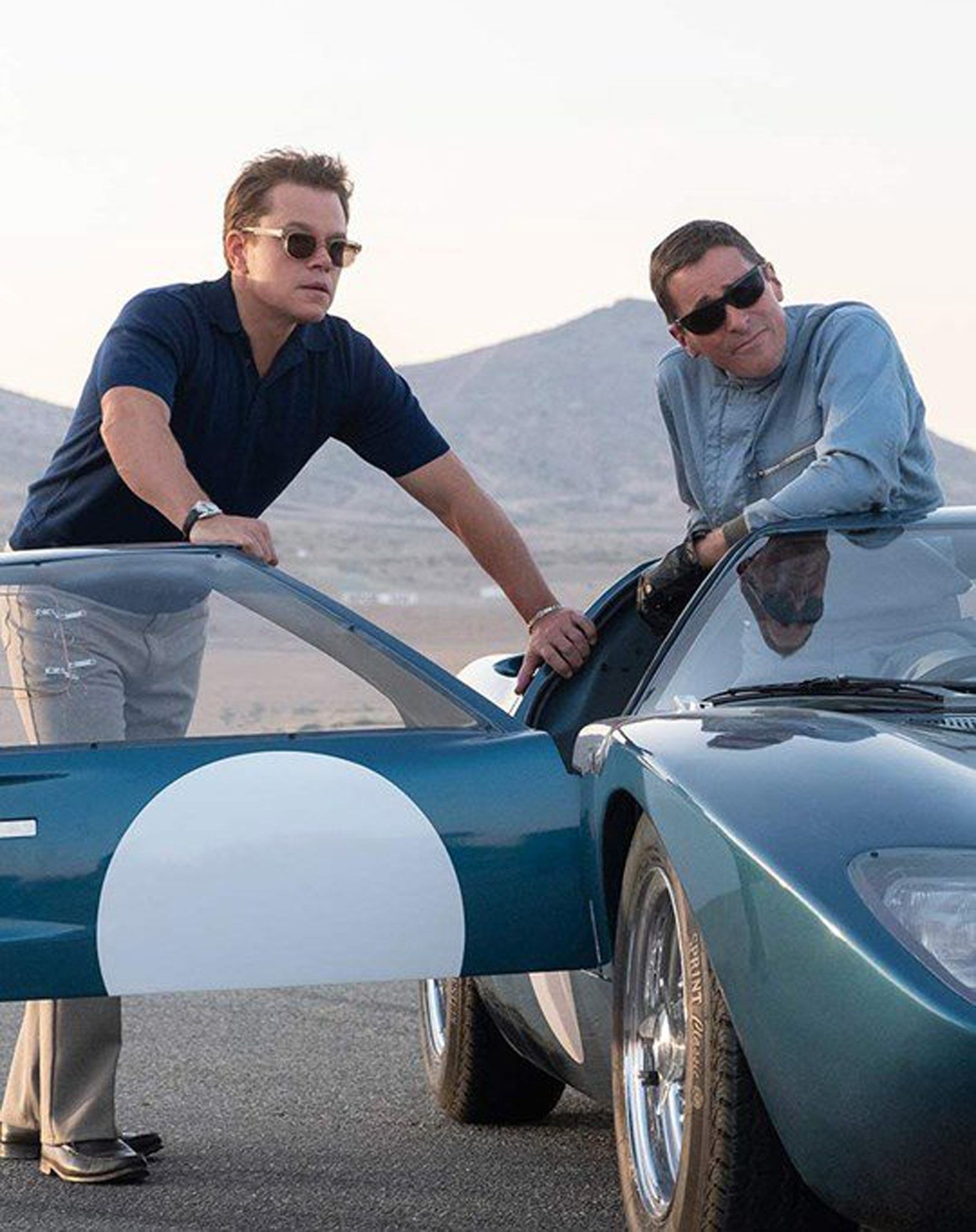 Matt Damon and Christian Bale take on the Ferrari legend in Disney/Fox's Ford v Ferrari
When Ford made cars fast and furious
In Ford v Ferrari, James Mangold's racecar drama set in the '60s amid the grueling Le Mans race in France, Christian Bale and Matt Damon play performance drivers who help the Ford Motor Company — known for building safe, family American cars — in designing racecars with engines that can take on the best from Italy's Enzo Ferrari.
The Le Mans is a 24-hour trek through uneven road and weather conditions, and few American racers could ever finish it; two of them that did were Ken Miles (played with feral, "crazy like a fox" intensity by Bale) and Carroll Shelby (played by Damon with typical "aw-shucks" charm), and they're recruited by the company's namesake chairman Henry Ford II (played by Tracey Letts, who conveys chief executive disdain like few others) after the company goes into a sales slump.
It starts with a hissy fit by the Ford CEO, informing his top executives and technical staff that the company is losing out to Chevrolet, and must come up with sexy new cars, pronto — or else.
One idea is the Ford Mustang, launched by Ford executive Leo Beebe (Josh Lucas); but young upstart Lee Iacocca (Jon Bernthal) has an even bolder suggestion: why not enter Ford in the world's booming racecar circuit? When Iacocca learns that Ferrari, the reigning champion in performance racing, is bankrupt, the Ford Company swoops in to buy them out; but legendary owner Enzo Ferrari (Remo Girone) is not pleased when he's told Ford would effectively control Scuderia Ferrari, the racecar team that's won five Le Mans in a row, and the deal falls through. In a memorable scene, Ferrari dresses down Iacocca, telling him to go back to his "fat car factory" full of "fat car executives," before lambasting the company's CEO: "He is not Henry Ford. He is Henry Ford… the Second."
Ford the Second does not take this taunt lightly, and enlists car expert Shelby to assemble the best team possible to create the fastest car ever built, one that will blow Ferrari off the road.
The race scenes themselves — early ones meant to establish Shelby and Miles' racing cred, during the testing of Ford's fast new cars, and especially the final Le Mans showdown — are sheer adrenaline, every bit as nervy and thrilling as a Steve McQueen marathon (similar, too, to Rush, the Ron Howard Formula 1 biopic pitting Chris Hemsworth's cocky British racer versus Daniel Bruhl's steely Austrian one). Mangold, last seen directing Logan, has a feel for action; it's not all flash, there's plenty of grit in there, too. Sitting center row in a cinema as about as close as I'd want to get to the Le Mans high-speed death traps.
Women are conspicuously absent in this bromance between Damon and Bale, with only Ken's long-suffering wife Mollie (Caitriona Balfe, doing her best to stand out with little material) on hand to lend moral support.
As played by Bale, Miles does not fit the Ford profile; he's cranky and straightforward in his opinions — an "individual" all the way, "not a team player," in Leo Beebe's view. Playing a British driver doesn't sound like a stretch for Bale, but as usual he slips, chameleon-like, into the details: notice the deeply tanned look, the crinkled crows' feet, the slightly crazed expression on his face, and his shuffling gait: whether he's normal or nutty, Bale always plays deep left field.
You could say Bale is drawn to characters who think differently, who are slightly hobbled by their social handicaps. Take the hedge fund manager with mild Asperger's in The Big Short, or his bad-wig, big-hearted con artist in American Hustle, or even side-sneering war freak Dick Cheney in Vice; or hell, why not even his Patrick Bateman in American Psycho, or Batman? His characters flourish on the fringes of Edge City.
It's not exactly a flashy role for Bale, but he's possibly in the running for another Oscar nod, though the script isn't quite as deep or nuanced as you might like. You never really get to understand what drives people like Miles and Shelby, though there are bits where Damon explains to us, in voiceover, the effects on the body of traveling at speeds over 200 miles per hour, when the engines rev beyond 7,000 rpms. It's apparently a moment that tells you who you are, as a person. And that's about it.
But it's mostly a character study of individualist types up against corporate boardroom mentality. Ken Miles would be Exhibit A.
Shelby is his dead opposite, personality-wise (and this is a trope of most sports biopics, the odd couple, whether it's Kevin Costner and Tim Robbins in Bull Durham or Will Ferrell and Jon Heder on ice in Blades of Glory), but the Stetson-wearing Texan can understand and respect someone like Ken Miles — even after he throws a monkey wrench at his head.
There are lots of scenes of sexy cars here, and lots of talk about engine capacity, torque and RPMs, but even if that's not your thing, the action alone will keep you fairly glued to the seat, and the camaraderie between Bale and Damon is loose and entertaining.
Interestingly, Ford v Ferrari is one of the first adult-market films released by Disney through its recently acquired 20th Century Fox studios. In many ways, it has the plucky, come-from-behind feel of a Disney film — though, admittedly, with considerably more cussing.
It's hard to believe such a story actually happened, but for a time, with the GT40, Ford managed to design cars that were better and faster than Ferrari's — and they found a driver crazy enough to push them to their limits. There are side bets involving a jealous Beebe and treacherous bits from the Italian team — and the rivalry alone makes Ford v Ferrari worth the ride.