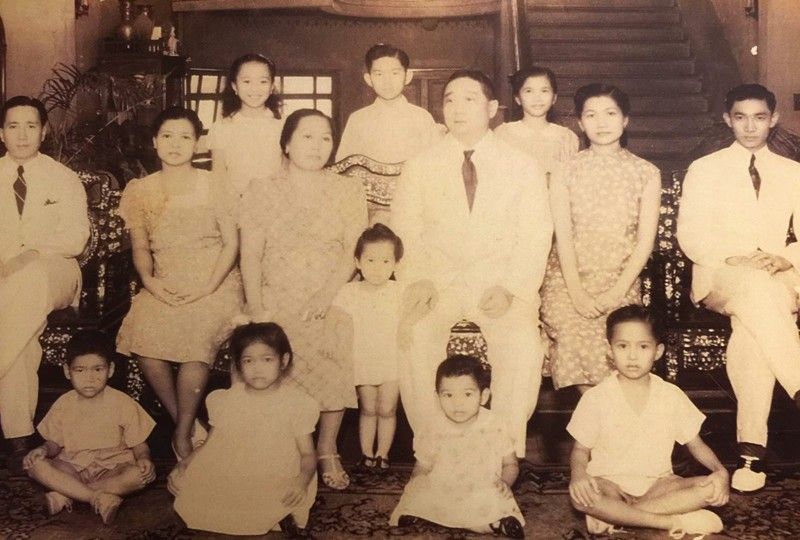 (Seated, from left) Jose Marquez Lim and Judith Guanco Marquez Lim (parents of Alice M.L. Coseteng); Concordia Asensi and Pedro Marquez Lim (father of Jose, Juanita and Mariano); Juanita Marquez Lim (mother of John Gokongwei ); Mariano Marquez Lim (father of Gene M L Villena (retired executive of Gokongwei Group of Companies); (standing at the back) Alice Marquez Lim Coseteng (my mother, deceased), John Marquez Lim Gokongwei (deceased); Norma Marquez Lim Jalandoni, sister of Alice; (seated on the fl oor) siblings of my mother Alice, Jose Marquez Lim Jr. (deceased), Sylvia M L Orozco, Marrieta ML Sumcad (deceased), Eduardo Marquez Lim, Vilma, ML Poblador. This photo must have been taken before World War 2 in our house in Iloilo City where it still stands today.
My 'cousin' John, dearest Iya
In family conversation, it was never "John Gokongwei." He was always fondly referred to as "Iya" while his mother Juanita, half-sister to my grandfather Jose Asensi Marquez Lim, was " Wati."
As a constant companion to my maternal grandmother Judith, I was often within hearing distance of the conversations between her and my grandfather, and Iya would come up every now and then.
Of course, I didn't know who they were referring to till very much later.
In fact, I got to know Chippy and Chiz Curls way before I got to know John Gokongwei.
My mother Alice, who was five years John's junior, would always talk about relatives, connections and traditions, and I eventually felt a sense of connectivity to the Gokongweis, especially John, who never referred to me as his niece, which I am, but as a cousin. This made me feel older or made him feel younger in the hierarchy of things, but nevertheless gave me a strong sense of recognition.
It was not until the late '70s when another aunt, Gene M.L. Villena, who was also a first cousin of both John and my mother, started to work for John.
So John's presence became more real and my curiosity about him grew.
There was hardly any contact, though, to the Gokongwei family except through Robina, who in every occasion we got to meet, always exhibited friendliness, intelligence, humor and wit — as well as the characteristic impishness and naughtiness present in a Marquez Lim, as I know us to be .
Gene's father Mariano was also a half-brother of my grandfather, and I recall very clearly that he and my grandfather were the Philamlife Insurance agents for the Visayas as I often visited them in the Philamlife office in Iloilo City, not very far from our ancestral home.
It was not until the mid/early '80s after the Aquino assassination that I sought Gene's help to ask for snack food and coffee to keep us going during the rally days that I really got to know of family ties.
During the Philippine Basketball Association's (PBA) earlier days, in the mid-70's, the Gokongwei Group was represented by its commercial team Great Taste with Ignacio Go Tao sitting on their bench as team manager. Both Great Taste and our Mariwasa Hondas were founding members of the PBA. The Mariwasa-Honda team was headed by my father Emerson Coseteng. There was friendly competition even though things could get really heated up, and the Gokongwei-owned Great Taste was really a team to contend with. I always found myself lustily cheering for our team to win.
Mr. Go Tao, I recall, would always refer to me as John's niece. One day, I thought , I'd like to meet the "big man" behind Great Taste, who was the opposite of the "small man" Mr. Go Tao. It was just something funny for us.
It was not until I sought public office that I went to see John several times and had lunches with his brother James, who invited me to a few weekly lunches with a respectable group of bankers, all of whom also helped in my campaigns.
Truly, every form of support they gave me greatly helped in my election as a member of the House of Representatives representing the 3rd District of Quezon City where the factories and offices of the Gokongwei Group were located and later, as a two-term Senator.
My son Julian was also a beneficiary of their support as he served the same district as councilor of Quezon City for 12 years .
In every encounter, John would always refer to me as his cousin rather than his niece . I suppose it made me feel older and correspondingly made him feel younger.
They were always pleasant and humorous, warm and comfortable encounters, minus any pretensions and minus the air of a billionaire talking down on a "poorer relative."
He did make me feel like family.
I think of you greater than life, dearest "cousin." You have embodied the values that I have always wished for but never had and never will achieve in my lifetime: focus, discipline, your kind of hard work and frugality.
My "cousin" John, dearest Iya, you'll be missed by generations of Filipinos whose lives you've touched .
Family and national conversations will be centered now on how you have changed the landscape of travel, retail, real estate, food and banking into a language of love.
Feels good to be related somehow to one with gargantuan achievements that are envied and admired, one who raised a wonderful family of children well prepared to even tower above the father.
Your shoulders were built strong enough for them to stand on. And stand on your shoulders, they will . And blessed with a role model wife who made it possible for you to be the greatest you could be.
Truly, very few are as blessed as you . Then, now, and in the future.