Paulo Avelino opens up on his depression and suicidal journey
November 10, 2019 | 12:00am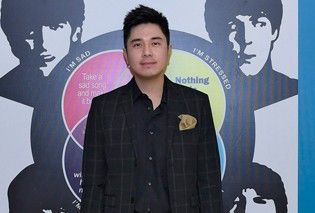 Can a press conference make jaded editors and the audience cry?
It can, if it is one organized by Jean Goulbourn.
Goulbourn is a fashion model-turned-fashion designer who specializes in creating beautiful clothes using native fabrics. Today, she specializes in mending broken hearts and stitching torn spirits together.
She started her advocacy after her daughter, Natasha Goulbourn, died in 2002, and Jean set up the NGF (Natasha Goulbourn Foundation) in 2007 dedicated to helping people suffering from depression and suicidal tendencies. Today, the foundation is called New Good Feelings Mindstrong.
Listening to speakers Paulo Avelino, Iza Calzado, Sheila Suntay and Nicole Laurel Asensio made us shed a tear or two. The new good feelings came at the end.
Actor Paulo Avelino, hailed for his portrayal of revolutionary hero Gregorio de Pilar, made a brave move to be a hero to those who do not have the courage to tell their story.
"Two years ago, I survived my own attempt to end it all," Paulo said at the presscon. "I didn't realize what was happening to me that time, and I am just lucky I had two friends who stood by me. They're the reason I'm still alive today. The memory still haunts me, and I used to feel uncomfortable talking about this."
On his Instagram account, Paulo narrated: "I found myself in a place where I saw only one way out. I went through a spiraling journey of depression and suicidal thoughts. Where it seemed like nothing mattered anymore. I locked myself at home, turned down almost every job that came in, and shut myself off from work, family, friends, the world."
At the presscon, Paulo shared: "A year ago, a friend hanged himself, kneeling down. The night before, he messaged me: 'Pare, hindi ko na talaga kaya.' I felt sad because when I had such thoughts, when I needed someone, at the click of a finger, friends were there to help me."
Paulo feels that by opening up before the NGF, he can help. "I hope to help to make a change, to inspire people and make them know there is someone they can run to for help. Even people who appear to be OK or who seem to have it all might be going through their own struggle, fighting their own demons. So don't be scared to reach out, voice out what you feel no matter how hard. Never lose hope."
Actress Iza Calzado grew up seeing her mom Mary Ann Calzado try several times to take her own life. "Day in and day out, I saw how she battled with bouts of depression. My mom was a beautiful person. She was generous; she was compassionate. But she had a temper. She was misdiagnosed and was given downers. She eventually became manic-depressive. And she didn't want to live anymore."
Iza was 19 when she lost her mom to depression. "After 18 years, I am finally talking about it. I realized I should not be ashamed to do so. It is very important for people going through depression to know that they will not be judged.
"I myself have never felt bouts of depression, but I want to use the platform and voice I have been blessed with to help other people see the tiny spark of life that we can hold on to. My mother did not have a support group then. Perhaps by sharing my story, somebody will find inspiration, hope and meaning in it. You can survive and thrive in life even as you battle your way through life and find healing."
Sheila Suntay shared, with a quivering voice and tearful outbursts: " I lost a child to depression 18 months ago. My 20-year-old son was suffering from depression for two years before he finally took his own life, and I did not even know it existed. He had been texting his friends saying he felt so depressed."
Four days before her son killed himself, his friend committed suicide. "So I asked my kids, ' I hope you are not thinking of doing that! ' To which my son replied, 'Duh, as if I would do that, Mom!'"
But he did it.
Today, Sheila dedicates her time and energy to YOLO by Renzo Suntay, as well as NGF, delivering talks and answering letters ("I get a million and one every day.")
She doesn't mind traveling for four hours to Baguio just to deliver a 30-minute talk. "It doesn't matter whether it's for an audience of one or 10,000. Every 40 seconds, we lose one life to suicide. In the Philippines, three percent of the population (or roughly 3.3 million Filipinos) suffers from depressive disorders, while 3.1 million Filipinos suffer from anxiety disorders. We cannot just sit back in silence. We must help fight an invisible war. We must make those who suffer feel that they matter, they are loved."
Musician Nicole Laurel Asensio declared: "We all have wounds. Some inflicted in childhood, and some still fresh." Like hers.
"I didn't know I had these wounds until this year. And I am still processing it all. It began when I lost my dad (Noli). He died in my arms. That was October 2016. The nature of his death is still unresolved, and I was not in a position to file a case about it because it would put me in danger, and it did. People were following me, and I was almost kidnapped. I was so angry, I became a different person.
"Midway through grappling with my wounds, my best friend, who had been battling depression, one day just decided to jump from the 33rd floor of his building. Unfortunately, I was in the United States and could not do anything to help him. I then realized that perhaps, people just need someone to listen to them.
"In this generation, social media has made many of our friendships digital and virtual. We don't really have genuine, tactile relationships with people. Maybe because we are also immersed in work, social media estranges us from real relationships."
Nicole said, "When you lose someone you love, you are left with many questions and every day is a fight. People can actually help out by stepping out and listening to other people's stories." Nicole believes that is where NGF steps in.
We had new good feelings after listening to the stories of Paulo, Iza, Sheila and Nicole. The good news is that more people are joining the league of warriors helping people — young and old — battle depression and suicidal thoughts.
One of them is former Philippine Airlines president Jaime Bautista, who is now the chairman of the NGF Mindstrong Advisory Board. He replaces Washington Sycip, who was his first mentor when Jaime was with SGV. Tootsie Angara , who suggested to her husband Senator Sonny Angara the need for an Anti-Bullying law, joins the NGF Mindstrong as director for special projects.
Telecommunications giants Smart and Globe have also put in their support through HOPELINE Philippines' 24/7 Suicide Prevention and Emotional Crisis Lines 8804-4673 (Smart) and 0917-558-4673 (Globe).
* * *
Follow the author on Instagram and Facebook @milletmartinezmananquil. Email her at [email protected]