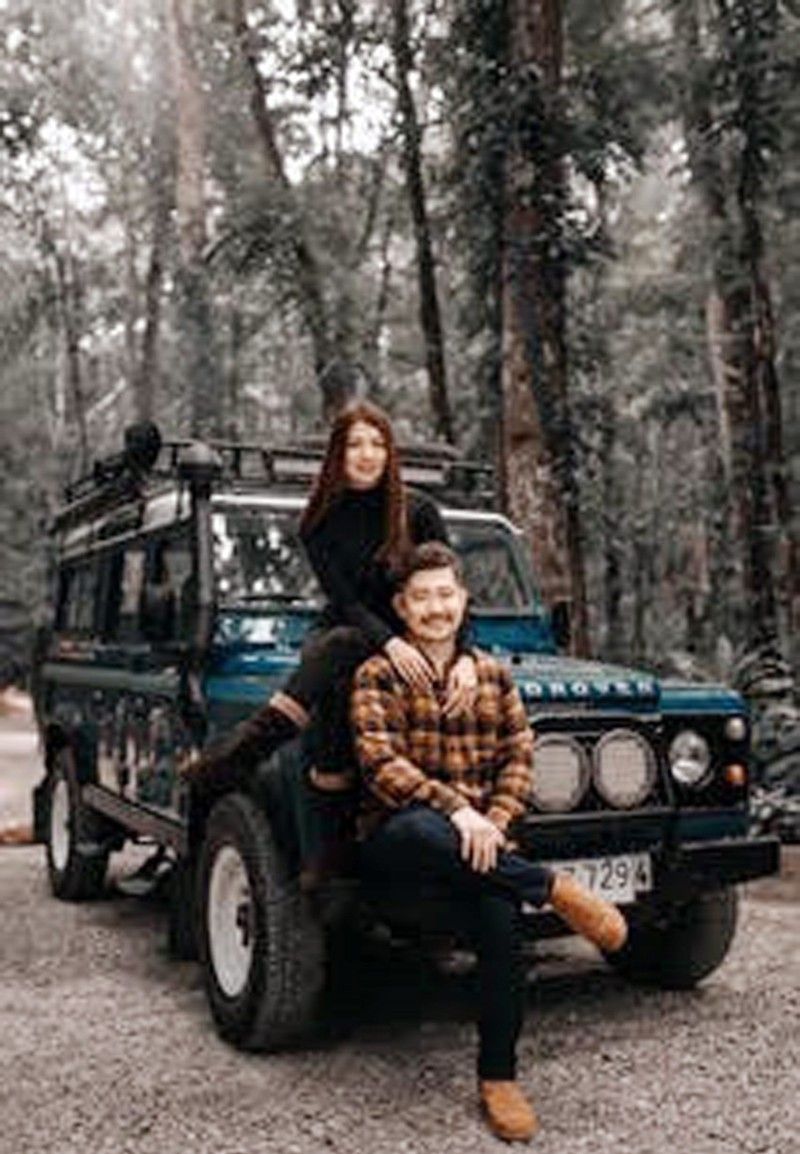 Kat and Almond in their forest of dreams
When was my first memorable meeting with Almond Ventura? Maybe three years ago. We were standing in front of his sister's bar in Morato waiting for his father's car. When it came I was reaching out to help his father. He firmly took hold of his father's arm and gave me an I've-got-him look. His father is Loy Ventura, my husband now.
When was my first meeting with Kat Santos? At the formal opening of Cruven, Silang, car repair shop owned by the Venturas. She was there with Almond. I thought maybe she was his girlfriend. I was there as nothing more than a friend of Loy's.
Eventually Loy and I got married. We saw Almond and Kat a few times but we never really got past the hello stage. Then we became a little closer. I remember her telling me to watch a show on an Indian cult leader, Osho, who I happened to admire until I saw that show.
Then one night Almond and Kat showed up at our door. We're getting married, they said gleefully. Come, let's celebrate and have dinner with the family. That was the night we found out what a wonderful, independent person Kat was. Her father died around 12 years ago. Since then she worked to help her mother out. She worked in China, of all places. The language is difficult and almost impossible to learn. The winters are so cold. But she worked there and survived. Then she returned and worked as a building contractor. That's what she does until now. It's hard to believe that's her job because she is young, pretty, and quite sexy, if you ask me. How can a young girl look like that and be a contractor?
When Loy thinks of his son Almond, he remembers him as a chubby little boy. Who grew up to be quite an attractive young man, I tell him.
"He's my junior," Loy says. "I gave him my terrible name – Eulalio."
But Almond doesn't look like an Eulalio. He doesn't look like his father, who is good-looking in a different way. Almond is taller, very fair, good-looking, and a very charming young man. He is quiet often but when you get to know him he speaks well and laughs with you. I got to know him better at a family lunch, where his sister brought caviar pies. I was sitting next to him. We both finished the one set in front of us. We would look at each other and with no exchange of words lunge at the delicious caviar delicacy. On his birthday, I sent him one caviar pie. Of course I also ordered one for myself. Caviar makes me throw all caution to the winds.
What made you decide to get married? I asked. They had a fight. It sounded like a big fight. Almond told Kat, if that's the way things are then we might as well break up. You might as well go. But Kat, Almond said, has staying power. She said she would go but not now. They kept talking and arguing. There are moments like that, Almond adds, when you have to get rid of all the heavy emotions you've been feeling then suddenly you realize that yes, all that may be true, but I don't want to lose her, ever. I really love her.
So he got up, opened the drawer where he kept an engagement ring he had bought for her but didn't know when he would give it, got the little box and put it in front of her. Open it, he said.
Kat opened it and when she saw it was a diamond ring, she turned around so he wouldn't see the expression on her face. He had asked her to marry him! Of course, she said yes! That was almost a year ago and they have spent that whole year planning their wedding. It will be in Bohol because that's where he asked her to be his girlfriend and she said yes.
At some point I asked Loy, Aren't you going to formally ask for her hand? That's the tradition, isn't it? He called Almond and asked him when he would ask for Kat's hand. Almond seemed surprised. He asked Kat, Is that still in fashion?
Apparently it no longer is. Instead we had lunch at Café Ysabel and met Kat's mother there. It worked out very well. We even ran into Gene Gonzalez, who is a cousin of mine. He sent us a plate of appetizers.
I'd like you to meet this very happy young couple. He is 41, she is 30. They're no longer getting married as young as we used to. They wait until they have experienced life, know what they want, know they will be happy. Here is a lovely photograph of the two of them taken, it seems, in the forest of their dreams.
* * *
Please text your comments to 0998-991-2287.