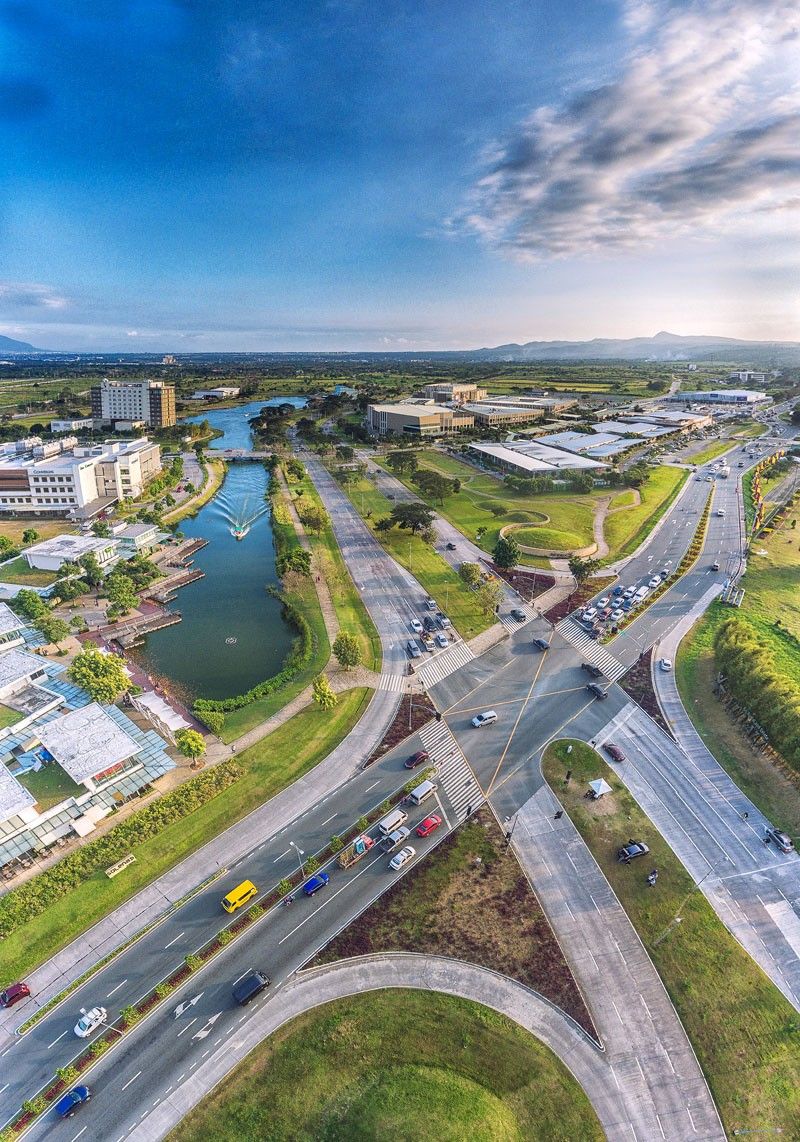 Ayala Land's eco-city Nuvali in Laguna: A view of the pioneering sustainable estate's main road Nuvali Boulevard and its four-hectare lake. The boulevard is 60 meters wide with a 12-meter pedestrian and bike path on each side, and a provision for a future tram in the middle.
How Nuvali became Ayala Land's flagship eco-city
Ten years later, Nuvali remains true to that vision. It has expanded to 2,290 hectares and continues to grow as an eco-community with offices, residences, recreation and retail areas, schools and churches.
On Sept. 16, 2008, hundreds of people planted more than 400 trees in an estate in Laguna that was envisioned to be a flagship eco-community. They also buried a time capsule that contained the day's newspapers, the site development plan of the estate, a medallion of St. Benedict's and a photo of the team that would eventually build this place, among others.
The date is significant because it was the 20th anniversary of Ayala Land and it was the company's employees who planted the trees. The year is also significant because it was only two years after the film An Inconvenient Truth came out in 2006, documenting former US Vice President Al Gore's campaign to educate people around the world about global warming. Today we all know that it's a very real and grave issue with the effects felt globally, but back then it was neither considered important by majority of people nor fully understood.
In the Philippines, people at Ayala Land understood.
In 2009, Ayala Land launched an estate that was so big it straddles three cities in the province of Laguna and it was to be unlike any other estate Ayala Land had ever conceived or developed.
They called it Nuvali. The vision was for it to be a model of sustainability, an eco-community with areas conserved and reserved for flora and fauna, such as a wildlife and bird sanctuary, a 17-kilometer-long buffer green and forest zone throughout.
Ten years later, Nuvali remains true to that vision. It has expanded to 2,290 hectares and continues to grow as an eco-community with offices, residences, recreation and retail areas, schools and churches. More importantly, the way it was planned and developed has educated people about sustainability and changed their mindsets and behavior.
Nuvali general manager John Estacio, who was part of the original team that conceptualized and developed Nuvali, reflects on the last decade and says, "I'm happy, hopeful and proud. Happy that we've hurdled a lot of challenges and I'm still dreaming of doing a lot more because the development will not finish in the next 10 or 20 years, it's always evolving. Hopeful that more people will buy into the idea of sustainability because we need that bandwagon. And proud because I believe in enhancing land and enriching lives for more people. I believe in our company as a nation builder."
Employment and cooperatives
Before even starting to build, Ayala Land put in place economic strategies that would provide jobs and skills to Laguna locals.
Nuvali has a policy that at least 40 percent of those working there should come from the three cities it straddles: Sta. Rosa, Calamba and Cabuyao.
"We aimed to be a catalyst of economic activity and livelihood opportunities. If they couldn't find jobs, we retooled them and trained them. Even the nanays started their own business like canteens for construction workers. We organized the communities and cooperatives, and they've become success stories like our Sikap Buhay Cooperative, which is now the sole distributor of soft drinks in the area," says John with pride.
Nuvali's office developments have also provided employment in the area. One and Two Evotech cater to the office space requirements of call centers, business process outsourcing and IT-enabled services firms.
"Both Evotech buildings have sustainable designs following Nuvali's vision of an eco-city, having energy-efficient systems, bicycle ramps and storage areas, and access to scenic open spaces outside."
Nuvali today has over 15,000 residential units sold and developed by ALI's four residential brands — Ayala Land Premier, Alveo, Avida and Amaia — as well as an expanded Ayala Malls Solenad.
"On a normal day we have 40,000 visitors including the schools, malls and the wake park; on weekends it's 55,000 to 60,000," says John.
The 22 residential subdivisions were built to promote sustainability, community interaction and make nature accessible. The man-made lake and the wildlife and bird sanctuary, for instance, have become venues for an active lifestyle (biking and hiking are popular activities), as well as for doing things as a family.
Ayala Malls Solenad "is where urban and sustainability are integrated to create the estate's green commercial center. Flora, open spaces and a lake surround Solenad 1, 2 and 3 combined. There is a two-hectare outdoor Activity Park next to Solenad, which houses an outdoor playground and an 800-sqm. atrium that serves as an event area."
Reducing carbon footprint
Remember the 400 trees they planted in 2008? That number grew exponentially in the next 10 years, creating more carbon sinks around the estate and contributing to Ayala Land's goal of carbon neutrality by 2022, a goal it started to pursue in 2017.
Sustainability also changed the way Nuvali planned its malls. John says, "Before, the thinking for retail was it should be one solid block so on weekends everyone goes there, creating traffic and pollution. In Nuvali, our ultimate plan is to build in a way that your house is only 500 meters from anything you might need for the day so you can walk."
Nuvali has four levels of retail formats — the regional mall Solenad, which is about 40 hectares like Ayala Center; and in between subdivision clusters a smaller one of about 10 hectares like Alabang Town Center; and outside each subdivision is a community retail space with banks and groceries.
"The idea behind this is you limit the use of cars for daily needs."
Mobility in Nuvali was also addressed to allow people to leave their cars at home and commute to Makati or BGC to work on P2P buses.
According to John, on laying the ground work for the public transport connections in Nuvali, "We've shifted mindsets on that one, a lot of our officemates living in Nuvali take the P2P. Imagine, 10 employees used to bring in 10 cars to Makati, now it's one P2P bus for 50 people. If there is a need, it's easy, and if you feel the benefit, sustainability can be achieved."
The estate's road system is future-ready as well. Its main road Nuvali Boulevard (think of it as EDSA) is 60 meters wide with a pedestrian and bike path 12 meters wide on each side. (For some perspective, Ayala Avenue and SLEX are each 40-meter wide.)
Nuvali Boulevard's center island is actually a provision for mass transit to run the seven-kilometer road when the estate reaches its vehicular capacity.
Expansion
ALI invited schools to locate inside the estate, namely Xavier School, Miriam College, and Everest Academy which opened just this year with its pioneering students. But for the first two schools, the expansion has been swift. Xavier now has 1,250 students and has committed to provide scholarships to the local community.
"Xavier is really interesting with its scholarship program, they believe in social mobility within the community," says John. "Miriam will start offering night school for those who are already working and want to finish their degrees. Education being the great equalizer, it will uplift the lives of the community members."
Nuvali's partnership with Outbound Education, which organizes field trips for schools, also brings environment education to students across Metro Manila and the provinces. Nuvali hosts about 120,000 students a year. That means these young minds are learning about sustainability, green living and how to reduce their carbon footprint amid the rivers, wildlife and the 120 hectares of dedicated forest in the estate.
On the hospitality side, Seda Hotel Nuvali's expansion building will have over 200 rooms (bringing the total to 350), ballrooms, a swimming pool, game room and play room.
Providing a destination for social events and occasions is The Monochrome. It can host a variety of events, from regular community activities to big social and corporate functions.
Solenad will add recreational amenities and cinemas, while Landmark Supermarket and Food Center opened last July.
Nuvali will become more accessible to residents and visitors with the Cavite-Laguna Expressway (CALAX), which will allow them to skip SLEX and arrive straight to Manila's Roxas Boulevard.
Looking at how Nuvali has grown since they buried that time capsule and how it has influenced other developments and changed mindsets, John says, "I'm happy to see that sustainability is not just a vision for one entity but for many others. And I think it's the right way to go."