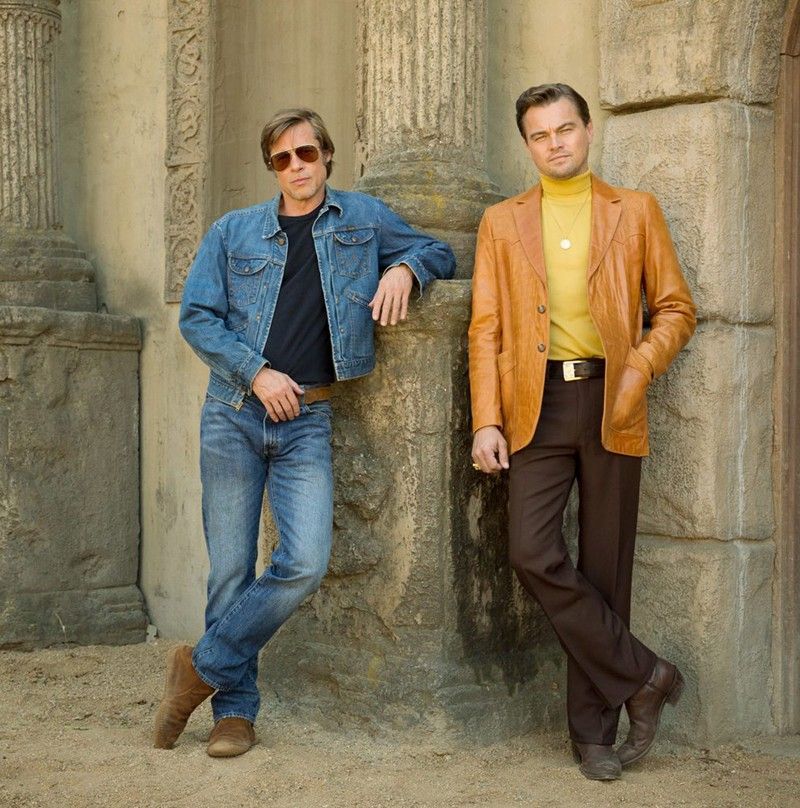 Hollywood bromance: Brad Pitt and Leonardo DiCaprio are period-perfect echoes of '60s tough-guy actors like Steve McQueen and Clint Eastwood.
Photos courtesy of Columbia Pictures
Hollywood fantasy and scary reality collide in Tarantino's latest
Somewhere deep into Quentin Tarantino's nearly-three-hour opus, Once Upon a Time… in Hollywood (coming out this Wednesday), Sadie, a member of the infamous Manson Family, muses in the back of a parked car near Cielo Drive: "We grew up watching violent TV shows and movies. This is Hollywood, man. We're surrounded by famous people. I say we kill the people who taught us to kill."
It's a throwaway line, but it's also chilling, and possibly more self-reflective than Tarantino typically allows. The movies taught us not only to gaze at violence, but to be impressed by it — to cheer it on.
Tarantino is a maestro of violence and revenge epics, but what makes Once Upon a Time… so compellingly watchable is its easygoing charm, the warmth of the Los Angeles details, circa 1969, and its period-perfect stars — among them, Leonardo DiCaprio and Brad Pitt as Hollywood has-beens trying to stay in the game, Margot Robbie as an ethereal Sharon Tate, and a host of cameos (Al Pacino, Bruce Dern, Kurt Russell) that are writ deep into the Hollywood machinery.
What's striking is how Tarantino uses the tough guy ethos of DiCaprio and Pitt to etch onto the screen authentic echoes of the '60s male action stars Rick and Cliff are meant to vaguely resemble — Clint Eastwood and Steve McQueen — down to the chiseled jawline and blue-eyed squint.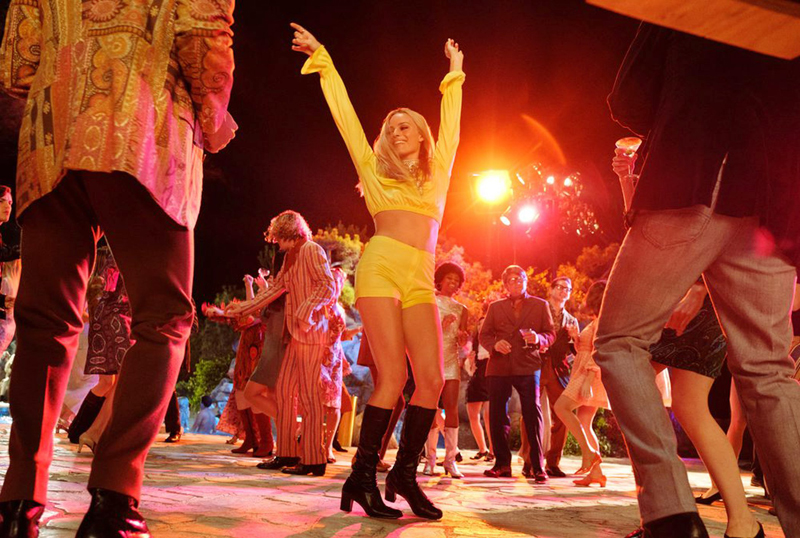 Mansion family: Margot Robbie, as ill-fated Sharon Tate, parties it up at a Playboy Mansion pool party.
In many of Tarantino's recent films, violence is inserted almost as a deus ex machina: it serves up a coup de grâce in the final act, rewriting tragic periods of history, giving them a fairytale glow. While Inglourious Basterds took on Nazi Germany, and Django Unchained took on slavery, Once Upon a Time… finds the filmmaker on more familiar turf — the side streets, valleys and hustle spots of LA. It's a turf he's explored in Pulp Fiction, but the feel of this epic is closer to Jackie Brown, Tarantino's underrated Elmore Leonard adaptation: they both open with a credit sequence tracking an airport departure area, and both feature main characters who feel they're down to their last opportunity. For Jackie Brown (Pam Grier), it was a complicated ploy to finagle drug money from a ruthless Samuel L. Jackson with the help of a sympathetic bail bondsman (Robert Conrad).
For Rick Dalton (played against type by DiCaprio), it's the intersection between three worlds, hinted at in the opening credits — the life of opulence embodied by "New Hollywood" directors like Roman Polanski, shown partying with wife Sharon on a private jet; then there's the hippie subculture, led by the chirping female squad that prowls Hollywood Boulevard, hitchhiking back to a desert ranch where they assist a certain Charlie Manson in his plans. That scruffy lifestyle is also closer to Rick's longtime pal and stunt double Cliff Booth (Pitt), holing up in a trailer behind a drive-in movie theater, where his best friend is loyal pitbull Brandy, who suspiciously eyes the Wolf's Tooth dog food Cliff serves him each night after work. (If we're keeping tabs, Brad Pitt is the most chill mofo in this joint. He not only treats his dog well, he gets to upstage a braggadocio Bruce Lee on set, and seriously whales on home intruders even with a head full of acid. So, yeah: super chill.)
Rick, star of '50s TV Westerns like Bounty Law, walks around Hollywood like a guy with an outsized chip on his shoulder. DiCaprio plays it hunched over, sucking down cigarettes, full of self-pity and doubt, and beset by a mild stammer. Shortly after meeting with old-time producer Marvin Schwarzs (Pacino), who warns him that playing the heavy in bit parts is the way Hollywood sends you out the "Exit" door, Rick is shown wailing to Cliff, "It's official, buddy, I'm a goddamn has-been!" — before crying on his shoulder.
Yet one of the things Once Upon a Time… focuses on is second chances, and how chance can offer either salvation, or destruction. Rick is offered a second career in Rome shooting spaghetti westerns (shades of Clint Eastwood's second act), and he struggles to become a better actor, even in projects he's no longer interested in, because respecting the craft is a type of redemption. Dalton has a scene with a precocious child actor (Julia Butters) who whispers in his ear afterward: "That was the best acting I've ever seen." It brings Rick to tears.
Meanwhile, actress Sharon wanders serenely around downtown LA, like a fairy princess in a miniskirt and thigh-high white boots. Some flak arose over Robbie's performance, mainly because she has so little to do. In this fairy tale, Tate is a princess occupying her castle nestled in Cielo Drive, shown wrapped in white sheets one sunny morning, asleep — only to let out the tiniest snore to remind us she's actually human; or browsing bookstores for a copy of Thomas Hardy's Tess of the D'Urbervilles, then seeing her name on a movie marquee and feeling the frisson of stardom, however third-billed. She sits in the cinema and watches herself onscreen in Dean Martin's The Wrecking Crew, doing a martial arts scene with a female co-star. Putting her bare feet up on the near-empty theater seats (Tarantino's female foot fetish again), she revels in the memory of training for the scene with Bruce Lee (Mike Moh). In that moment, you get the sense of Hollywood's allure, the thing that keeps people going there: beyond the fame and luxury, it's the tiny measure of pride taken in the craft.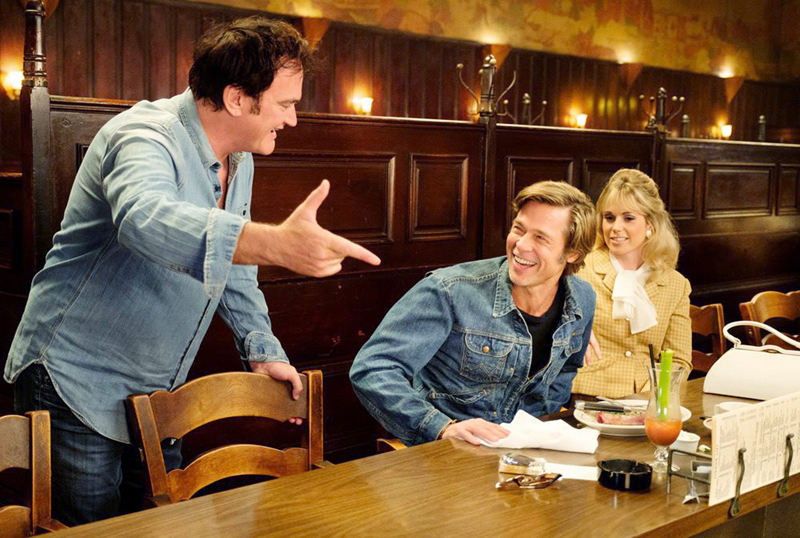 Quentin Tarantino mashes up Hollywood fantasy and brutal reality in his ninth film, Once Upon a Time… in Hollywood.
Things go south as Cliff and Rick's world swings a little too close to the Spahn Movie Ranch, where Manson has recruited cast-off hippies to do his bidding. It's this scene — where a squad of straggly girls, among them Dakota Fanning, Lena Dunham and Margaret Qualley, staring at Cliff with dagger eyes — that convinces us Tarantino could be up to doing the horror movie he's promised will be his next. Old-school Cliff isn't having any of it, though, and his reflexive violence has karmic ripples later.
So it is that, after almost two hours of leisurely, shaggy-dog setup, Once Upon a Time… brings those worlds into direct collision. Along the way, we get to revel in Tarantino's memories of growing up in Alhambra, LA County, with its hand-painted movie posters, radio ads for movies like The Illustrated Man, covers of Mad magazine and TV Guide, whiffs of the Playboy Mansion and endless pop nuggets playing on the radio. It's a nostalgic gaze, one unencumbered by today's politically correct self-editing. And then, the history we know of that August 1969 murder spree is mashed up against Tarantino's revisionist fantasy — and the movie bursts into hyperdrive. A series of almost comedic moments explode in a spasm of poetic, balletic, righteous violence.
In Tarantino's world, the bad things are wiped out by Hollywood moves, by cherished tropes and techniques, by aesthetic mayhem. In his fable, the cool stuff that blows away bad guys — the things that inspired a movie-loving LA kid named Quentin to make his own — are sufficient enough to rewrite history. Just as Tarantino tried to erase Hitler and Nazism with Inglourious Basterds, he tries to remove Manson's taint of terror and fear here. In real life, as evidenced by America's embrace of white nationalism, its widening cultural divide today, it didn't quite do the trick. But movies still offer us a fairy tale that it could be so.
* * *
Once Upon a Time… in Hollywood opens in Manila Aug. 28.