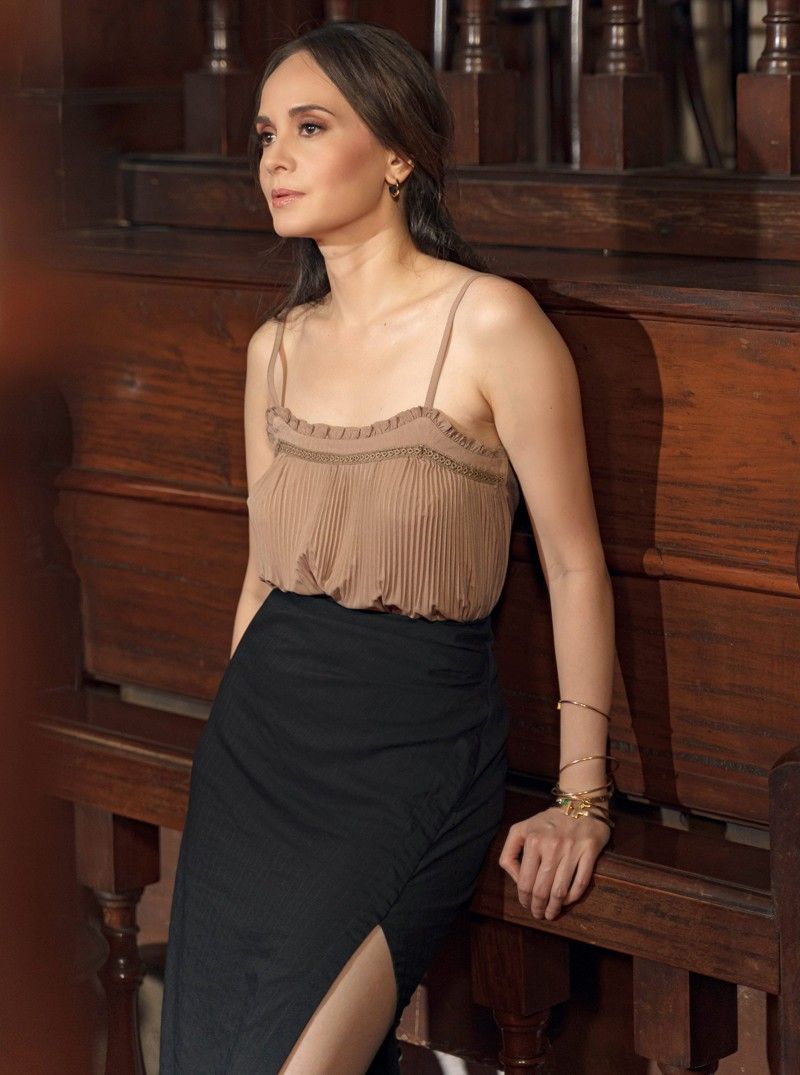 Growing up I would also see my mom dress up for daily mass, changing bags and jewelry like it was the most regular thing to do.
Seamstresses made my clothes when I was young; now I can help produce clothes that I want and need
'My collaboration with Kashieca began when I approached Ben Chan. The result? A collection that is timeless, very wearable — and can be worn also by Juliana.'
For as long as I can remember, I have been style-conscious, maybe because I come from a family of women who always dressed up. My Lola Carmen only wore dresses; I do not have a single memory of her in pants. She wore jewelry and bright lipstick even if she was just home.
Growing up I would also see my mom dress up for daily mass, changing bags and jewelry like it was the most regular thing to do. Getting ready for parties was more special and I loved lingering in her dressing room, always in awe and somewhat wistful that I wasn't all grown up just yet. I almost couldn't wait to grow up so I could also do more than just play dress up. I couldn't wait to actually dress up and have somewhere to go.
I guess my orientation always has been that dressing up is something you do for yourself, because it gives you pleasure and makes you feel good about yourself and the day, not because you will be seen or that you want to impress. If other people like what they see, then that is just icing on the cake.
Growing up, my fashion idol was no single person but a whole bunch of women who dressed well, whether they were Mommy or Lola Carmen or famous celebrities like Audrey Hepburn and Nicole Kidman, or beautiful strangers I see on our travels. Nameless they may be to me, but I would remember the woman I saw at the airport and the sharp details of her structured dress, the lady boss in the busy building and her garnet skirt and sensible but sexy pumps, the mother with many children who always looked nice and put-together as she picked them up from school.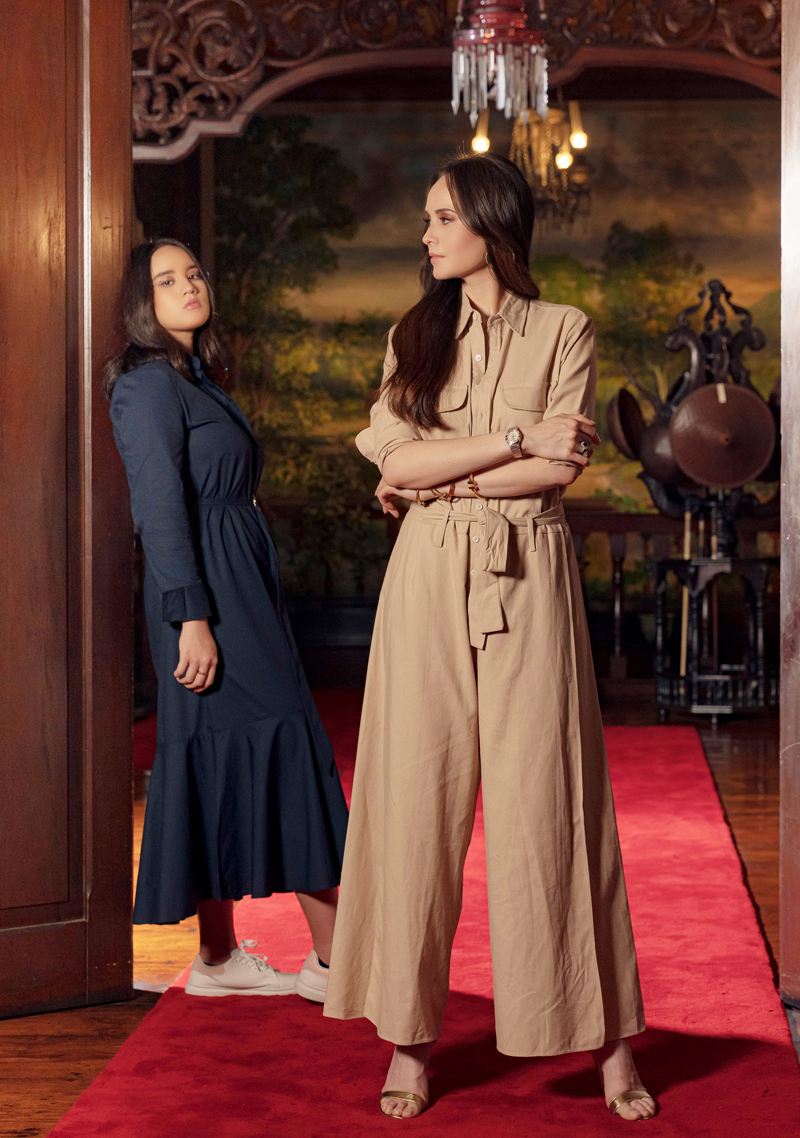 Me and Juliana wearing pieces I styled in collaboration with Kashieca for Bench Fashion Week.
Generally, though, I like the ease of French style. It isn't stiff; there is always something perfectly imperfect, something undone. They make looking good seem easy and effortless, they never try too much or too hard but they always look good. That is the reward of having an innate sense of style, I guess, when you can get dressed without being stressed.
We did not have designers to work with growing up; we each had to be our own. But almost weekly we would have new dresses — whatever our little hearts desired: princess outfits inspired by the Disney shows we watched, proper church and party dresses, and when we were older and in high school all the way to college we had access to the whole nine yards of dressing up. Mommy was very indulgent that way. The possibilities were endless. RTW was not big in the province then, it was a very handmade and homemade kind of life.
For clothes, we had Manang Pedam and Manang Nating, Manang Talina. Even our jeans, the tailor Manoy Nestor would sew for us. Levi's 501s were impossible to access in Ormoc; for that we had to rely on viajeras who would peddle PX goods in suitcases from home to home. Our fabric we would carefully choose from White Gold in Cebu or bring home from Hong Kong after trips there. The costurera — and we were blessed with many good ones — was an ally and friend, a treasure to have.
My collaboration with Kashieca began when I approached Ben Chan and asked if I could do a collab with Kashieca, because there were items in my wardrobe that I wished I still had or didn't have enough of — basics, mainly, but the kind that is easy to dress up or down. I chose the fabric and color from swatches they showed me, we were mindful about fabric weight and fit, and each item went through several fittings before final approval. I also wanted Kashieca because I was very conscious about price points. Good clothes should not be so restrictive in the sense that you have to break the bank just to look good. We've come up with a collection that is timeless, very wearable — can be worn by a mom and her teenage daughter — the working girl, the lady who wants to step out for a beautiful evening with her loved one. All pieces are very affordable. I hope Kashieca customers like it.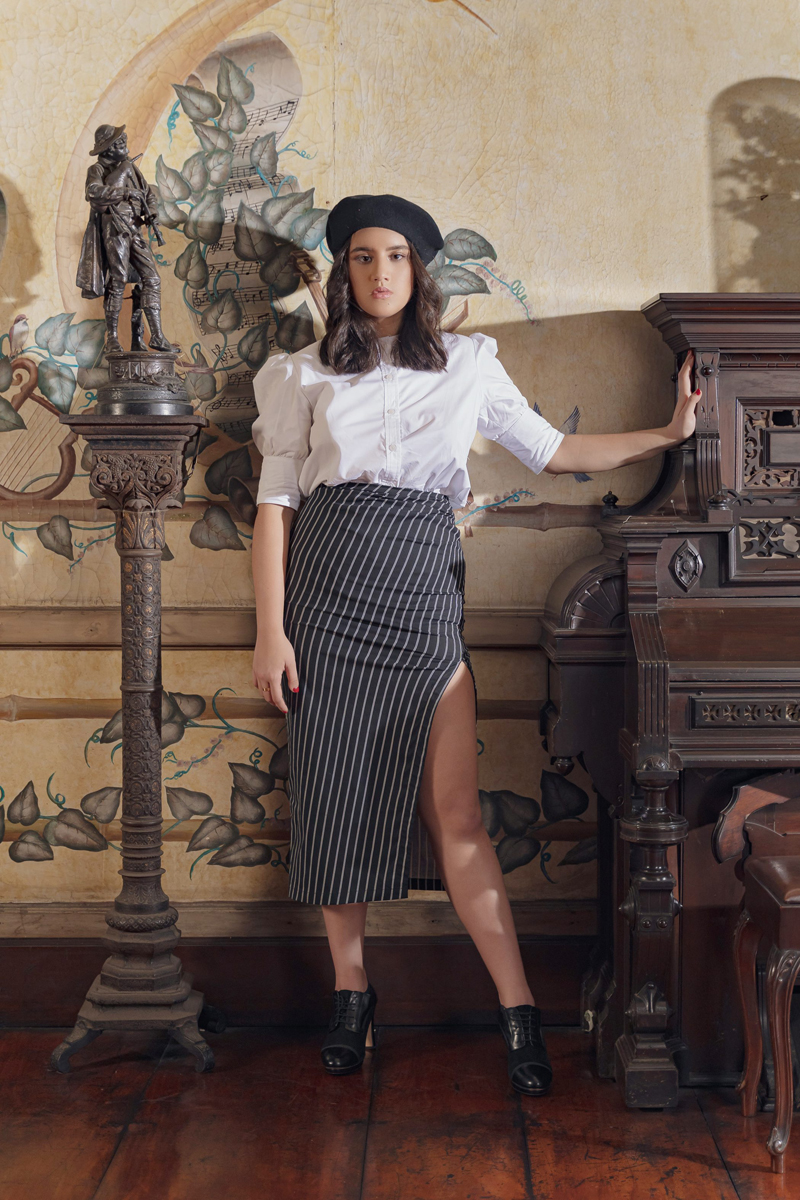 I love how we love local now, how we embrace our heritage but wear it in a modern way, and how easy it is for us, too, to be unapologetic and totally accepting of the old-fashioned perfection that is the terno; how even the younger set has evolved from once looking at it as costumey but now it is actually top-of-mind for them. I love it when I see a young bride choosing a terno as her bridal dress. Because, really, it is so special and the embroidery, the details that go into every piece, is so storied.
There is so much pride also now in local brands. Gone are the days when foreign brands had the upper hand; the local ones are just as good, even better.
My best advice to women regarding fashion and style is to find what looks great on you and stick to that — just play it up or down. To edit your wardrobe in such a way that you keep nothing that does not flatter your figure and make you feel good. Alter if you must; fit is very important. Choose quality over quantity always. If you find pants that look great on you, get them in at least two pairs — one to wear with heels and the other to wear with flats.
What makes a woman fashionable is an innate and very confident sense of style. Consistency. A flair all her own.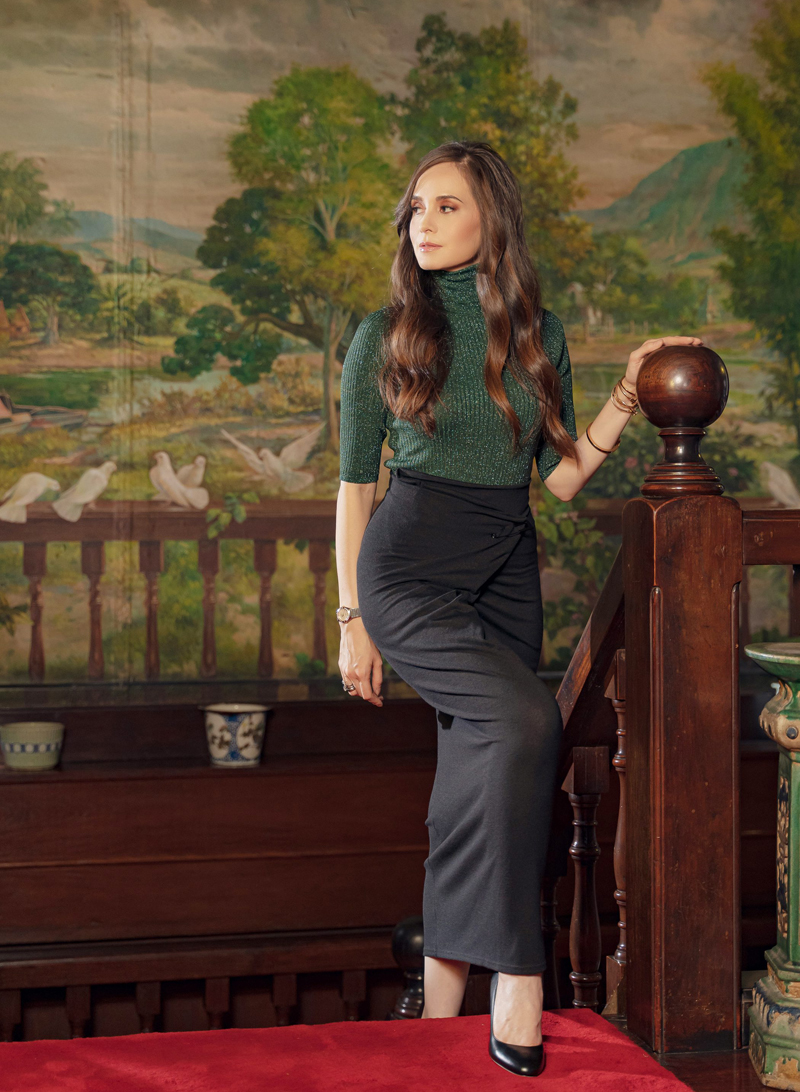 * * *
The Lucy Torres-Gomez x Kashieca collaboration, a 20-piece collection with Lucy herself and daughter Juliana Gomez fronting its launch campaign, will be shown on Aug. 30 during Bench Fashion Week at The Bench Tower.
The Lucy Torres-Gomez x Kashieca collection will be available in all Kashieca stores starting this August. For more updates, follow @kashiecaph on Instagram