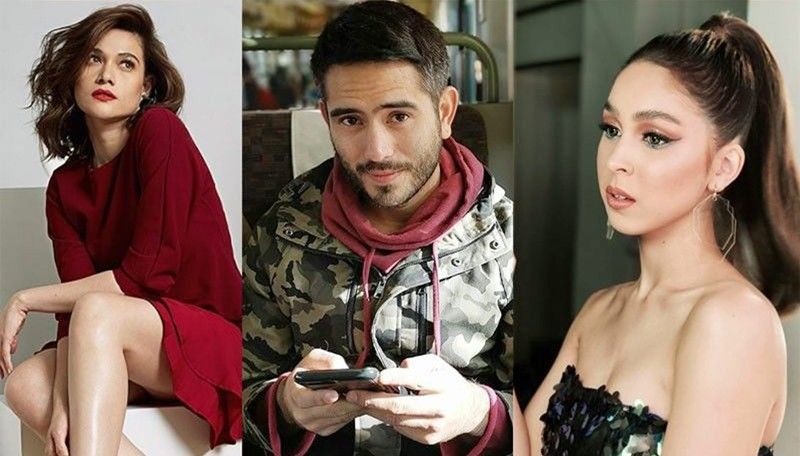 Bea Alonzo, Gerald Anderson and Julia Barretto
'Ghosting' is what gerald anderson did; or, Na-bea alonzo ka na ba?
In millennial lingo, 'ghosting' is a dating term defined as abruptly leaving a relationship like a stealthy, disappearing ghost; just cutting off all communications with the other person.
Holy carabao! Lots of ghost talk nowadays nationwide, coincidentally in the ancient Chinese Taoist and Buddhist tradition of "Ghost Month" during the seventh month of the Lunar calendar, which in the Gregorian calendar happens between Aug. 1 to 29 this year.
On the evening of Aug. 6, I joined 221 other entrepreneurs of Federation of Filipino Chinese Chambers of Commerce & Industry, Inc. (FFCCCII) at Malacañang Palace for the induction of newly-elected 2019-2021 officers and their pledge of donating 700 public schools to poor rural regions.
At the start of President Duterte's extemporaneous speech, I had actually half expected him to comment, in his inimitable, irreverent and humorous way, on what young actress Julia Barretto had that same day described in a very long Instagram post as the current "national concern" — ghosting. Will our politicos call for an investigation "in aid of legislation" on the messy love triangle involving ABS-CBN actress Bea Alonzo, her ex-boyfriend Gerald Anderson and Julia?
Dr. Wendy Walsh has described the phenomenon of love as "our greatest drug and delusion."
However, that night Duterte stayed away from showbiz and chismis, focusing on his government's campaign against the age-old culture of corruption, among many other topics.
The 'Bizarre love triangle' of Bea, Gerald & Julia
So what exactly is "ghosting," which Bea Alonzo alleges her ex-boyfriend of three years, actor Gerald Anderson, did to her? (By the way, the phrase "bizarre love triangle" was used by award-winning movie director and scriptwriter Jose "Joey" Javier Reyes to describe this ugly, messy romantic imbroglio. Maybe he borrowed it from the New Order song of the same name.)
The angry alleged third party, Julia Barretto, denied she was the reason for the former lovers' split. Gerald came out saying that he and Bea had kept on quarrelling in a relationship that was no longer healthy; he said he had to Google the meaning of the word "ghosting" but didn't deny or directly address the allegation agbout ghosting Bea.
In millennial lingo, "ghosting" is a dating term defined as abruptly leaving a relationship like a stealthy, disappearing ghost; just cutting off all communications with the other person including avoiding digitally texting or replying to texts, social media, email or chats. I think ghosting can apply also to non-romantic relationships, like social, kinship, business or even political relationships.
Paulo Avelino, Risa Hontiveros, Nancy Binay & 'Ghostbuster' Gretchen Barretto
One showbiz celebrity who has helped popularize the word in the Philippines by tweeting it with a hashtag and using the name of his friend actress Bea Alonzo as a verb and synonym for "ghosting" is actor Paulo Avelino.
Avelino tweeted on July 26: "Na Bea Alonzo ka na ba bes? #ghosting." (Have you been Bea Alonzo-ed bes? #ghosting.)
* * *
The gutsy divorce bill proponent and smart opposition Senator Risa Hontiveros joined the national ghosting debate by tweeting: "One thing I teach my kids is to be fair & just, even in relationships. Ghosting is immature & cowardly. Talk, & if needed, end things properly."
"To all who've been ghosted before, your worth isn't defined by it. Have courage & be strong; grow," she added. Amen!
* * *
On the morning of Aug. 7, Senator Nancy Binay also tweeted, apparently addressing Bea Alonzo and also Julia Barretto, "Gurls, he's not worth it. #KalmaLangGirls #MoveOn."
* * *
By the way, still on the supernatural topic of ghosts, it seems Julia Barretto's aunt actress Gretchen Barretto — estranged from her sister, Julia's mother Marjorie — wants to be a ghostbuster?
The feisty Gretchen joined the ghosting fray by posting on Instagram: "The fact that they hired a ghostwriter for this post is hilarious and makes her (Julia) sound desperate to salvage whatever is left." Gretchen even added: "TEAM BEA FOR THE WIN."
Opposite of love isn't hate, it's indifference & ghosting… be strong, move on
Ghosting is an immature, unethical, cruel and cowardly way of ending a relationship. Why are ghosted people like Bea Alonzo so riled up? The opposite of love isn't hate, it is indifference, and the worst form of indifference is ghosting.
To beautiful Bea Alonzo, to all who have been ghosted: do not think this reflects on you, your worthiness to be loved or that it in any way diminishes your self-worth; it reflects negatively on the person doing the ghosting — on his or her lack of character, guts, integrity and maturity.
Be brave, cheer up, be strong, say to yourself, "Good riddance!" and move on.
* * *
Thanks for feedback willsoonflourish@gmail.com! Follow @wilsonleeflores on Instagram, Twitter, Facebook. Buy PhilSTAR's Tagalog tabloid Pilipino STAR Ngayon every Friday and read my column "Kuwentong Panadero." Read also https://investment.fwd.com.ph/experts/asia-s-business-leaders-and-what-we-can-learn-from-them.