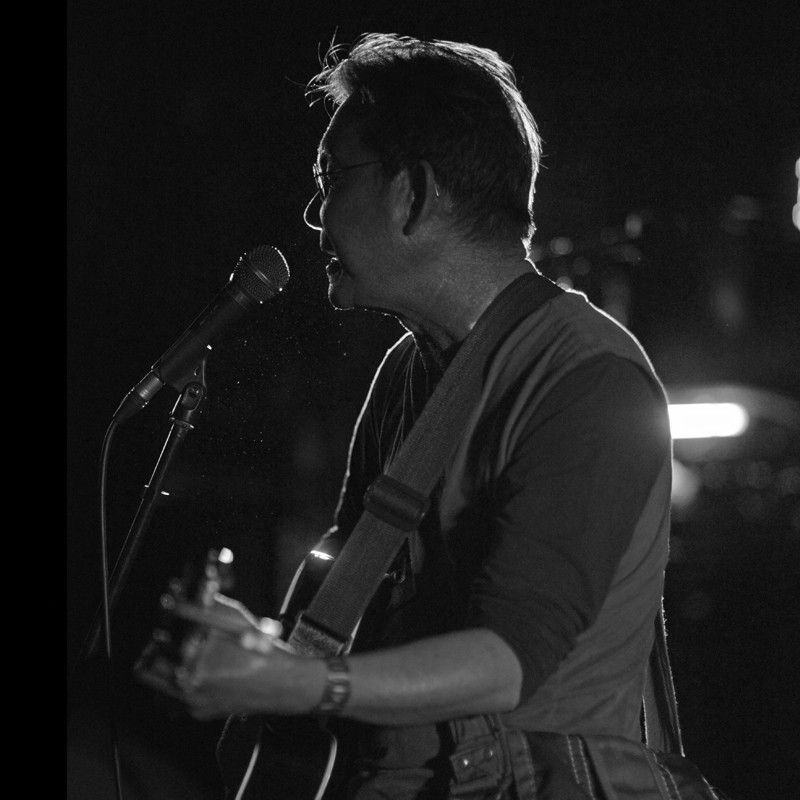 Not just a regular guy: Chickoy Pura of The Jerks is one of the hardest working musicians in the Philippine music scene.
Photos by Richie Macapinlac
Chickoy Pura: With a little help from his friends
Why is it that those plundering bastards get reelected into public office again and again (doing the shimmy on their campaign floats, flashing their pearly-white pork-barrel dentures, navigating the SONA catwalks of Congress in their nationalistic attires) while hardworking Pinoy musicians such as Chickoy Pura suffer in silence with Job-like tribulations?
Chickoy Pura, lead singer and guitar player for The Jerks, is a musician's musician. How many young rockers watched in wonder how Chickoy (and whoever was playing in The Jerks at that time — guitar greats from Jun Lopito to Nitoy Adriano, bassist extraordinaire Angelo Villegas) could rip through songs from set to never-ending set at Mayric's? We, University of Santo Tomas AB students at that time, would save our beggarly weekly allowances just to eat at Tapsi and cross over to España and watch Chickoy and company play originals (Reklamo, Sayaw sa Bubog, Rage) and covers from the Stones, Talking Heads, Van Morrison and Bob Dylan with conviction, desperation and bluesy delirium. Heroes performing heroic songs. The guys from Jerks still play up to this very day in gigs at My Brother's Mustache Folk Bar and 70s Bistro in Q.C., Roadhouse in MOA, and Handlebar in Makati.
But it has been an ordeal for Chickoy to play music, ply his trade and make a living ever since he was diagnosed with T-Cell Lymphoma. One of the symptoms is that his hands and fingers get blisters all over as his skin exfoliates from time to time.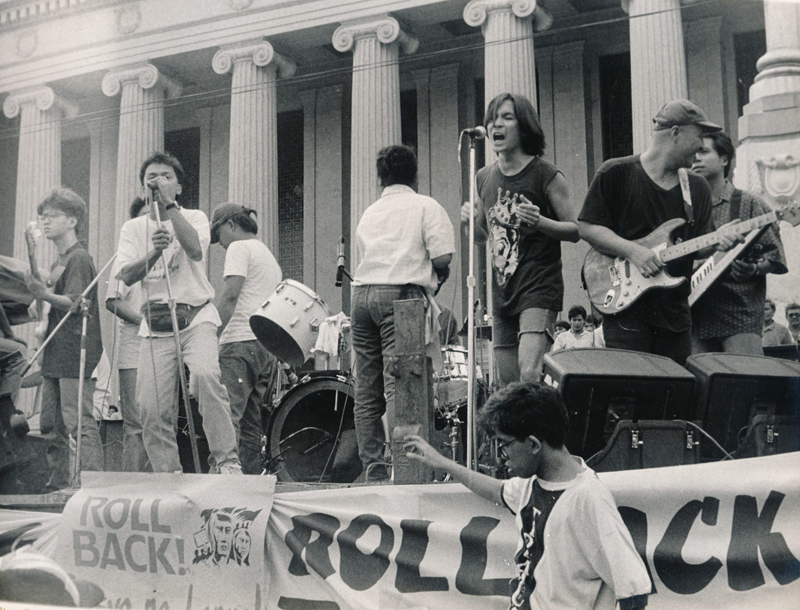 Rage against the dying of the light: A young Chickoy Pura performs in a Musicians for Peace Labor Day gig along with Angelo Villegas, Sazi Cosino and Lito Crisostomo, among others.
"At present, I am coping well because a friend, Lory Paredes-Togonon, brought me a pair of nylon gloves for guitar players from the US," explains Chickoy. The gloves are helping him pick up the guitar and play music. The treatment is supposed to be chemotherapy, but Chickoy and his wife Monet are exploring other options. Chickoy's friends and fellow musicians (such as Cooky Chua, Noel Cabangon, Gary Granada and Bayang Barrios) and bar owners (such as Boy Vinzon) have quickly stepped in. They are organizing benefit gigs so that Chickoy can get proper medical treatment. The man lives from gig to gig. Not that he has a noontime-show-hosting job or singing-contest-jury duties to fall back on — just like the sellouts we perennially see on TV making all the moolah.
Chickoy has long-ago chosen the path of lonely blues-dom. He is touched by the response of peers.
He shares, "The bright side of this struggle is the overwhelming goodwill from a lot of people. It is so humbling and strengthening. It is keeping me strong in facing this challenge. I'm still excited to play for as long as I can. My passion hasn't changed. And I love to play for the people."
Makes us think how many swimming pools, LV bags and first-class trips to Paris do those trapos really need. We just hope they can find it in their black hearts to help out an iconic nationalist artist like Chickoy Pura. Chickoy and Monet are knocking on the hearts of anyone who loves OPM to help out. Well, everyone, really. We need this guy in full strength: to sing about the plight of the marginalized and disenfranchised.
Chickoy, well, he is the bard of the broken.
* * *
"Awit Para Kay Chickoy" is on Aug. 24, Saturday, 8 p.m., at My Brother's Mustache, 68 Scout Tuazon corner Scout Madrinan St., Quezon City. With performances by Lolita Carbon, Cooky Chua, Bayang Barrios, Noli Aurillo, Mon Espia and Noel Cabangon, among others. For information, call or SMS Cynthia at 0926-6890116 or Andre at 0932-8477048. "One for Chickoy" is on Aug. 17, Saturday, 9 p.m., at Conspiracy Garden Café, 59 Visayas Ave., Quezon City. With performances by Bayang Barrios, Cooky Chua, Gary Granada and Noel Cabangon. All proceeds will be for the medical treatment of Chickoy.