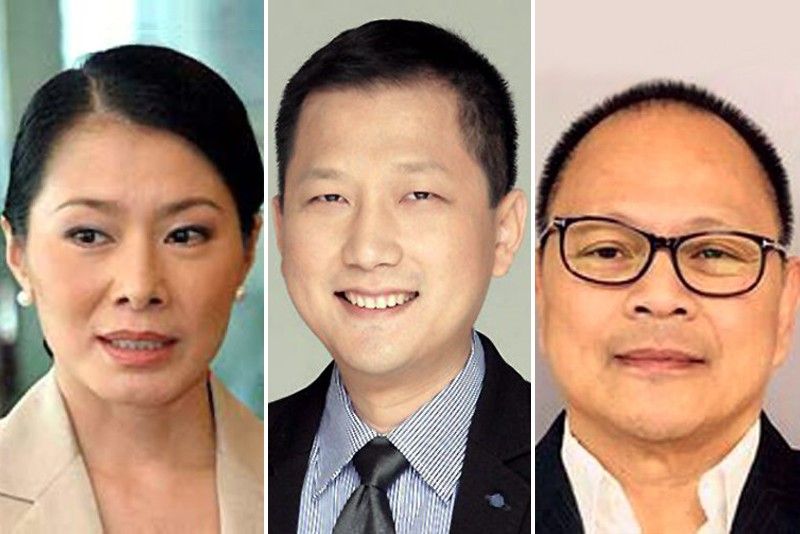 Vivienne Tan, Philippine Airlines executive vice president. Antonio L. Tiu(center), builder of the Makati Subway. Ricky Isla, AirAsia Philippines CEO
The battle of airlines & new airports
How do we judge the true state and prospects of the Philippine economy? Just observe the behavior patterns of our tycoons and the actions of business' prime movers, such as the frenetic movements in the country's aviation sector, which undoubtedly points to robust prospects for Philippine tourism and our overall sustained high economic growth.
We in small and medium-scale enterprises (SMEs), foreign investors and professionals should all seek out the many emerging economic opportunities, and not just in our booming major cities because economic growth is spreading to rural regions and even far-flung islands.
PAL's management changes
Asia's pioneer, Philippine Airlines (PAL), is now undergoing a major reorganization with the retirement of respected president Jaime "Jimmy" Bautista after 26 years with the company.
On June 18, the 85-year-old PAL chairman and CEO Lucio C. Tan allowed his daughter, PAL executive vice president, treasurer and chief administrative officer Vivienne Tan to be named as officer-in-charge (OIC) of the airline. This was followed by a major personnel shake-up.
On July 16, it was reported that Lucio Tan himself had personally assumed the role of "transitional president" until a new president is named.
On July 29, PAL announced the appointment of Gilbert F. Santa Maria as its new president and chief operating officer (COO). Born in Butuan City and raised in Cagayan de Oro City — both major cities in Mindanao and Visayan-speaking areas — Santa Maria is a Yale- and UP-educated veteran business process outsourcing (BPO) management veteran.
PAL vice chairman Lucio "Bong" Tan Jr. said his father instructed the new president to work with him and the whole corporate governance committee, which is composed of eight members.
PAL needs to stop two years of net losses — P7.33 billion in 2017 down to P4.33 billion last year. After it got a four-star airline rating from Skytrax last year, PAL is reportedly seeking a five-star next year. It is also expanding regional routes and long-haul flights with the expected delivery of additional aircraft through 2024.
SMC airport to boost Philippine tourism
Although Clark airport is being expanded, there are plans for Sangley and even NAIA. I believe the crown jewel of the Duterte administration's bold "Build Build Build" infrastructure program will be a project with no cost to government, no state subsidies or guarantees of any kind. It will be the P735-billion New Manila International Airport project by San Miguel Corp. (SMC), led by its visionary CEO, pilot and engineer Ramon S. Ang.
Located on 2,500 hectares in Bulakan town, Bulacan province north of Metro Manila, with at least four runways servicing 240 aircraft movements per hour and expected to serve 100 million passengers a year, it will be three times the size of Ninoy Aquino International Airport in Parañaque City.
This new international airport is expected to become a dynamic catalyst for the economic boom of Central Luzon or Region III, and it will finally help the Philippines welcome millions of tourists and make us globally competitive.
SMC's offer also includes a proposed 8.4-km tollway that will connect the New Manila International Airport to the North Luzon Expressway in Marilao town, Bulacan.
From Makati to NAIA in 3 minutes?
Antonio "Tony" Lee Tiu, the CEO of AgriNurture, Inc. (ANI), Greenergy and Philippine Infradev Holdings Inc., said at a recent Pandesal Forum at Kamuning Bakery Café that his P189-billion new Makati Subway project can be easily connected from Makati City to the NAIA airport, if the local government along the way approves such a plan. Tiu said it can reduce the travel time from the Makati financial center to the airport "to only three minutes."
When a business journalist asked about the financial viability of his Makati subway venture, Tiu revealed that this project will create 1.5 million square meters of new prime commercial, office and residential real estate.
On foreign workers, Tiu said his agreement with his foreign investors from China is that the Makati Subway will prioritize not only Filipino employees, but Makati City residents, except for some technical jobs for foreign specialists. It will create 10,000 new jobs.
Cebu Pacific targets 200 million passengers by 2020
Founded by self-made industrialist John L. Gokongwei Jr. as a budget carrier and now led by his son, Lance Y. Gokongwei, Cebu Pacific Air is bullish on the Philippine economy and tourism industry. It has announced its expansion plans, targeting 200 million passengers by 2020 and 300 million by 2022.
Candice Jennifer A. Iyog, vice president for marketing and distribution, said Cebu Pacific Air is "upgauging" its fleet — replacing smaller aircraft with larger jets, i.e., 180-seater aircraft to be replaced by 436-seater jets.
In the first quarter of 2019, the airline's listed Cebu Air, Inc. recorded an impressive 138.4 percent year-on-year increase in net income to P3.43 billion. Cebu Pacific Air is allocating P27.1 billion in 2019 capital expenditures mostly to purchase more aircraft.
In June, Cebu Pacific Air ordered 31 Airbus jets worth $6 billion at the Paris Air Show.
Air Asia appoints new CEO
On July 31, AirAsia announced the appointment of former PLDT executive Ricardo "Ricky" Isla as its new CEO for the Philippines, replacing Dexter Comendador, who was named chief operating officer. AirAsia Philippines' chairman is Maan Hontiveros.
Through their F&S Holdings, Inc., 1-Pacman Party-List Congressman Michael "Mikee" and wife Sheila B. Romero increased their shareholdings in Philippines AirAsia's operator in June to become the single largest shareholder at 44 percent, ahead of its planned initial public offering later this year.
The rise of 'Boutique' airlines
To promote better air access to its increasing number of tourism projects all over the Philippines, especially those in island destinations, Ayala Land, Inc. (ALI) opened its boutique airline, AirSwift.
ALI plans to invest an additional P32 billion to build new hotels and resorts this year through 2022.
ALI is led by chairman Fernando Zobel de Ayala, vice chairman Jaime Augusto Zobel de Ayala (who is also CEO of Ayala Group) and the brilliant Bernard Vincent "Bobby" O. Dy as president and CEO.
The Senate, led by Senator Grace Poe, this year unanimously approved a bill granting a 25-year air transport franchise to Magnum Air, Inc., which operates the boutique airline SkyJet Air, led by its able president, Dino Chua. A progressive businessman, Chua is also mayor of Noveleta, Cavite, and is in the resort business.
SkyJet offers direct flights from Manila to some of the Philippines' most beautiful islands like Camiguin, Batanes, Coron and San Vicente , Palawan.
* * *
Thanks for your feedback at willsoonflourish@gmail.com! Follow @wilsonleeflores on Instagram, Twitter, and Facebook. Buy PhilSTAR's Tagalog tabloid Pilipino STAR Ngayon every Friday and read my column "Kuwentong Panadero." Read also https://investment.fwd.com.ph/experts/asia-s-business-leaders-and-what- we-can-learn-from-them.