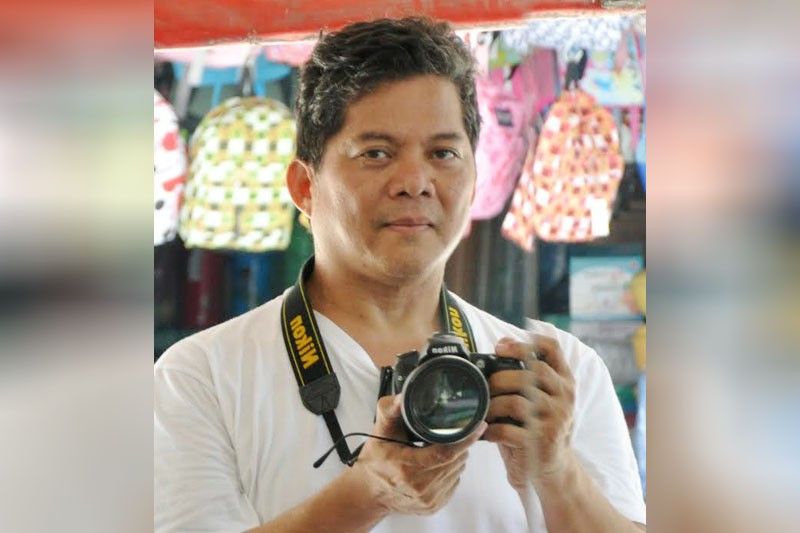 Claude Tayag's delicious wanderlust with watercolor
'A Watercolor Journey' takes its readers on trip from Pampanga to Misty Baguio to Nighttime Tokyo to Glittery Reno to other wondrous places filled with Claude Tayag's watery colors, vanishing points, and intricate geometries of human life.
The boy from Angeles City was already drawing at that time. Long, slow afternoons were filled with forays with pencils, crayons and a Guitar-brand watercolor set, those marks on paper transforming into cars, airplanes, boats and landscapes. Universes were stirring into shape and the boy named Claude was on Cloud Nine. But 1968 was a sort of Year Zero for him and a spot facing the Zambales ranges was to become a point of origin: his father's bosom friend, Emilo "Abé" Aguilar Cruz, brought with him his painting buddies — Sofronio "SYM" Mendoza, Romulo Galicano, Mauro "Malang" Santos, Andres Cristobal Cruz and future National Artist Vicente Manansala — and they sat down and deftly captured the countryside.
The boy saw "grown men doing child's play." An old photograph shows his brother looking dreamily away with disinterest, while the young Claude seemed mesmerized by what the masters were doing, as color and water mimicked on paper the very world before them. He recalls telling himself, "That's what I want to be when I grow up."
Claude Tayag has become all that and more. He is not only an accomplished painter and sculptor, but also a furniture designer, chef, food columnist and a TV host. Tayag is set to launch a book titled A Watercolor Journey on July 12, 6 p.m., at the National Museum. It will coincide with the opening of his watercolor retrospective, which will be on view to the public from July 13 to Sept. 22.

Claude Tayag in front of his monumental work Black Mountain (1990, 9 ft x 45 ft, acrylic painted on unprimed canvas), photo taken by Lita Puyat. In 1989, the artist received a grant from the Cultural Center of the Philippines (CCP) for his proposal for this large-scale painting. It was exhibited at the Little Theater Lobby from Jan. 12 to March 2, 1990. He laments how the painting was reportedly lost in a fire while on loan to a storefront in 1996.
"I have long dreamt of coming out with a book of my artworks for the past 40 years, but somehow, it never materialized," says Tayag. "I didn't know where to start because of the diversity of my oeuvre — from paintings in watercolor and works on canvas, to wood furniture and sculptures." The book is part of a trilogy of sorts: next would be "Wood" (focusing on furniture and sculptures) and "Food" (Claude's creations in the kitchen). The "Word" theme has already been tackled in previous books such as Food Tour (2007) and Linamnam (2011).
"I guess being a polymath is my greatest advantage," he explains. "I have a wide range of interests that has led me to explore different disciplines over the years. And I firmly believe in the expression 'one is only as good as his last work.' It's the childlike wanderlust that keeps me pushing the envelope in everything that I do."
A Watercolor Journey takes its readers on a trip from Pampanga to Misty Baguio to Nighttime Tokyo to Glittery Reno to Sundown in Malaga to other places filled with Tayag's watery colors, vanishing points, and intricate geometries of human life. In those very places, readers will get to witness a procession of santos, men in Moriones masks, women in resplendent T'boli dresses and landscapes, cityscapes blossoming out of dusk or dawn.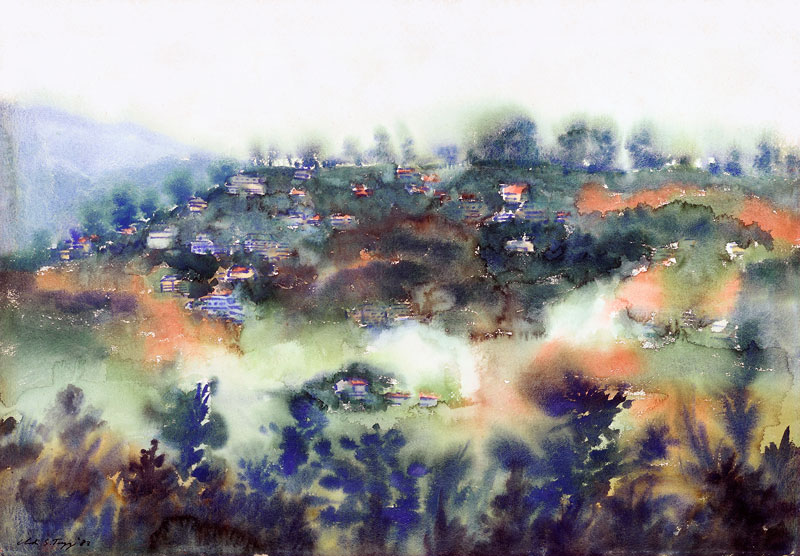 "Foggy Afternoon, Baguio" 1983: In Tayag's Baguio landscapes, the mountain freshness and its changing moods is captured with the artist's quick and spontaneous handling.
He says, "The reader will get to follow my life's journey with watercolor, the different techniques and themes I've explored the past four decades. It's kind of biographical. Floy Quintos, the award-winning playwright and stage director, helped me tremendously with its editorial content, and ace photographer Neal Oshima not only did the photographic documentation, but also gave his invaluable input in publishing an art book. The Holy Angel University Press in Angeles City came to the rescue in footing the bill publishing it."
Watercolor, Tayag admits, is perhaps the most challenging of all painting mediums. Yet it is also the most rewarding.
"There's so many factors to consider in handling watercolor: choosing the appropriate paper texture, smooth or rough, depending on the end result you're after, whether detailed or impressionistic; dry or wet technique; ambient temperature or humidity when painting; how to frame it, etc." All of them can be learned, insists Tayag.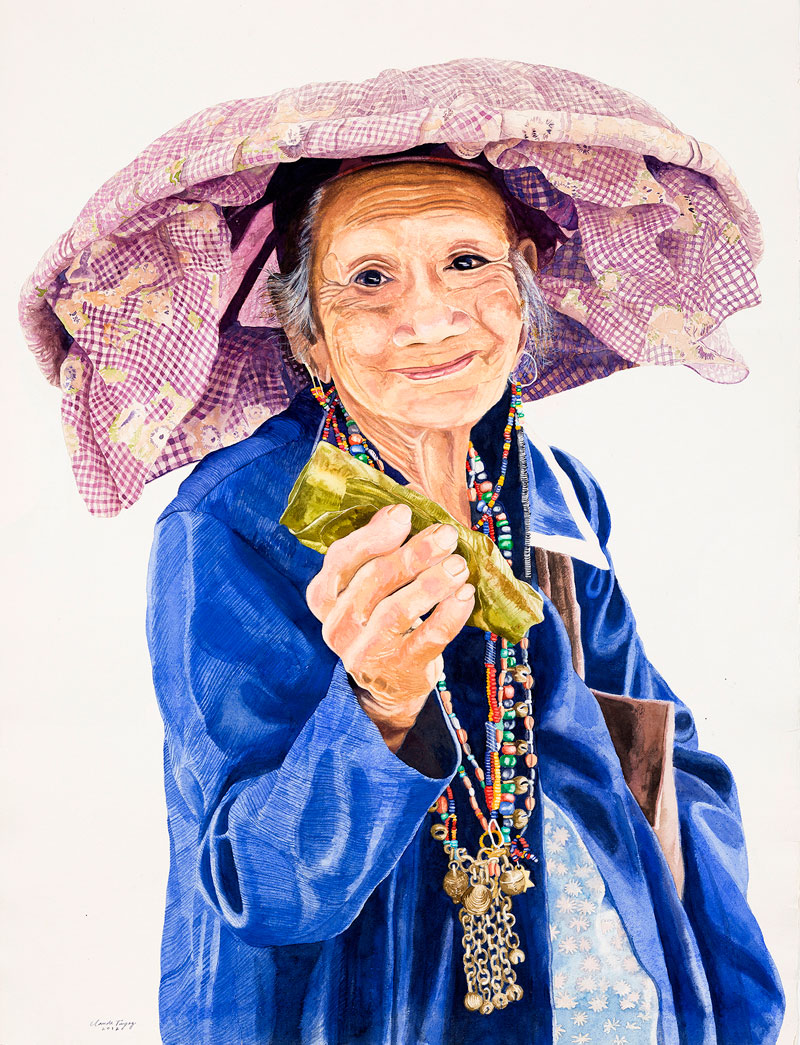 "Kain Na": Tayag explains, "This is a portrait of an elderly T'boli woman I chanced upon in the Sunday market of Lake Sebu in 2006. As I was shooting away with my camera, and as she saw the camera pointed at her, she offered me a suman she just bought. It was a very natural and spontaneous reaction on her part to offer me such. Her smile captures the warmth and sincere hospitality of us Filipinos, sharing our food to strangers."
"But for me, the bigger challenge lies in how to change the public's perception that watercolor comes second to oil painting in importance and collectivity. It is a very underappreciated and undervalued medium in this country. 'Oh, it's only watercolor!' one often hears in the gallery circuit."
He adds that if properly handled, displayed and stored, the longevity and stability of works on watercolor should last many lifetimes. "Look at the Ming Dynasty calligraphic scroll paintings, the paper has survived for 600 years or so."
The medium holds a very special place in the heart of Tayag. He says, "Wanderlust and watercolor have kept me company in this journey of a lifetime. It has taken me beyond physical places where destination is infinity."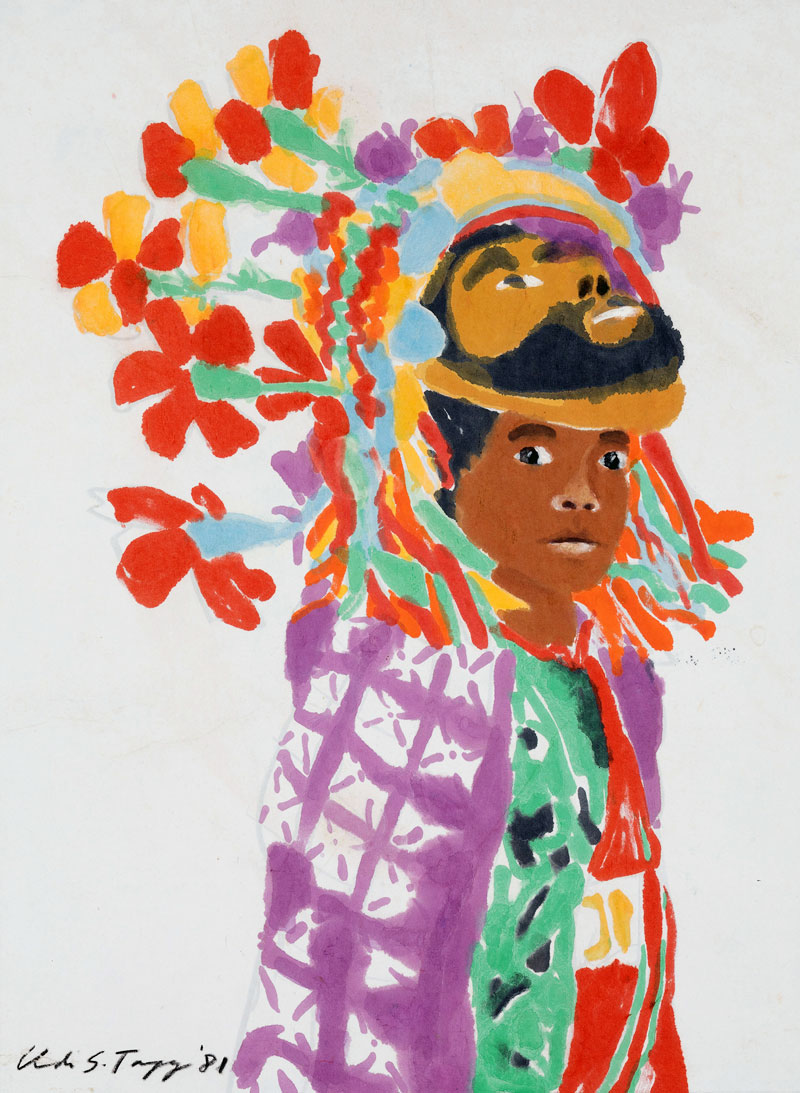 "Morion Unmasked 1": According to Tayag, "The 'Moriones Unmasked' series is unlike any other watercolor painting I've done before. What you see is in fact the backside of what I've actually painted. I used a peel-off wax pencil to draw an outline of a mirror image of a subject I wanted to portray. That outline drawing could be discerned faintly on the reverse. Having attended a calligraphy workshop by a Chinese painter years ago prior to this series, I knew more or less the nuances of Oriental painting with ink and color washes on thin rice paper. The colors just penetrate through, more so especially if a concentrated color is applied. It creates on the reverse a somewhat flat and muted tone compared to its original side. This, and the lightning speed they were executed, had the effect I was after — fluid, spontaneous and seemingly effortless."
But, despite the plethora of mediums and materials at the disposal of the artist, it all boils down to the same creative intuition — whether handling paint (as an artist), words (as a writer) and ingredients (as a chef). Tayag explains, "A craft takes a lifetime to master. It's a constant struggle for every piece of work at hand. You work by intuition, and there's a lot of trial and error. And one can only try his best to be as good or even better than his last work."
When asked what makes his work as a chef artistic, and what makes his art a delicious combination of different yet complementary ingredients, Claude answers: "I guess what makes my work as a chef artistic is precisely because I'm an artist first and foremost. In creating a dish, an artistic chef not only sees the different ingredients as is, but how each one will play a role in the final dish — not only in terms of taste, texture and smell, but especially how it will look in the plating or presentation. Cooking is a multi-sensorial discipline. It could be likened to performance art. After all, don't they call it the 'culinary arts'?"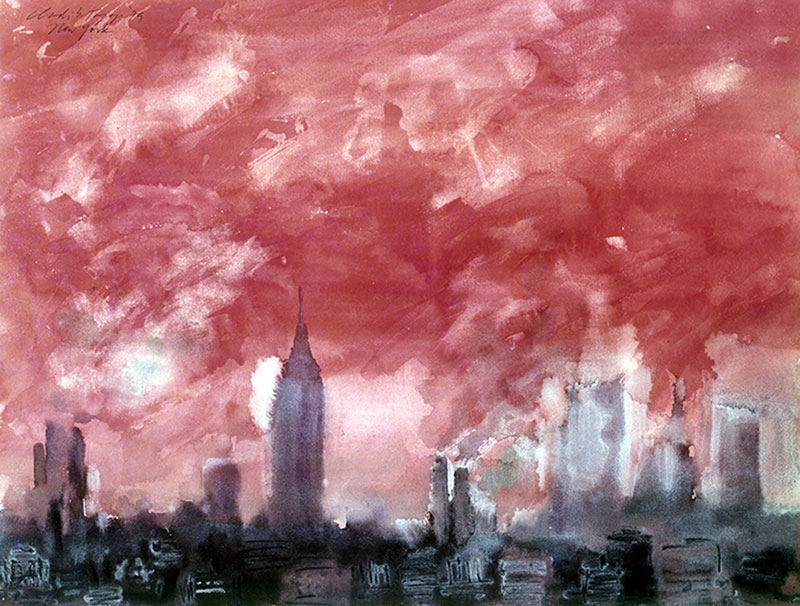 "The Last Sunset, New York, 1979"
We can only wonder what the Muses are cooking up in the kitchen for Claude Tayag. Who knows what he will do next: new paintings, new dishes, new furniture designs, or a book, perhaps, about taking the humblest of materials (water, pigments) or ingredients (meat, spices) and transforming them into something sublime.
"Right now I have a movie in mind," he concludes. "It's a sort of Like Water For Chocolate — but in a Kapampangan setting."
And the road to get there, for sure, would be a colorful one.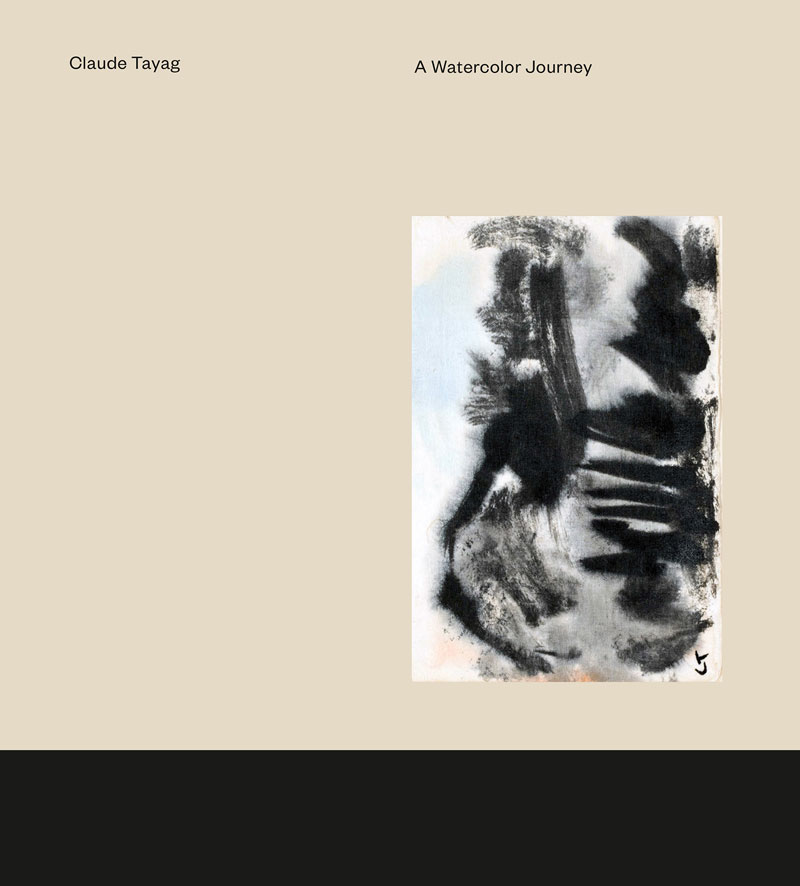 * * *
Claude Tayag's A Watercolor Journey will be launched on July 12, 6 p.m., at the National Museum of Fine Arts in Ermita, Manila. The book features essays by Floy Quintos, Alice Guillermo, Alejandro Roces and Rod Paras-Perez. For information on A Watercolor Journey, call or SMS Mary Ann Tayag at 0917-5259198 or email mquioctayag@yahoo.com or reserve@baledutung.com.