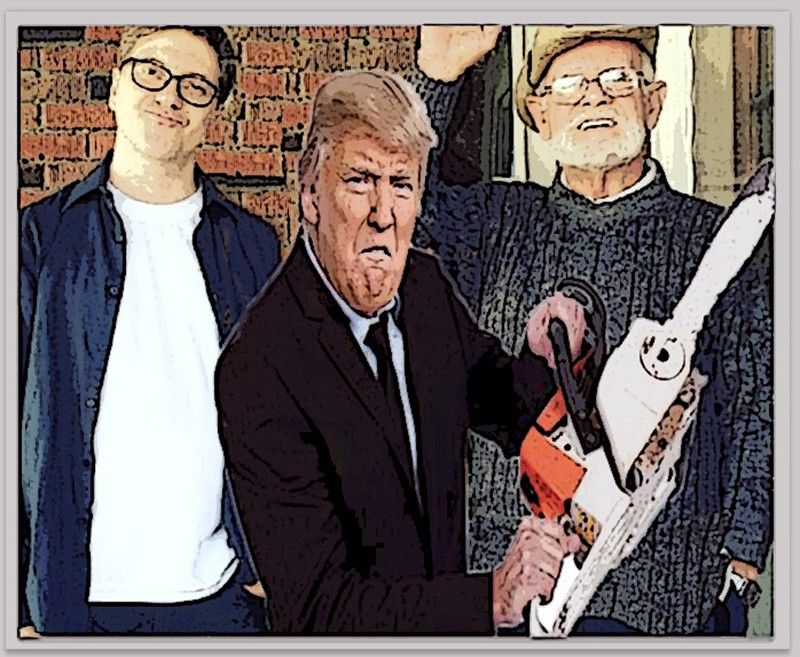 I always had this feeling that, as I got older, my dad and I would become more alike.
Computer graphics by Scott Garceau
How (not) to bond over Trump on Father's Day
I always had this feeling that, as I got older, my dad and I would become more alike. Yes, there are many ways in which we have. Maybe not the hair loss (genetic; I got my mom's hair), but his general amiability, his sense of adventure — after all, my dad did once hop on a plane to visit us in Manila on his own, and ended up getting into daily interactions with jeepneys, kalesas, EDSA on foot, single available Filipinas and other local attractions that would qualify him for Amazing Race Asia.
Nowadays, though, his health is less robust, and I worry about him often, living alone in Massachusetts. Going to the corner 7-Eleven to score a lottery ticket is about as adventurous as it gets. His pet parrot and dog have joined the Choir Invisible, so he's all alone most of the time. What keeps him company, I suspect, is TV shouting alarmist things at him, most waking hours; radio, filling in the gaps as he putters around his own house; or the internet, for extra doses of outrage and "Lock Her Up" Facebook pages. My dad didn't start out a Trumper; he was molded that way by a steady diet of low-boiling anger.
I know this is not unusual. There are plenty of semi-functional American families that are divided on the subject of Trump. They may be happy to agree on all kinds of subjects — the existence of Bigfoot, UFOs, the Patriots' unstoppable chances in the Super Bowl — but when it comes to Trump, they can't even agree on what color his hair is on a given day.
It kind of started around the time Trump was running for the White House. The Donald refused to release his tax returns or divest any of his businesses — things all modern US presidents have done, so they don't look like they're operating a personal ATM out of the Oval Office. Imagine if Jimmy Carter sold peanut butter with the US presidential seal on it, or Obama ran an endorsement deal with Nike while in office. Oh, there'd be hell to pay.
"So what?" my dad erupted when I pointed out the apparent conflict of interest, throwing his hands up in the air (at least I think he threw his hands in the air; this was during a phone call). "He's a businessman! He's allowed to make money!"
Yes. Of course. "The billionaire" should be allowed unfettered access to becoming even more wealthy, by whatever means. After all… "He's a businessman!"
It was a weird disconnect. I don't think my dad has passed through the Bermuda Triangle lately, but he has probably passed through a constant stream of Rush Limbaugh radio broadcasts. They have shifted his stance more and more to the Right. Or maybe more and more to the Fright.
Let's see. My dad voted for George McGovern in 1972, and Massachusetts — our home state — was the only one out of 50 that swung for that liberal Democrat. He wasn't too keen on Reagan or the Bushes, either. But Trump? I think he finds him amusing and entertaining.
"Don't worry," my dad will say on the phone with a chuckle and a soothing tone whenever the US President does something weird, like shutting down the government for no damn good reason. "Trump's got a plan. He's got it all figured out." Trying to act like The Donald is completely in control has become his default mode. Maybe it calms him down.
Sometimes I think my dad defends Trump to wind me up. Trolling is a skill that develops late in some white American males, but it's there. Maybe my dad's just in the same demographic as every other old white guy who stands on his lawn and yells at people, as Trump does regularly. He probably thought Obama, who took office at age 44, was a "whippersnapper."
Other times, I get irritated by my dad's stubborn defense of the latest Trump outrage — neglecting to scold Kim Jong Un for torturing an American student unto death, say; or neglecting to ask Vladimir Putin to please cool it on election meddling in 2020 — and I realize it's because my father's vocal mannerisms and bluff intransigence now remind me of… well, Donald Trump.
And perhaps I'm old enough to realize that getting worked up, politically, is a chump's game. When it comes to political issues, most things eventually come out a wash, with no apparent gains one way or the other. I think The Who wrote a song about it — Won't Get Fooled Again. Of course, The Who are British, and they have a parliamentary system over there, a royal family, and fewer guns.
But sometimes, things come out in the wash, as they did during Watergate. I remember watching the Watergate impeachment hearings on TV with my parents, way back when, and my dad telling me later, as Nixon got on a helicopter and flew away from the White House forever, that this was "history."
And he was right. History was unfolding, right before our eyes. That was a nice bonding moment between father and son. Perhaps you only get one of those.
* * *
Follow @scottgarceau on Instagram.