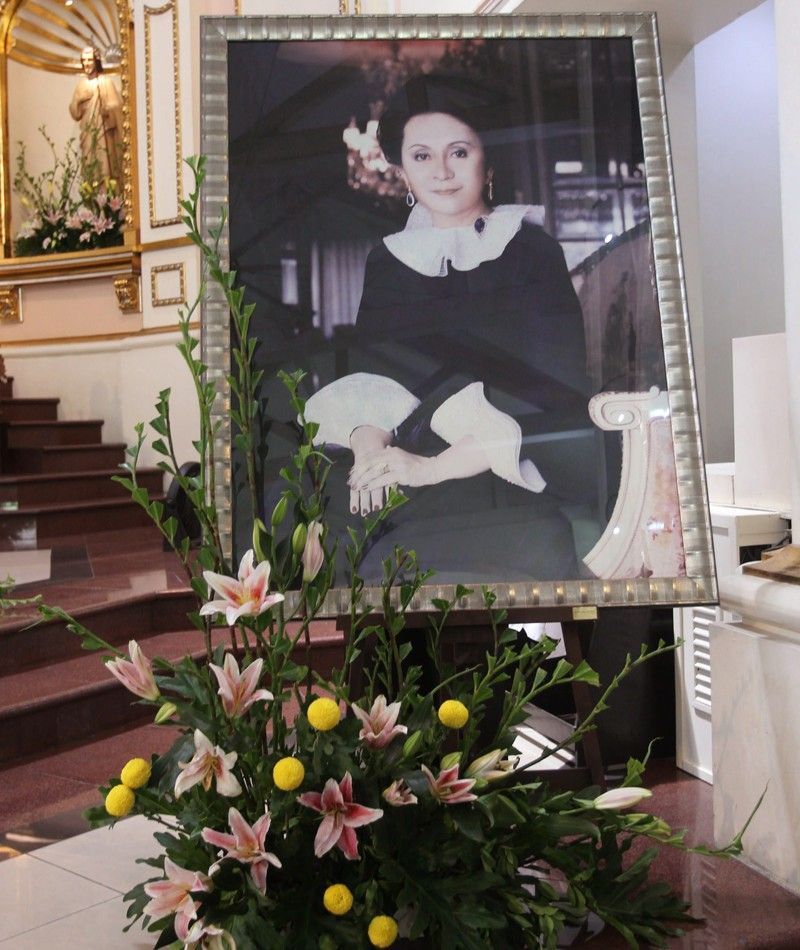 A portrait of Glecy Tantoco by Rupert Jacinto
Photos by Jun Mendoza
Remembering Glecy Tantoco with love, laughter and tears
'I miss laughing with her. While we worked very hard, Mom always had the funniest stories,' says Rico Tantoco.
What do I miss most about my mom?," asked Rico Tantoco, eldest son of Gliceria Rustia-Tantoco and Bienvenido Tantoco, who gave both their names to the Philippines' most glamorous department store. "I miss laughing with her. She had a great sense of humor. And while we worked very hard, she always had the funniest stories.
"She never took herself seriously and was such a lovely, humble person. That humility made her strong. When I was very young, she would drag me to church often to pray, and I would have to sit there quietly, but now I feel we do have to stay close to God. Mommy was a very prayerful person and she would be able to surmount obstacles because of her faith," Rico reminisced.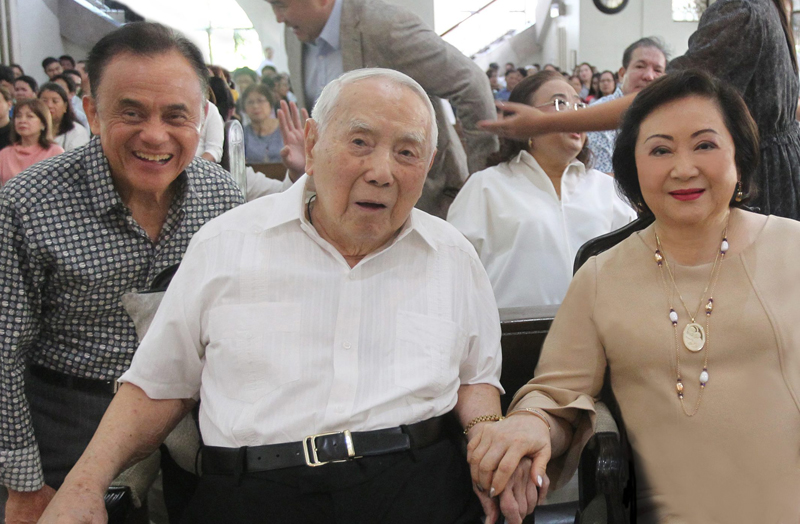 Rico Tantoco, Ambassador Benny Tantoco, Nedy Tantoco
Gliceria "Glecy' Rustia Tantoco thus slipped away from this life as well-measured as she lived, 25 years ago. She was surrounded by her family and had received the last rites in the privacy of their home in Franklin Lakes, a borough of New Jersey.
It's been a quarter of a century since the passing of this beloved mother and she continues to be deeply missed by both her personal and professional family.
Her public persona was as a one-woman emissary for good taste and high style, cultivating and nourishing both tirelessly through the Rustan's Department Store — an enterprise she founded with her husband, Ambassador Bienvenido "Benny" Tantoco.
In that role, her first dreams of Filipinos finely dressed and surrounded by every luxury became a lasting success story.
Glecy Tantoco single-handedly revolutionized not just Philippine retail history but also changed the way the world looked at Filipinos, thanks to a marvelous array of Filipino fashions and home furnishings.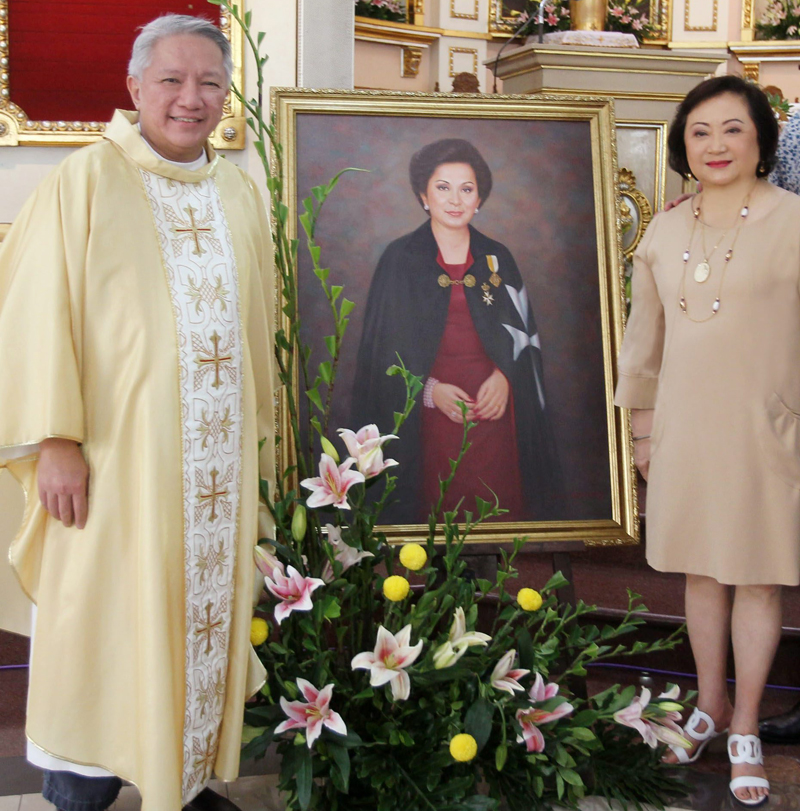 Fr. Tito Caluag and Nedy Tantoco at the National Shrine for the Sacred Heart
The innovative Glecy orchestrated a number of firsts for the Filipino bon vivant. She broke ground on such concepts as personal shoppers, festivals from across the globe, and long before it became fashionable, the notion of a curated shopping experience.
"Not a day goes by when I do not think of my mother — or remember an important life lesson she would share with me," said Zenaida "Nedy" Tantoco. "She was an inspiration to me and to so many others. Her work ethic and world view would provide meaningful context to all our decisions. They still do to this day," continued Nedy.
"Mommy worked 24/7," said Rico. "She always had a notebook with her and every time an idea popped into her head, she would write it down or call someone to do something about it. She was extremely good at what she did and enjoyed every minute of it. She wasn't just terrific at her 'calling,' which was in picking the right things for Rustan's and then providing a very special kind of service to go with it, she was excellent as a mentor and a nurturer."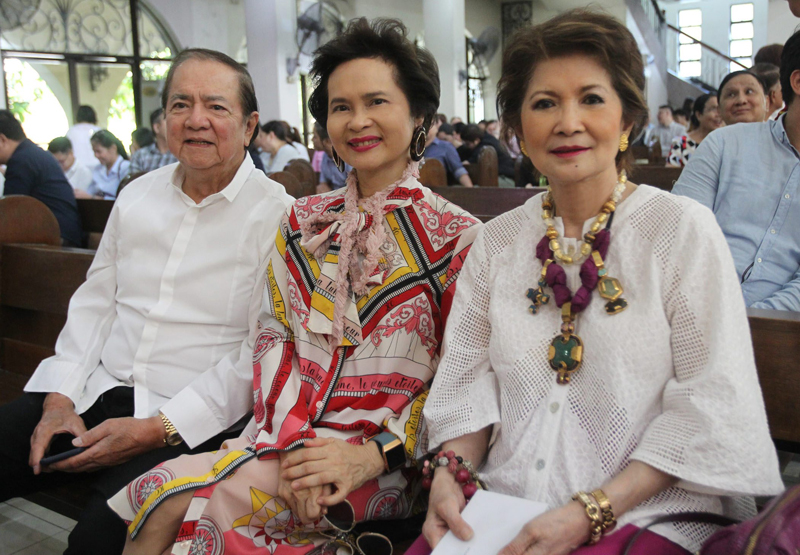 Eddie and Marilou Pineda with Criselda Lontok
"Most unforgettable were my trips abroad with Mommy," said Menchu Tantoco Lopez. "We would travel as early as 12 years old and although she was working, she would never allow us to stay in the hotel and just watch TV. She would take me along with her everywhere and that's how I learned — by just being around her and watching."
The church for the touching service was therefore filled to its second floor by friends and family of "GRT" as she was affectionately called, as well as by many staff members from the various Rustan's stores and companies. Concelebrating the mass were its parish priest Fr. Vic Apacible and longtime Tantoco family friend, Fr. Tito Caluag. Present were members of the Tantoco clan, led by Ambassador "Benny" accompanied by son Rico and wife Nena; siblings Nedy, Marilen as well Marilou and Eddie Pineda. The third generation was represented by Donnie Tantoco, Anton Huang and daughter Nikki; the newly-wed Catherine Huang Endriga; Paolo Tantoco and daughter Alana; and Jose Miguel "MJ" Tantoco.
The solemn but heart-warming ceremonies took place at the National Shrine for the Sacred Heart in Makati, where Glecy was not just a loving patron but also an impassioned devotee.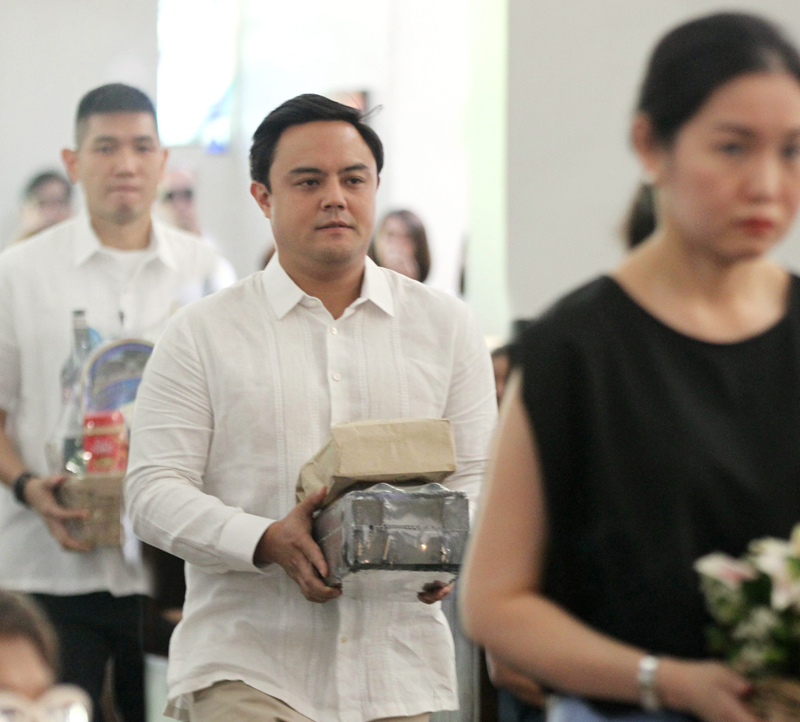 Glecy's grandchildren at the offertory : Michael Huang, Paolo Tantoco, Catherine Huang-Endriga
The morning rituals were highlighted by both classical and Filipino melodies performed by the Viva Voce opera group with Camille Lopez Molina. Capping the musical feast was Mrs. Tantoco's favorite song, Minamahal Kita which she sang a few weeks before her death for her golden wedding anniversary.
Marilen Tantoco recalled, "Mommy wanted to sing that song to my Dad on their 50th wedding anniversary. Perhaps she had an inkling that it might be their last together. Even if she was very weak, she practised the song in my room in our house. While she was singing, I kept on crying and she did manage to sing it to my dad on their anniversary. And I cried and cried. Every time, up to now, I still get teary-eyed when the song is sung on a family or Rustan's occasion."
"I feel both happy and sad," said daughter Marilou "Merl" Tantoco-Pineda. "I recall the day she died but I also remember that, now, we have someone in heaven to intercede for us."
Marilou looks back fondly on her teens, "My mother made sure that my 18th birthday was my most memorable. I still cherish it to this day. She prepared everything and — as with everything she did — it was done to perfection. Ramon Valera was her favorite couturier at the time and she worked hand in hand with him. I was wearing white ostrich feathers, so chic then!"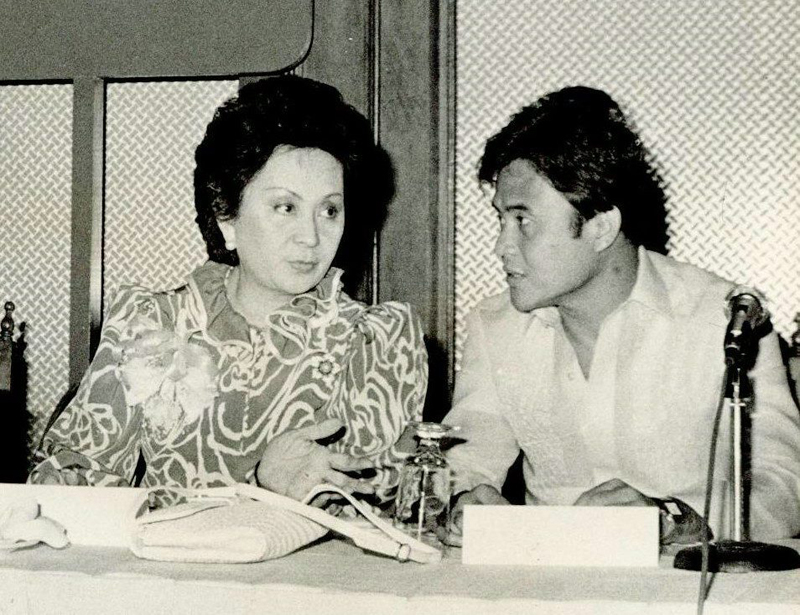 Glecy and son Rico Tantoco during a suppliers' convention in 1983
One Tantoco grandson, Paolo Tantoco, recalled how on a trip to Morocco to visit her with his cousin Eman Pineda, they began making a treehouse out of old cartons they had unearthed in the garage. "At the time," he said, "we were 12 years old, and while the treehouse was just made of cardboard, in our kids' minds, it was a mighty castle. The next thing we knew, Lola Glecy had arranged to send us more boxes from the warehouse so that we could expand our domain, so to speak. She saw that we were passionate about building that childhood castle and she wanted to encourage us to do it — and to build it in the best, possible way."
"Indeed, she touched four generations of family and the business," said grandson Donnie Tantoco who began training with her at age 17 and eventually became general manager of one of the last companies she would found with the Ambassador. "I have so many memories with my Lola Glecy," he said. "At Royal, I reported directly to her. And I remember how many of our one-on-one meetings continued even after she was sick. Even in her final weeks, I remember how sharp, creative, brilliant and awesome she was," he explained.
"This is one of my favorite memories with my Lola," Donnie continued. "I was 11 years old when she and Lolo took me to Honolulu. I messed up a task that she asked me to do and she was very angry. My Lola was the last person that you wanted to disappoint. I was one of many that wanted to serve her. I spent the whole day feeling like I had failed her. She continued to work after dinner. Normally, that is not a good time to disturb her — but I could not sleep; so I mustered the courage to talk to her. I told her I was really, really sorry about what had happened. When she looked up at me, I started to cry quietly. She grabbed me and she hugged me really hard. She did not say a word; and actually she did not have to. I felt so loved and assured from someone who was not only nurturing, but also really tough and always fair. I remember that moment as if it happened only yesterday."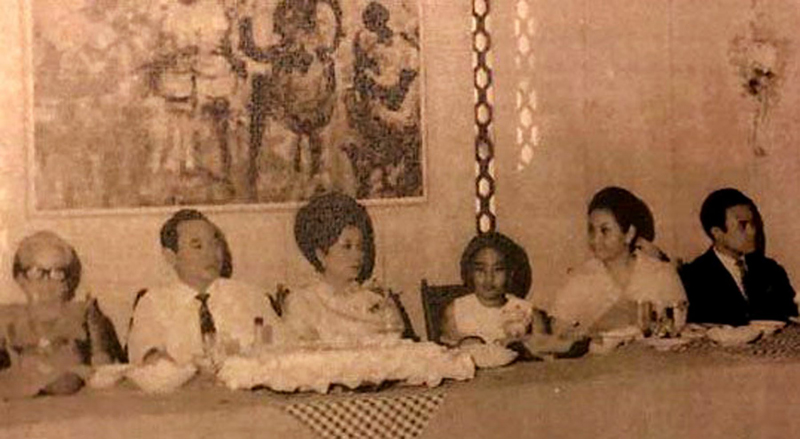 Glecy's mother Filomena Dimaano-Rustia, Benny and Glecy, with their children Marilen, Nedy and Rico, circa 1950. Photos from the collection of the TANTOCO-RUSTIA FOUNDATION
"By the time I was born," says her youngest child Maritess ''Tokie'' Tantoco-Enriquez, Rustan's was very successful. Mom could have spoiled me rotten — but no way! She always told me it was good training to earn money on my own to pay for the little luxuries I wanted. If, for example, I wanted to have a massage, she would not let me have one even if I used my allowance. She said it was still she who had earned that money — so I would work at the customer service counter on weekends to have money that I made on my own. It was very important to her that I understood the value of money and to appreciate what you have and never, ever waste it. She told me that if you go through a war and you don't know when your next meal will be or where it will be coming from, you learn that very quickly."
Lourdes "Lulu" Cuna, 89, one of the first salesgirls to go to work in the first-ever Rustan's on San Marcelino Street in Malate, declared: "Mrs. Tantoco would always say, 'Hanapin ninyo ang mali — huwag yung tama kasi yung tama, tama na. (Look for what is wrong, because what's right need not be put right.) Fixing what needs improvement is the only way we can do better and excel,'" she quoted Mrs. Tantoco as saying.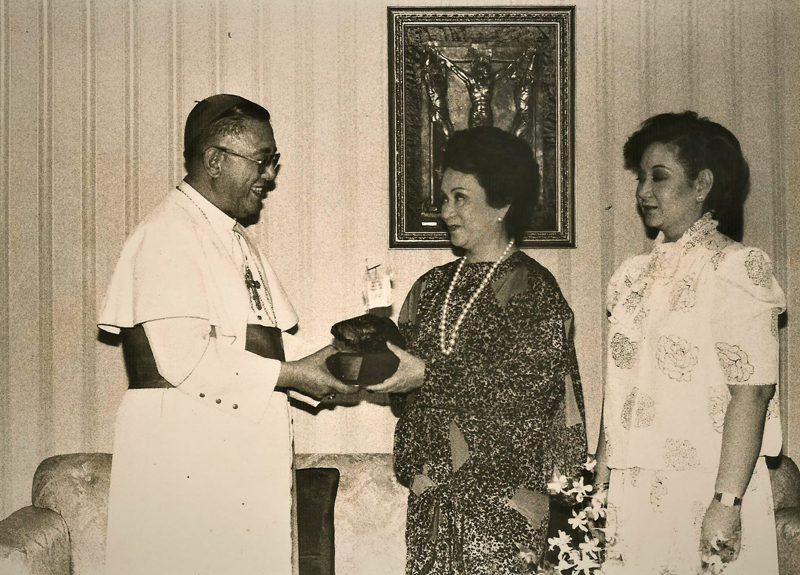 Glecy receives from Jaime Cardinal Sin the Catholic Mass Media Awards for Best Print Ad and Best Television Ad, both for Rustan's ''Our Very Own'' landmark campaign promoting Philippines products. At right is Nedy.
Remy Santiago, whose last post was as Rustan's bridal manager, said Mrs. Tantoco would come in before the doors opened just so she could share tips and trivia about the various store merchandise — how to tie a scarf, for example, or how to pick the right handbag for a certain outfit. She was very 'hands on', she added.
"Mommy didn't make it to the new millennium, having passed away just a few years short of it in 1994," said Rico, "but I am certain she would have loved it. She would have enjoyed how technology disrupts things and would have loved all the changes we've seen in the last 25 years."
As Glecy Tantoco's legacy enters the next century, Nedy emphasized, "From my mother, we learned resiliency and the ability to continually respond to our customers. Retail has changed and the Rustan Group of Companies has changed with the retail environment — through our specialty boutiques as well as through our food projects like Starbucks and Shake Shack.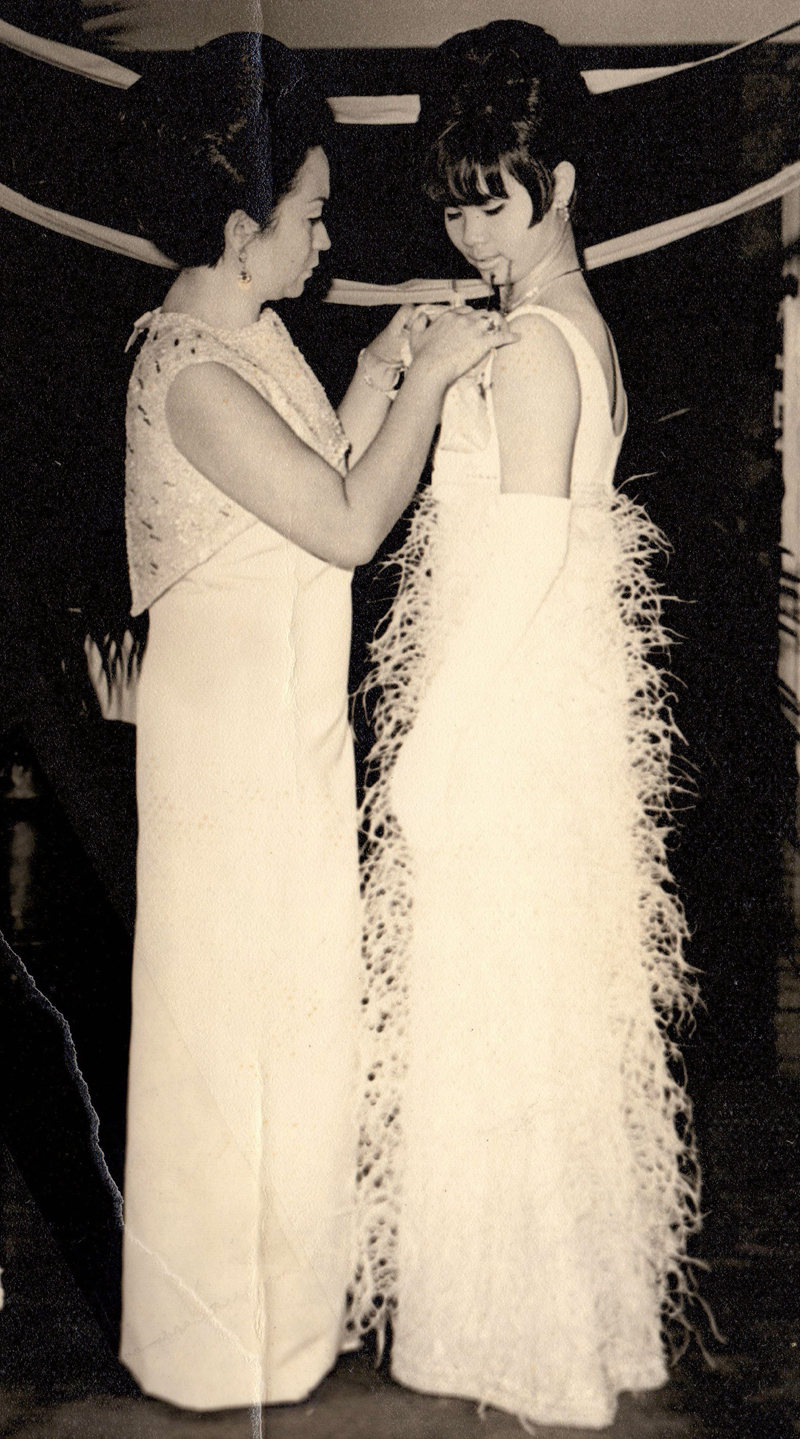 Glecy pins a corsage on daughter Marilou, who wears a Ramon Valera gown for her debut.
"Quite simply, Mommy was, is, and what Rustan will be," she declared.