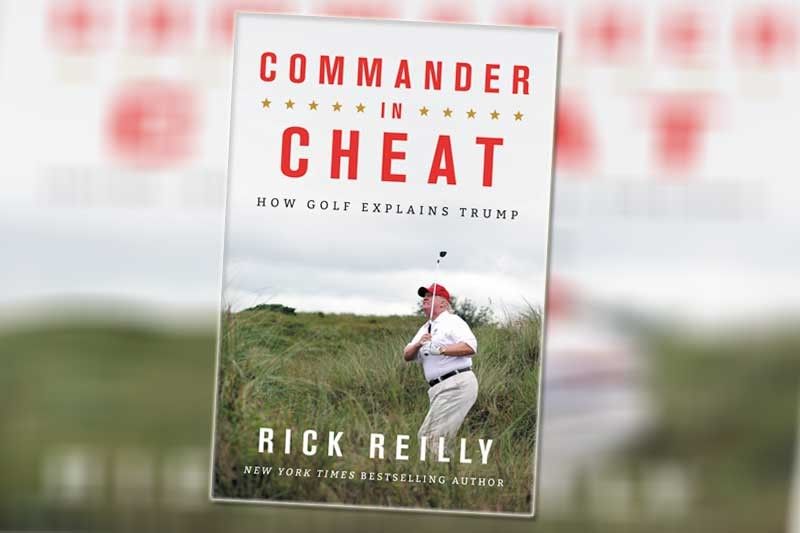 Donald Trump's Game of Holes
How does Trump cheat?
Let us count the ways:
Trump doesn't just cheat at golf. He cheats like a three-card Monte dealer. He throws it, boots it, and moves it. He lies about his lies. He fudges and foozles and fluffs. At Winged Foot where Trump is a member, the caddies got so used to seeing him kick his ball back onto the fairway they came up with a nickname for him: "Pele."
COMMANDER IN CHEAT: HOW GOLF EXPLAINS DONALD TRUMP
By RICK REILLY
420 pages, Hachette Book Group
Donald Trump, no big fan of Barack Obama, used to rant and rave about how much time the 44th US president spent golfing. Turns out Obama had nothing on Donald Trump.
According to TrumpGolfCount.com, Trump has made 175 daytime visits to golf courses during his two-plus years as president, at an estimated cost to US taxpayers — including Secret Service and other travel expenses — of $99 million. That's a lot of money to get in 18 holes regularly.
Trump not only loves golfing, he loves to build golf courses and escape the troubles of the White House whenever possible to play on them.
But there's another thing Trump loves to do while playing golf: cheat. That's the theme picked up by Sports Illustrated writer Rick Reilly in his book, Commander in Cheat: How Golf Explains Trump.
How does Trump cheat? Let us count the ways:
Trump doesn't just cheat at golf. He cheats like a three-card Monte dealer. He throws it, boots it, and moves it. He lies about his lies. He fudges and foozles and fluffs. At Winged Foot where Trump is a member, the caddies got so used to seeing him kick his ball back onto the fairway they came up with a nickname for him: "Pele."
Reilly identifies Trump's trademark cheats on the links. One is the "Invisible Dunk" (the 45th US president reportedly keeps an extra ball, or several, in his pocket, so when he hits into the weeds, he sneaks to the cup area before the others, drops the fresh ball from his pocket into the cup, and declares he "chipped in" from the rough). Another move is the "Quick Rake," where Trump will take his putt, then push the ball along into the cup with his putter while it's still moving and quickly scoop it up before anyone can cry "foul."
Then there's the "Ball Switch," wherein Trump jumps in his golf cart immediately after his opponent tees off. "That way he can get up there quick and mess with his ball," says one caddy witness. "My guy pures one right down the middle. I mean, I saw it go right down the middle. But by the time we get to my guy's ball, it's not there. And Trump is now on the green already putting! Where's our ball? And then Trump starts yelling back at us, 'Hey, guys! I made a birdie!' He's holding up his ball and celebrating. And that's when we realized. That f**ker stole our ball!"
Or listen to avid golfer Samuel L. Jackson's spill about Trump's tricksy ways: "We clearly saw him hook a ball into a lake at Trump National in Bedminster, and his caddy told him he found it!"
Reilly, who's played and reported on the best courses in the world, relates this sort of anecdote with a mixture of incredulity and begrudging amusement. I mean, if a guy spends millions to build golf courses, he may be entitled to cheat a few holes now and again, because he's the big boss. Right? Well, it goes beyond that. Reilly's first gripe against Trump is his insistence that he's won 18 club championships; Reilly doesn't buy it, and he breaks down how improbable that would be, even for a pro golfer. Trump even revealed one of his tricks for getting his name on the championship plaques: "Whenever I open a new golf course," he told me, "I play the official opening round and then I just call that the first club championship. There you go! I'm the first club champion!" Sleazy, but it apparently works for him.
Reilly also has a serious problem with Trump claiming a 2.8 handicap. Even some of the best pros in the world don't claim that. ("If Trump is a 2.8, Queen Elizabeth is a pole vaulter.") Trump's caddies, in their more candid moments, report he's "about an 8, or 9."
Which is not bad. And Reilly does actually give Trump credit for a very forceful swing. He says Trump is very good company on the 18 holes, humorous and gracious — unless he's losing. Then the Trumpstorm descends. Take the case of 15-year-old Adam Levin, whom Trump lost to in the first round of the 2007 Westchester Men's Club Championship. Trump tried to mess with the kid's head, calling "ticky-tacky rule violations," then patronizing him after he lost a few holes ("The kid put up a good fight, didn't he?") At that point, "A small bonfire lit under Levin, who wound up winning hole after hole, tying Trump up through 18 and then winning on the second playoff hole," Reilly writes.
"He didn't even say 'Congratulations' or 'Good match,'" remembers Levin, now a data analyst. "He didn't look me in the eye. He just shook my hand and walked off. He'd kind of been a d**k the whole day."
Welcome to the Game of Holes under Donald Trump.
Hole-Hearted
As Reilly makes clear, Trump's rather ungentlemanly behavior on the links is equaled by his take-no-prisoners approach to building golf courses. There's the now-famous squabble he had over his Scotland property, Trump Aberdeen. Environmentalists complained that his building plans would destroy "moving dunes," the ecologically sensitive drift of sand along the nearby coastline. Trump didn't care; his late mom had been "Scotch," as he put it, so he thought he'd have no trouble snookering the locals into granting him all kinds of leeway. He sued local governments to remove windmills from the nearby shores, saying they ruined his view. He even tried to force out local farmers because their domiciles were "ugly" eyesores, not fit for wealthy golfers to have to look at.
But the locals pushed back. They refused to sell their homes and farms, instead hoisting Mexican flags over their properties in "solidarity" with Mexicans, who then-candidate Trump had recently insulted as "rapists" and "killers." To this day, Trump Aberdeen is a money trap, according to Reilly, with few members.
Trump's penchant for cheating extends to stiffing his architects, like Andrew Tesoro, who was reportedly chiseled out of a fee for building the clubhouse at Trump Westchester. In the end, Trump's people offered him 40 cents on the dollar — $56,000 on a bill of over $141,000, take it or leave it. Tesoro knew he'd end up in court for years if he fought Trump. So he settled for a flat $50,000. Which Trump still refused to pay. The future president met with Tesoro, saying "he'd give Tesoro $25,000 — 18 percent of what he was owed — or otherwise, he could go talk to Bernie, his lawyer, down the hall."
A lifetime of bullying and exaggerating serves a golf cheat quite well —that is, except when TV cameras are involved. Reilly notes that, despite his 18 claimed club championships, when Trump plays televised tournaments, he never makes the cut; he loses in early rounds. But when he's alone on a course? Among people who fear him or are amused by him? Or when he's free to whizz off on his golf cart? "When it comes to golf, Trump is the tornado and you are the trailer."
Of course, a book about Trump's cheatin' ways can't stop at golf; it has to include porn stars. Reilly tells about the weekend of the 2006 American Century Celebrity Challenge in Lake Tahoe, California, when Trump first met — and allegedly bedded — Stormy Daniels. (Mind you, at the time, his wife Melania was back in New York, looking after their four-month-old son.) Then, the next morning, Trump went back to the convention hall downstairs for seconds, flirting with another porn star. "Even two porn stars didn't do the trick," Reilly writes. "Somewhere in the middle of all that, Trump allegedly fit in a bedding of Playmate Karen McDougal, whom he'd been having an affair with and had flown in for the occasion. How's that for depth of douchery? When you're cheating on the mistress with whom you're cheating on your wife, you've entered a kind of infidelity Inception."
Reilly's book is highly entertaining — most people, when I relate these tales of Trump's antics, chuckle; they find it all very amusing. But Reilly himself doesn't; he believes your golf etiquette reflects your ethics, the way you are in real life.
Somebody should point out that the way Trump does golf is sort of the way he does a presidency, which is to operate as though the rules are for other people.
Somebody should write that the way Trump cheats at golf, lies about his courses, and stiffs his golf contractors isn't that far from how he cheats on his wives, lies about his misdeeds, and stiffs the world on agreements America has already made on everything from Iran to climate change.
Perhaps the worst sin for Reilly is that Trump has managed to give the game of golf — a game that's democratic, that welcomes great players from every race, country and background — a bad image, one that's only interested in wealth and privilege and exclusion. Somewhat like the way he's managed to reshape the White House into his own warped, self-aggrandizing image.