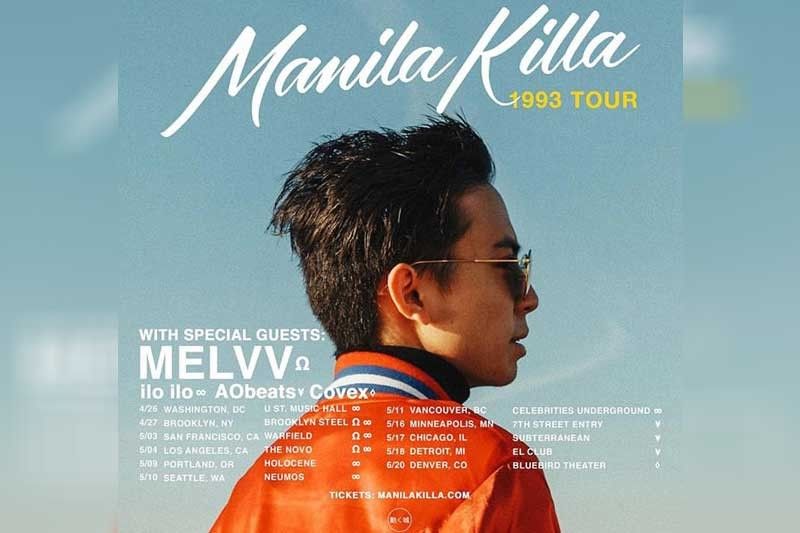 Chris Gavino, aka Manila Killa, is revving up his "1993" EP Tour.
DJ Manila Killa releases his first EP
Kathy Moran
(The Philippine Star) - April 14, 2019 - 12:00am
MANILA, Philippines — Manila Killa's first EP "1993" was just released on the record label, Moving Castle. An extended play disc consisting of seven electronic dance songs, "1993" is Manila Killa's first body of work as a recording artist and is already on Spotify, iTunes and SoundCloud. Recently featured in Forbes magazine and DJ Mag, the EP will be featured on a three-month North American tour beginning in Washington, DC on April 26.
Chris Gavino is the performer Manila Killa. Born in Washington, DC, Chris grew up and studied in the Philippines, Indonesia and America. His early exposure to music was the cello, which he played when he was seven, followed by percussion. It was during his high school days at International School in Manila that Chris discovered electronic dance music (EDM). During one of the "Battle of the Bands" competitions, a student performed songs produced on a laptop and sang over the tracks. Chris was inspired to make music that way. He taught himself Ableton Live (a software for music production) and found a new hobby composing music.
After high school, Chris returned to America to continue his studies. On nights and weekends, he would play small club gigs in downtown Washington. That's where he met Brett Blackman who would become Chris's manager. With Brett's help and the record label Next Wave, Manila Killa released his first single All That's Left in 2016 (featuring vocalist Joni Fatora), named one of "The Songs of Summer" in the Entertainment Weekly magazine. Chris quipped, "I was so excited that I bought all the copies of the magazine from the news stand!" That same year, Chris got his bachelor's degree in business management at George Mason University in Virginia.
According to Chris, the tracks on "1993" were inspired by his travels throughout the world, the people he has met along the way and the emotions he has felt from his experiences.
Philippine STAR recently caught up with Manila Killa who gave some insights into his EDM world.
How did Manila Killa first get the EDM world's attention?
MANILA KILLA: It was my remix of Dawn Golden's song All I Want that got it started in 2014. I uploaded it on SoundCloud and it garnered millions of plays in a short amount of time. I wasn't even planning on releasing it until a friend of mine pushed me to — I'm forever thankful for that.
Why Manila Killa?
Sold-out show at The Observatory, Sta. Ana, California, October 2018 (Photo by Tyler Hagen).
"Manila," to pay homage to the city where I first immersed myself in dance music; the "Killa" part was simply a result of a quick brainstorming session with my high school friend Dev Vyas. But the reason why I was so drawn to having the city be a part of my music name is because I appreciate the Filipino way of life, the food and its strong cultural identity.
What made you choose music production as a career?
After spending most of my life "watching" the music scene evolve, I wanted to contribute something to a culture that has given so much to me.
How do you make your music?
The process is always different. Sometimes my team will send me demos submitted from songwriters or producers. Other times, I start a song in the studio, or I hatch an idea while on the airplane. Sometimes I'll play a chord progression and my mind will race with ideas, but the production usually involves building on small elements and experimenting to see what works and what doesn't.
What advice can you give to very young people who want to follow your footsteps?
Make sure to completely understand, appreciate and focus on your own music vision, People will always gravitate towards music that is authentic and unique that comes from the heart. Oh, and keep the right people around you!
Why "1993"?
1993 was the year I was born, and this EP is a marker of what's happened throughout my life.