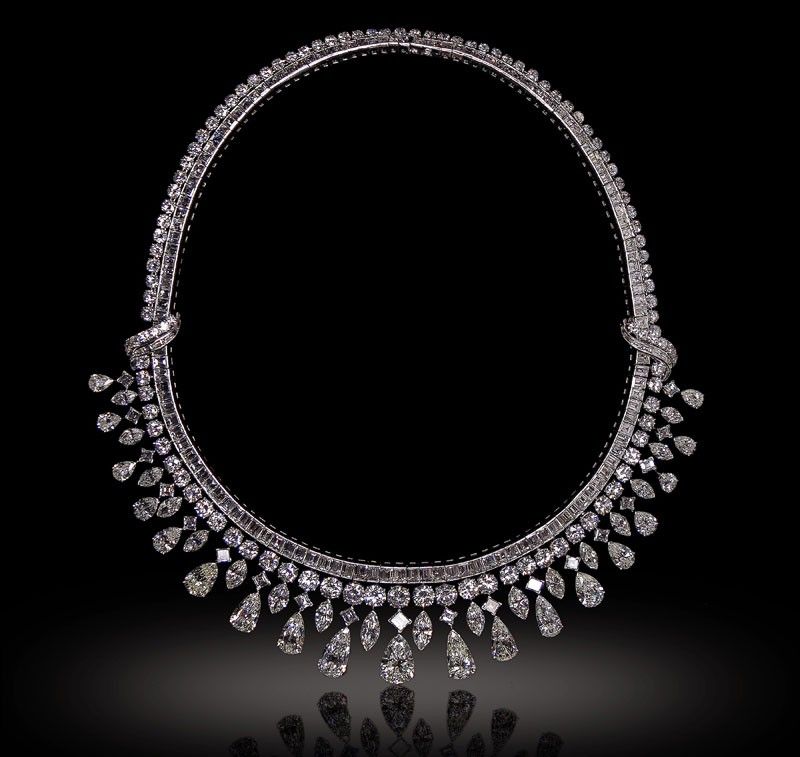 The Harry Winston diamond necklace with an estimated 130 carats of diamonds
Harry Winston and Other Girl's Best Friends at León Exchange Auction
Two ladies' men from opposite sides of the pond — Hollywood and Buckingham Palace, that is — are a girl's best friend at León Exchange's brilliant online auction this Saturday, April 13 and Sunday, April 14.
Harry Winston was the first jeweler to recognize that actresses regard diamonds as their "best friend," lending a gorgeous set of rocks to Jennifer Jones when she won an Oscar in 1944.
By 1953 — when Marilyn Monroe sashayed down a grand staircase in Gentlemen Prefer Blondes and purred "Harry Winston, tell me all about it!" — his reputation had already been made as a purveyor of glam to the most glamorous couple on earth at the time, the Duke and Duchess of Windsor. It was a short skip and jump that led to adorning the original superstar Elizabeth Taylor and Jackie O for her wedding to Aristotle Onassis.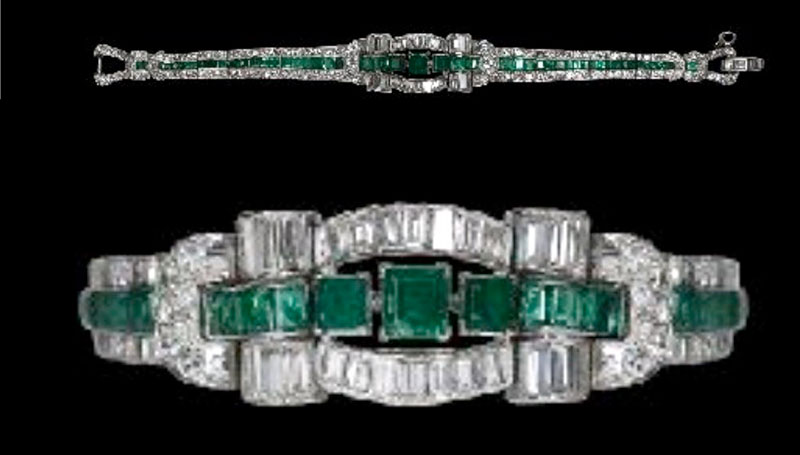 The Litton emerald and diamond bracelet
Winston would become a favorite of the women of Manila's 400, including Rose Litton whose husband George was one of the country's leading post-war industrialists. Her drop-dead gorgeous necklace, from dear ol' Harry, is fit for an empress. A glittering highlight of the auction, it has an estimated total wattage of 130 carats, festooned with layers of pear-shaped, marquise-cut, and round diamonds.
Litton is said to have famously said about her childhood in Dinalupihan, Bataan that she didn't know she was poor — and was therefore immensely happy. A palm reader would say that she had the luckiest star ever and her fortune and collection of million-peso jewels would only rise in tandem.
Other Litton baubles include several pairs of Art Deco diamond earrings. There are also impressive parures of emerald, rubies and Imperial Jade, all of which at one time belonged to the grande dame.
John Wilmin Figg of London, who came from a family of eminent silversmiths, crafted an exquisite coffee and tea set dating from Queen Victoria's heyday. Ninety percent of the most important silver, after all, was made in England. This set, which includes a samovar and a footed tray, is a desirable must-have for the ladies who still do high tea. The set weighs in at an astonishing 20 kilos and would make a remarkable addition to a discerning collection.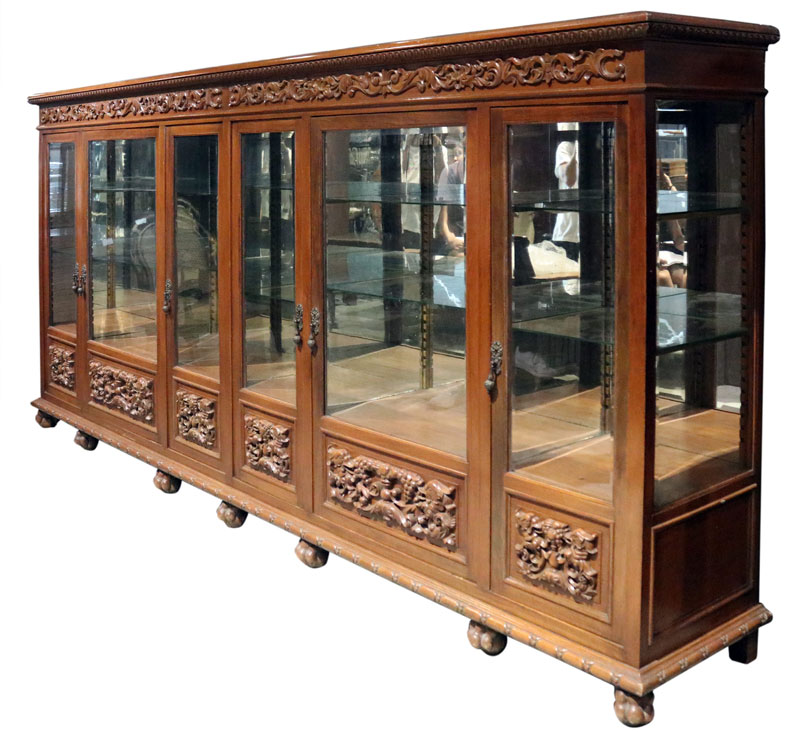 The china cabinet and dining table destined for Malacañang
In the "Heiresses Homes" department is a set of furniture once destined for Malacañang but which never made it because it was considered too lavish to be politically correct.
The suite consists of a china cabinet as well as a dining table that seats a dozen. The table, with carved ropes outlining its edges, reportedly cost P5,000 — a king's ransom at the time. The politician who'd been raked over the coals for being a spendthrift ordered a trusted confidante to quietly unload it to somebody else.
The dignified table, made of a single slab of narra, apparently wound up fulfilling its destiny, eventually ending up at the Litton home where President Diosdado Macapagal is said to have dined on it.
A total 1,643 lots of paintings and sculpture, books, maps and jewelry may be viewed at a daily open house at the León Exchange showrooms at Warehouse 14, La Fuerza Compound, Pasong Tamo, Makati.