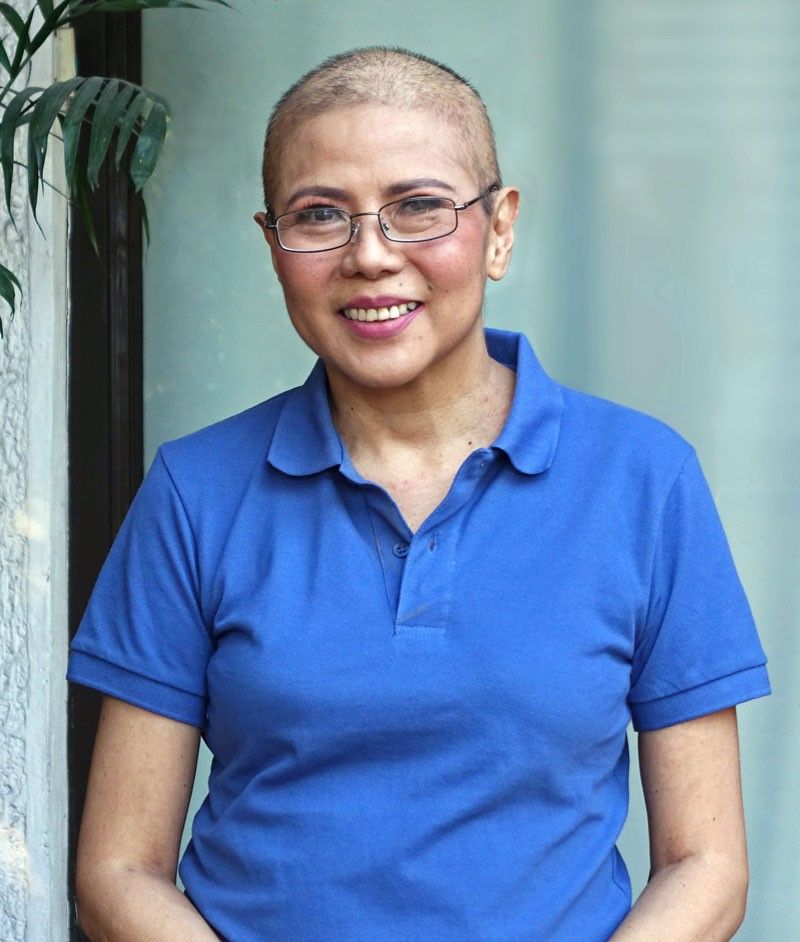 I confess to not having the nerve to shave my head, like a lot of my fellow warriors do.
I've long made peace with my demise. My last will and testament — handwritten amidst many tears — is in the safe. I could Give Up. Succumb. Surrender. But I won't. While the very heart of me — that chamber that stores my conscience and conviction, love and dreams, memory and self-respect — remains unbreached, I will fight.
Chemo. Again.
The cure that's more dreaded than the disease itself.
It can screw with your taste buds so that all fruit tastes like macopa, pan de sal is too salty and a prime Angus steak is just a nuisance that you have to dig out of from between your teeth that have turned wobbly. (My friend Vicky had to be fitted with orthodontic braces for the first time at the tender age of 53.)
It can leave you so weak a toddler could outrace you. Your sleek laptop stays fixed in place because it's become as heavy as a Balangiga Bell. You could spend literally 24 hours lying in bed, staring into space; music — any music — sounding like a Tulfo brother. During such times your voice will turn into a low rasp; the temptation to occasionally whisper "Rosebud" or "Red Rum" will be irresistible.
Doctors say there's anti-nausea medication in the mix but it doesn't work all that well. A whiff of sinigang can trigger retching so violent you'd swear your stomach itself had been expelled along with all the other gunk into the toilet.
And there's, of course, the hairfall.
I actually didn't lose all my hair the first time round. I was left with a few wisps that, if artfully coiled and feathered, I could fashion into something that resembled Harry Roque's toupee. I amassed a collection of scarves and hats color-matched with all my outfits so that the headgear always looked like a jaunty accessory. For dressier occasions, I had a wig in a style that was the height of chic in the '80s; it stayed poufy and coiffed even in a typhoon. (I don't think any casual onlooker would have suspected I wore a wig. They would have simply assumed I had my hair done at a Piandre salon every day.)
I confess to not having the nerve to shave my head, like a lot of my fellow warriors do. I had this strange theory that since I have a lot of moles all over body, they might have converged on my scalp creating a speckled effect, like a quail egg. Plus, I suspected my head had strange bumps. Not like horns, more like… corners.
So I resurrected the scarves and the hats and the tita wig, sad and shapeless now from disuse. I told myself "I've survived chemo before, doing it again will be a snap."
Except I didn't believe me. Instead, I questioned whether going through that agony — especially when the statistics at this point in my disease didn't bode well for success — was worth it.
I look at this world I'm struggling to stay in and feel only despair. The despot Filipinos elected to the presidency has infected the populace with a malignance unmatched by the deadliest of cancers.
As tumors have spread to most of my organs, so have his poisonous politics invaded practically every branch of government — the well-entrenched system of checks and balances now applicable only to your personal bank account. Conflict of interest, transparency and delicadeza have become outmoded concepts that only the dilawan likes of Leah Navarro keep yammering about.
They both hate "draaags." My cancer has repulsed four drug protocols already. It retaliates against attempts to treat it by filling my esophagus with sores or covering me with hives. Duterte, on the other hand, manifests his hatred of drugs by inventing figures about them and ordering EJKs.
They both make no sense. Cancer can strike anyone, regardless of age, gender, creed or lifestyle. It can attack the lungs of someone who doesn't smoke, the liver of a triathlete who's never touched so much as a shandy, an infant wearing angel's feet. Duterte is equally incomprehensible. His speeches alone — a rambling litany of insults, curses, sexist remarks, contradictory pronouncements, unfinished sentences, boasts about people he's murdered or wanted to rape, and threats to resign — cannot but be the products of a deranged mind.
They both deprive your offspring of their proper legitime. Battling cancer will drain your savings — what you invested or put away each month to build a nest egg for your retirement and for your children to inherit. Instead of enjoying their inheritance, children, and their children's children, will spend it paying off onerous debts Duterte incurred in deals with the devil. Such deals have also reduced valuable property that belongs to the Filipino people and their progeny by birthright, as Duterte blew off our hard-won claim and gave up our sovereign territory like it was a slice of pizza.
Both can mutate. Cancer can start out with certain characteristics, which serve as the basis for your doctors' treatment plan. Then, to evade arrest, it develops altogether different features and goes about merrily multiplying. I knew someone stricken with a type of cancer in one breast that transformed into another cancer to infiltrate her other breast. Similarly, Duterte has somehow managed to create different versions of himself. Check out the administration candidates in the Senatorial Elections. They may look nothing like each other but they're all characters devoid of character. Gloating gargoyles pandering to the basest of human instincts, parroting his witless jokes instead of engaging in genuine discourse. Is there any doubt that these craven creatures are spawns of the same tyrant, hell-bent on carrying out his draconian agenda?
Both suppress your freedoms. By dint of my disease, my movements have been severely curtailed. I will never run, do a Surya Namaskara, play tennis or cover a news event again. My immune system is so compromised that venturing into a crowded room is a roll of the dice. I cannot stand or sit up for long periods and my double-vision makes writing difficult. In short, practicing journalism, the profession I devoted most of my adult life to, is no longer viable. In a much larger context, Duterte has enfeebled our institutions by populating them with minions who share his low regard for human rights, due process and what words really mean. These institutions that form part of our nation's immune system should have ensured that our freedoms were protected. Instead, they're party to repressing dissent, demonizing the opposition and preventing scrutiny by a critical press. The Constitution, the last bastion of our democracy, and also a key component of the collective immune system, is in the process of being dismantled. When that goes, all protections, all the freedoms it guarantees go too.
So where is the outrage? Where is the resistance?
A weary voice in my head says, Don't look at me. I'm dying. I should be excused.
I've long made peace with my demise. I've scratched all but "Scuba Dive with Sea Lions in the Galapagos" and "Make Out With Channing Tatum" off my bucket list. I've put my financial affairs in order. My last will and testament — handwritten amidst many tears — is in the safe.
I agonized over it in the first year of my diagnosis but now, I can rest assured, my son will grow up to be a happy, kind and productive adult in any environment, which is all I can ask for, I realized, after failing to get him married off at 15. Besides, he's at the age when he's closer to his father anyway. Papu, who dispenses his allowance, has taken over PTA and homework-correcting chores for a while now. They bond over bad superhero movies (I don't like anything DC), basketball, men's fashion, and tandem haircuts, none of which require my input.
At Stage 4 I have legal access to a fortune's worth of opioids. I could spend my final days in blissful oblivion, reading, bingeing on old episodes of Game of Thrones and The Good Wife, all writing confined to playing Words With Friends, and hopefully lasting long enough to see Stephen Spielberg's reboot of West Side Story.
I could Give Up. Succumb. Surrender. But I won't.
Because not fighting would be plain rude to my onco, Dr. Marina, whose concern for me goes well beyond the call of duty.
Because not fighting would be a repudiation of how my parents raised me.
Because not fighting would ignore the very real option that still exists: the handful of brave, honorable souls putting their lives on the line on the firm belief that the Filipino people can get better; can choose to get better; deserve better. They represent, if not a cure, the lone path to a cure too late for my benefit, perhaps, but for the next generation.
While family and friends, their family and friends, keep praying rosaries for my healing, or send chakras and incantations my way;
While my husband continues to move me with his sweetness and my son doesn't run out of silly jokes, magic tricks, and funny anecdotes of his daily exploits;
While the very heart of me — that chamber that stores my conscience and conviction, love and dreams, memory and self-respect — remains unbreached, I will fight.