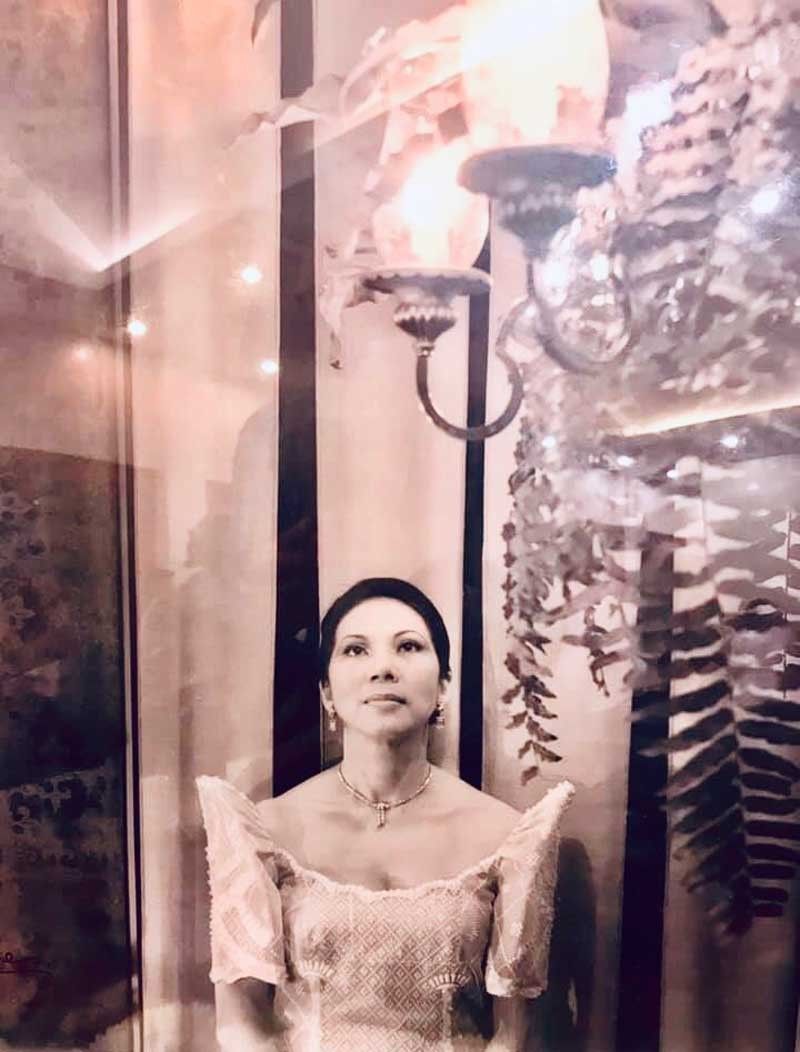 Carmencita Ongsiako Reyes' passing a day after the traditional Feast of the Three Kings marked the end of an era.
The Last of the Graces: Carmencita Ongsiako Reyes
Every generation or so, a set of sisters captures the imagination of society with their grace, beauty and pedigree.
Carmencita Ongsiako Reyes was one of three celebrated siblings of the venerable Old Tarlac family, the Ongsiakos. Her passing a day after the traditional Feast of the Three Kings marked the end of an era. Like the legendary Soong siblings of Shanghai and the glorious Wyndhams of Belgravia, the Ongsiako sisters were noted for their ethereal charm — and a considerable fortune. (Thanks to their mother's uncanny business acumen, the Ongsiakos would become important landowners in Manila north of the Pasig, including strategic areas in Divisoria and Binondo.)
Imelda would wed a stalwart from another Tarlac clan, Ramon Cojuangco; Myriam, a Bacolod gentleman, Rodolfo Montelibano; and Carmencita would marry into the Reyes, one of the founding families of the ancient Tagalog island of Marinduque. She would blossom in the sunshine of an enchantingly long marriage with Edmundo Mercader Reyes, who was among President Ferdinand E. Marcos' most trusted men.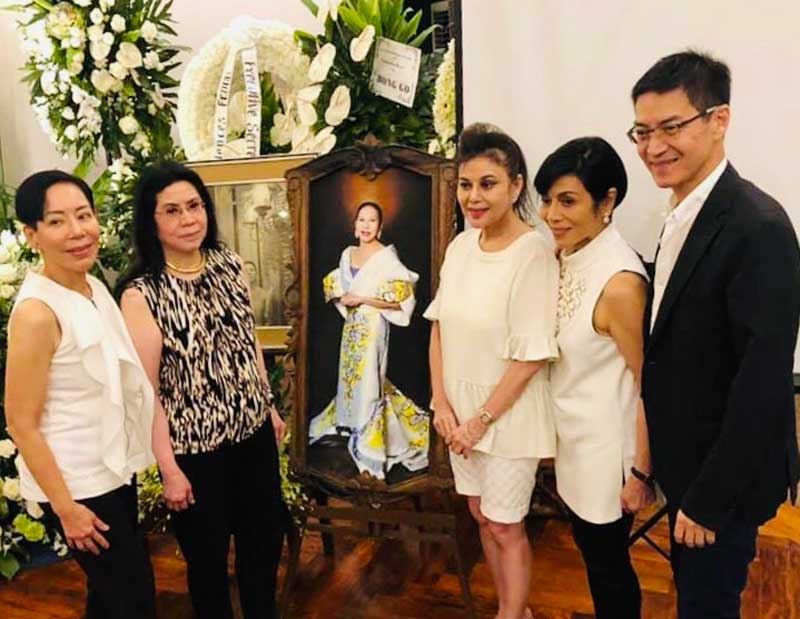 Violet O. Reyes, Bernadette Reyes, Marichu Reyes Vega, Gina Reyes Mandanas, Edmund O. Reyes
Her delicate radiance would be intertwined with solid accomplishments that would define her as a formidable person in her own right. Carmencita would have her first taste of public service as a delegate to the first post-war Constitutional Convention of 1971. She would be undefeated every single time she threw her hat, so to speak, into the electoral ring: as assemblywoman, later congresswoman (when it was fashionable to be called that), then as governor several times over, a position she would hold until the time of her unexpected death. She would serve not just one president — but five more after Marcos, including two Aquinos, a Ramos, a Macapagal, and the current Duterte dispensation. That alone is a remarkable political feat: to be not merely accepted but to be valued by all.
Carmencita's sense of style was equally famous; and in particular, a highly cultivated instinct for proportion and composition. "Teyet Pascual (the noted collector) would create her 'tablescapes' for formal dinners, but her impeccably arranged house was all her," says interior designer and nephew Andrew Reyes Laurel. "I learned a lot from her and her home helped educate my eye." Laurel reminisces, "The minute you walked into the foyer, you were met with her very refined taste. It was opulent but restrained. There were plenty of Filipino antiques such as a mesa altar, a chandelier made from etched lamps, silver candleholders, and santoses. Tita Carmencita always championed the Filipino."
Carmencita Reyes was also the master of the well-aimed statement piece, often causing a stir with her stunning couture and gorgeous jewels at the annual "MarinduCare" fund-raising ball that would be held at the Manila Polo Club.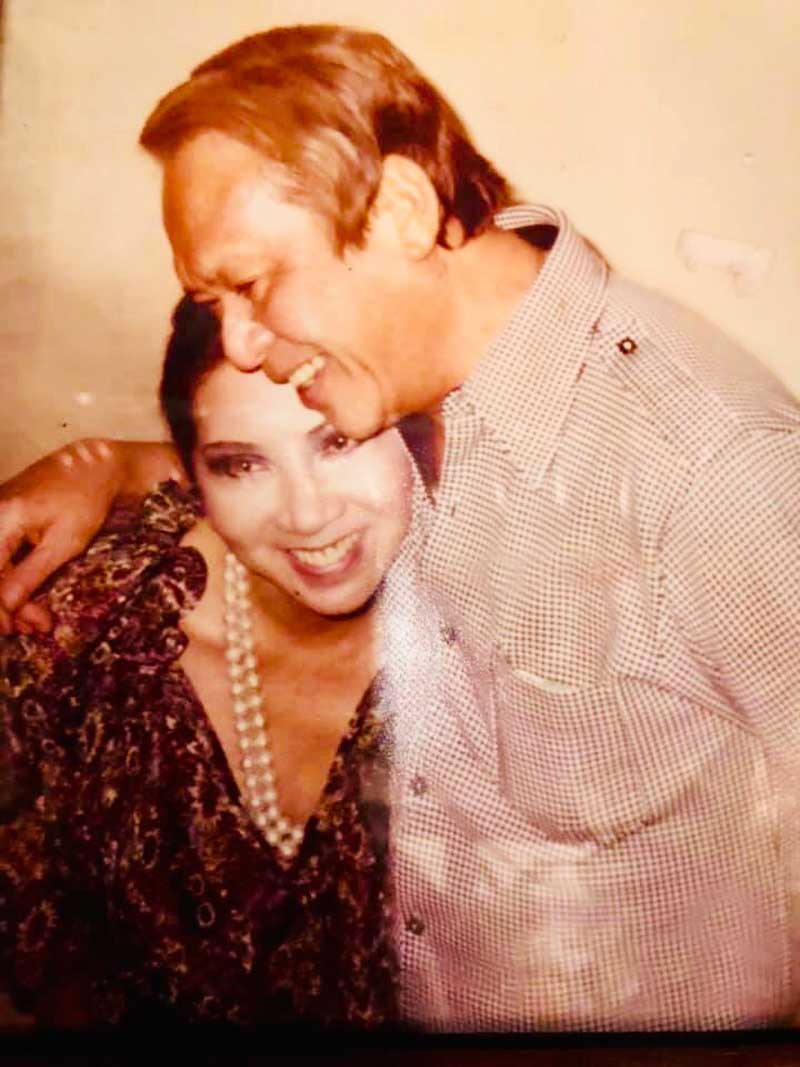 Carmencita with husband Edmundo Mercader Reyes
Because of her engaging maternal ways, Carmencita was affectionately known as "Nanay" not only to the Ongsiako and Reyes clans but also to the inhabitants of an entire province. One of her most outstanding achievements was the development of Marinduque's "Moriones" into an important national attraction. (The word "Moriones" comes from the term for the visors on the helmets of Roman soldiers — who would be depicted hunting down their fellow centurion Longinus for believing that the crucified Christ was the Son of God.) With her penchant for detail, she would ascertain all was well by joining the traditional processions herself every day of the Holy Week.
The Reyes' sense of formality — polished by several generations of playing hosts to visiting Spanish and American governor-generals, various ambassadors, heiresses and multi-millionaires — only accentuated her elegance. She was a dutiful daughter-in-law, playing her part as "Recamadera," in the grand old Reyes tradition of caring for the centuries-centuries-old "Virgen de la Inmaculada Concepcion." Carmencita would add a glittering silver dome to the sacred image's antique carroza or carriage.
"Nanay Carmencita was many things but, first and foremost, she was truly a mother. She was always there for us even if she was so busy in her career," recalls daughter Marichu Reyes Vega. "However, she was also a brilliant visionary. Together with her grandson, Lorenzo, she invented the prize-winning Sik-lesa — a motor-powered kalesa that she hoped would do its share in improving public transport."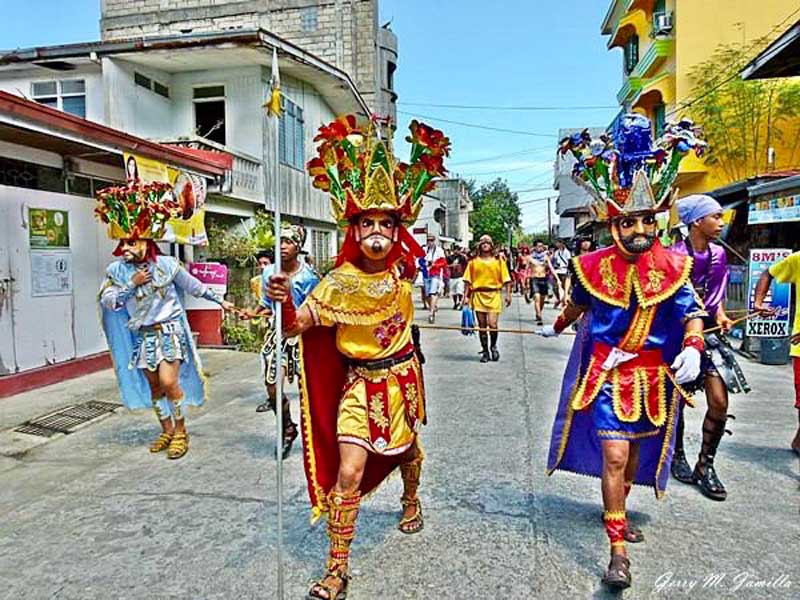 The Moriones of Marinduque became a national attraction thanks to Carmencita Reyes
Her niece Margarita Ongsiako Climaco says, "Tita Carmencita inspired me in my own journey of public service. I often think of her as I deal with my own responsibilities as a barangay chairman."
"She was a friend, mentor and angel — she lives on in every one of us," adds daughter Regina Reyes Mandanas.
Her son Edmund remembers, "She would lead by example and showed us that we should have generous hearts. God blessed her with many gifts to share with others."
Another doting niece, Dulce Festin-Baybay, recalls: "I could ask her anything and her answers were always words of wisdom."
"Lola Carmencita," says Lorenzo Vega, "inspired all of us with her never-ending strength of will and passion. She instilled those attributes in each of us. The ripples she created throughout her life will never die away." Says brother Edmundo Vega: "She would always tell my son, Luis, 'You made me great!' Of course, that was a playful remark about her status as a great-grandmother. The truth is, she made us all great."
Truly, she was the last of the graces that defined the Filipino social and political landscape.