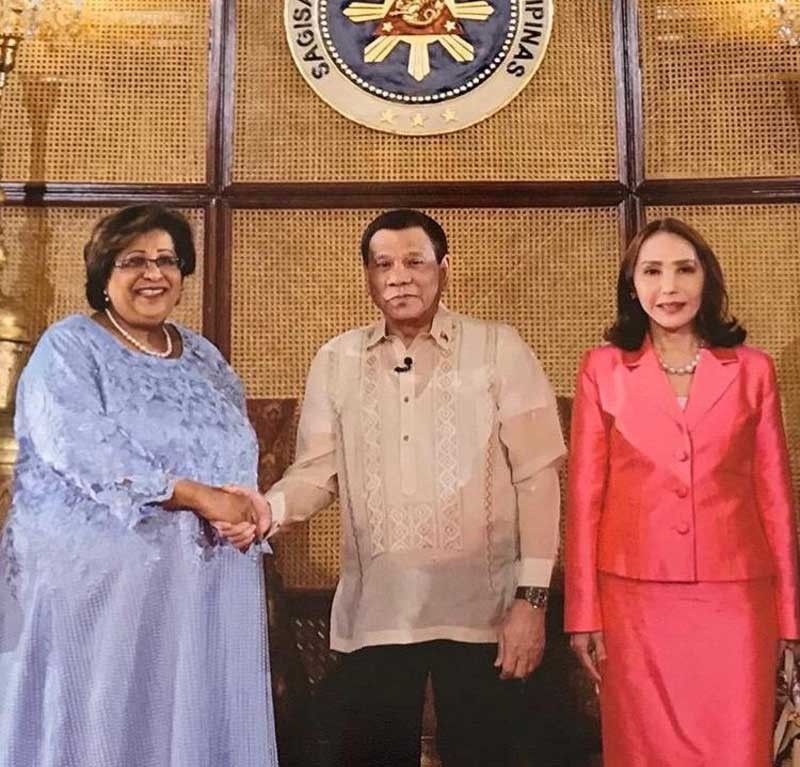 Forging stronger Gambia-Philippines ties: Ambassador Ramzia Diab Ghanim at presentation of credentials to President Rodrigo Duterte with Consul Agnes Huibonhoa in Malacanang.
Getting to know the beautiful country of Gambia through Philippine Pink diplomacy
Consul Agnes Huibonhoa and Ambassador Ramzia Diab Ghanim strengthen ties that bind the Philippines and Gambia through scientific, technical, health and medicine e changes. That includes Philippine Pink peanuts and virgin coconut oil.
MANILA, Philippines — When Gambian honorary consul in the Philippines Agnes Huibonhoa first visited Gambia more than a decade ago, she was quite surprised to find many Europeans at the airport as soon as she landed.
"But Gambia it is not really very far from Europe. It's just five to six hours away by plane from London. So many Europeans go there to escape the cold winter and to enjoy the warm beaches of Gambia." says Huibonhoa
Gambia is a small country located in West Africa. With a total land area of 11,295 sq. km., it is the smallest country in the African continent. The narrow piece of land around the Gambia River is bounded by Senegal on three sides, with the North Atlantic Ocean touching a short coastline in the west. It has been referred to as "the Smiling Coast of Africa."
"It is small, but it's a beautiful country, with a population of two million only," says Ambassador Ramzia Diab Ghanim, who presented her credentials to President Rodrigo Duterte at ceremonies in Malacanang. She was accompanied by Huibonhoa. "She also visited Rizal Park where a wreath-laying ceremony was held," Huibonhoa shared.
Tourism is the fastest-growing sector of the economy in Gambia, as visitors are attracted by their white sand beaches and abundant wildlife. The Ocean Bay Resort where she stayed on her first visit to Gambia had a Filipino cook, Huibonhoa recalls. "Right now, there is not a big community of Filipinos in Gambia," she shares. "They are mostly seafarers."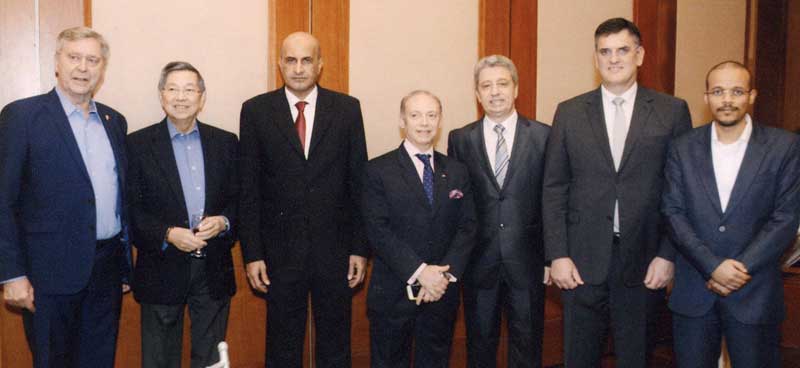 Ambassador Jan Top Christensen (Denmark), Ambassador Manolo Lopez, Ambassador Hamad Saeed Hamad Obaid Alzaabi (UAE), Ambassador Rida El Fassi (Morocco), Consul Issam Eldebs (Syria), Ambassador Marthinius Nicolaas Slabber (South Africa), Ambassador Ali Abdullah (Qatar)
"Gambia has very few Filipinos," Ghanim confirms. "We have some, mostly in the entertainment industry, and nannies as well. We trust them to be our nannies. A nanny for the former first lady was a Filipino."
"The Philippines is very important to us," Ghanim says.
"Gambia wants to have closer ties with the Asian countries and I am here in order to make sure that I bring those close ties together. Gambia and the Philippines had been in close cooperation since 1949. So it's been a very, very long relationship." The twocountries signed agreements on scientific and technical cooperation in 1996 and in health and medicine in 1999.
"We are interested in the industrial products of the Philippines, such as virgin coconut oil," the ambassador says, "because we are promoting better health care."
"Arrangements are being made to supply to Gambia virgin coconut oil, the medicinal substance that is often called 'the wonder remedy' since it can cure and alleviate almost all kinds of illnesses," Huibonhoa noted. "This plan will place Gambia as the main distributor of this natural supplement to the rest of West Africa."
"We are gearing towards making Gambia as a jump-off point for Asian products and businesses to Africa," says Huibonhoa. The establishment of warehousing facilities in strategic locations in Gambia is actively being pursued.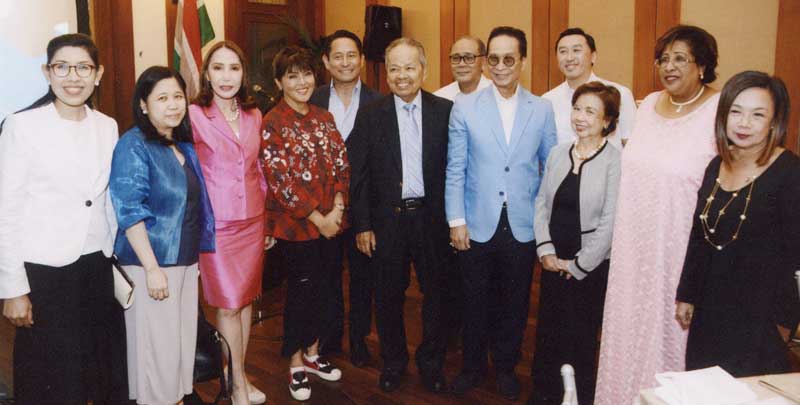 Thess De Vega, Consul Huibonhoa, Gov. Imee Marcos, Mike Toledo, former Chief Justice Artemio Panganiban, Usec Ernesto Abella, Presidential Spokesperson Salvador Panelo, Carmen Pedrosa, Ambassador Ghanim, Consul Annete Ablan (Belarus)
Huibonhoa is starting the arrangements to establish a retail/distribution center of Philippine and other Asian products in Gambia that will cater to the whole of West Africa, as well as a retail/distribution center of Gambian and other African products to cater to Southeast Asia. The development and transfer of technology in agriculture to Gambia is also being actively pursued, in coordination with our Department of Agriculture, Huibonhoa shares. "We facilitated the training of Gambian nationals to learn agriculture technology, especially in rice, from various universities in the Philippines like the Central Luzon State University and the University of the Philippines."
In 1966, Filipino agriculture expert, Professor Brooke, introduced the "Philippine Pink" peanut variety to Gambia. "Since then, the Philippine Pink has been the major export product of Gambia," Huibonhoa noted.
In a meeting with Ambassador Ghanim, Education Secretary Leonor Briones xpressed support for strengthening the exchange program for students from Gambia to study in the Philippines. Many years back the former vice-president of Gambia studied at the University of the Philippines, Huibonhoa relates. "People from Gambia may also come here possibly for training in protocol and foreign service."
On the other hand, Gambia is an influential member of the Organization of Islamic Cooperation (OIC) where the Philippines can solicit the support and assistance of Gambia in relation to Filipino-Muslim affairs as well as in the Mindanao conflict.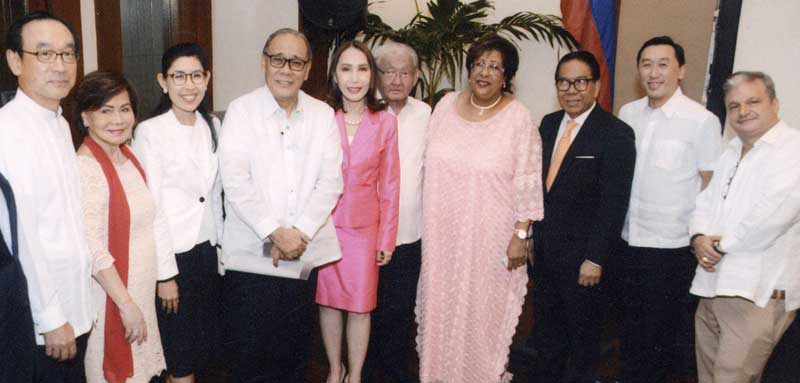 Ambassador Koji Haneda (Japan), Consul Evie Costa (Togo), CDA Urawadee Sriphiromya (Thailand), Consul Huibonhoa, Consul Tony Rufino (Portugal), Ambassador Ghanim, Ambassador Joey Antonio, Deputy Speaker Arthur Yap, Consul General Fern Peña (Estonia)
Talks on joint off-shore oil exploration in Gambia with the Philippines which had been pending are again picking up.
A cocktail reception in honor of Ghanim was held on Jan. 21 at the Manila Polo Club, which was well attended by important members of the diplomatic corps, prominent government officials as well as pillars of business and the private sector.
It also happened to be Consul Huibonhoa's birthday and she was pleasantly surprised when the guests sang ''Happy Birthday,.'' She was just as surprised earlier that day in Malacañang when it was announced that it was her birthday and warm birthday greetings were showered on her. "It was a welcome respite from all the usual diplomatic routine and conduct of government affairs," she said.
"Agnes has been a very magnificent consul general. I could not have a better one," Ambassador Ghanim remarked. "Now that I have presented my credentials to this beautiful country, one day is not enough for me. So I will be coming here quite often."