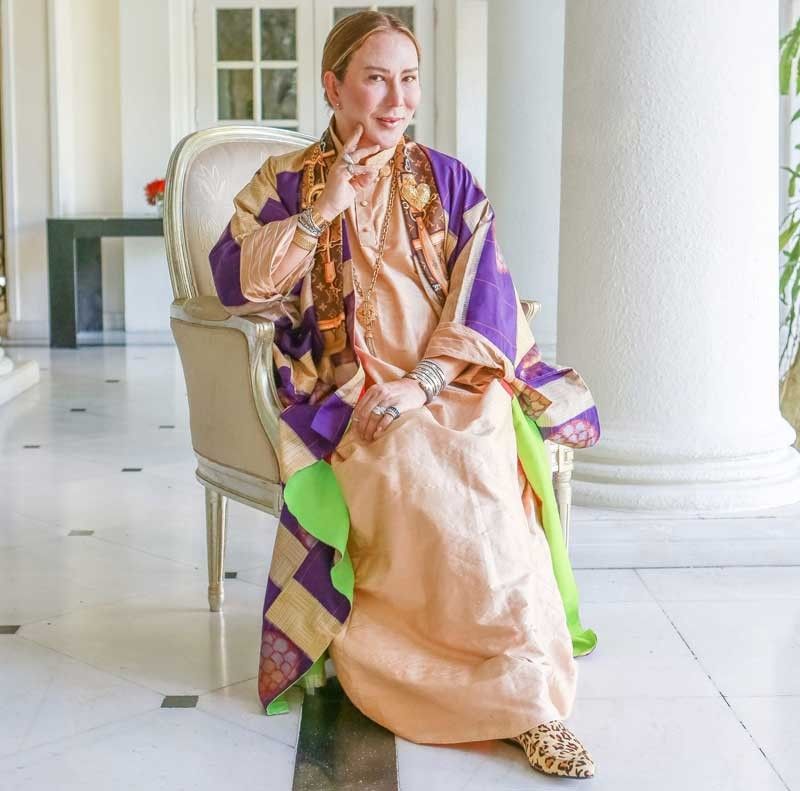 Leo Espinosa, one of Asia's most accomplished hair stylists and interior designers, is the first LGBT person and first Filipino to be featured on the cover of HomeDeco.
Photo by Geremy Pintolo
Stylist Leo Espinosa on GMA, Miriam, Irene, Geny Lopez, Chito Madrigal and Duterte
Q. Apart from your talent as a stylist, what is your secret in making a lot of powerful and society women come to you?
A. I make them laugh!
Leo Espinosa is one of Asia's most accomplished hair stylists and interior designers in Taiwan during its economic boom years, then in the Philippines as the last protégé of socialite and business leader Consuelo "Chito" Madrigal Collantes. He's also the first LGBT person and first Filipino to be featured as the cover story of international HomeDeco magazine in a 24-page spread.
I first met him years ago in the then Asiaworld Plaza Hotel Taipei owned by the late Tan Yu and run by his daughter and Leo's client Dr. Emilia "Bien Bien" Roxas Yang.
Son of a Filipino diplomat based in Taipei City, his clientele then range from Taiwan's business, social and diplomatic leaders including the family of the late President Chiang Ching Kuo to the Philippines' elites. Leo was once social director of the late Philippines' unofficial envoy to Taipei, Ambassador Narciso Ramos (father of ex-President Fidel V. Ramos). He used to live at the Taipei Hilton Hotel, where he also owned a salon.
Leo excelled as the trusted hairstylist of the country's most powerful women, from President Gloria Macapagal Arroyo during her nine years in power, to the late Senator Miriam Defensor Santiago and many others. Leo Espinosa gave Philippine STAR an exclusive interview. Here are excerpts:
Philippine STAR: Is it true you did the hair of Speaker and former President Gloria Macapagal Arroyo for years? How was she as a client and up close?
Leo Espinosa: Yes, I used to go to Malacañang Palace once a month for an hour, usually in the afternoon… It all started when I once styled her for a magazine cover pictorial when Gloria was still a senator. The shoot was at the San Lorenzo Village, Makati home of the late photographer Patrick de Koenigswarter… The next time I saw her was when she became vice president and invited as ninang (godmother) at the wedding of Alfred Ty (son of Metrobank Group founder George S.K. Ty) and Cherry Tan (daughter of PAL/PNB/Asia Brewery chairman Lucio C. Tan). I was stylist for the whole wedding.
The next thing you know, she becomes president and Jullie Yap Daza contacted me so that both of us could welcome her and also sit with her at the anniversary party of the Manila Standard newspaper. I told GMA's female aide and later alsoManila Times newspaper publisher Dante Ang that I wanted to give her a new look, a presidential look.
What "presidential look" did you give her?
I gave her the short hair look, plus I taught her makeup stylist named Gener how to blow-dry her hair and how to do her makeup. I taught Gener to lessen her makeup.
When I was called to Malacañang, the first question I asked GMA was: "Do you have a particular look in mind?" She replied: "You're the expert, it's up to you." Gloria is an intellectual, so the least of her problems is what she's going to wear and how she looks.
Any beauty advice you gave GMA?
Do you know why Gloria grew her hair long only now? In the last few days of her presidency, during the last cut I did for her then, she told me she wanted to grow her hair because she's no longer the president. I told her before that she cannot have a new look while she's head of state, because the silhouette is very important, like Marcos, Queen Elizabeth II, Indira Gandhi — they cannot keep on changing their looks. You have to be recognizable from your silhouette.
What did GMA do during your monthly one-hour haircut and hair stylizing?
In the whole nine years that I was with her in Malacañang, I've never once seen her sleep while I was cutting her hair. It was always either she was writing her speech or signing papers, basta she was always working, that's why I have a high regard for her. She was a hard worker, because she explained that her late mother Doña Eva always told her: "You have to work, work, work."
Alam mo ba 'yan, nung nagkakagulo sa Congress (Do you know once when there was a tumult in Congress), while I was cutting her hair, she was on the phone thanking all the congressmen one by one in different dialects fluently, like in Tagalog, Ilocano, Kapampangan, Visaya, Hiligaynon and others. She's amazing.
Were the rumors true that she was separated from her husband, former First Gentleman Mike Tuazon Arroyo?
No, it's not true, because I always saw Mike in Malacañang and whenever they'd talk to each other, they'd call each other "Te amo" (Spanish words for "my love").
What else do you remember of GMA?
Gloria is the only one I've seen without hangers-on around her, walang nakapaligid sa kanya na chu-chu-chu-chu, wala (No one surrounding her whispering gossip, none)!
How's Irene Marcos Araneta as your hair-styling client?
Irene is very beautiful, napakabait (very good person), she's a lady… She told me a story about her father, the late President Ferdinand E. Marcos, that every time he'd wake up, the first thing he would do was to take a comb out of his pajama pocket and before everything else, he'd comb his hair. He's very neat and orderly.
What about ex-First Lady Imelda Romualdez Marcos and her hair?
Idol ko si Madame, sino bang LGBT na hindi gusto at hindi idol si Mrs. Marcos (Madame is my idol, who among the LGBT doesn't like or idolize Mrs. Marcos)? She's a style icon. According to Irene, her hair is long, then every time she washes her hair, it's like a maiden by the river washing her laundry.
Any memories of your client, the legendary Senator Miriam Defensor Santiago?
During her presidential run, I was one of the stylists asked to give Miriam a makeover, but I was the only one who gave her a new look — the famous look of Miriam. Then the only thing I told her was this: "You should always wear red lipstick." She listened and wore red lipstick 'til the day she died.
Why red lipstick for Miriam?
I told her it's because she always talked a lot and people would always look at her lips.
How were the late tycoon Eugenio "Geny" Lopez, Jr. of ABS-CBN and his girlfriend Susan Reyes? They were also your clients?
Every time he'd go to my former home in Bel-Air in Makati to cut his hair, he'd enjoy because he was delighted by my antiques. He was even more happy if he got discounts when buying a table or other furniture. He was very nice, a gentleman.
Susan Reyes was my original client, so it was she who brought Geny to me. Susan is very attentive and caring). For example, when Geny was just sitting down, she'd immediately go to Geny to bring him tissue and look after his needs, she's very maalaga.
How is Metrobank Group founder George S.K. Ty's wife Mary Ty as your client?
Mary Ty is a very down-to-earth, simple, humble and practical woman. She has no airs and I get to practice my Mandarin with her.
How are the two sons of George Ty and Mary Ty, Arthur and Alfred?
Arthur Ty is like the usual first-born son of successful ethnic Chinese business families; he's very formal. His younger brother Alfred is more chika (talks more). They're obedient and good sons, hardworking and disciplined. Their younger sister San-San is also hardworking. All the children of George and Mary Ty are very well-disciplined, humble and good people.
Your memories of Taiwan's top businesswoman, the Manila-born Dr. Emilia "Bien Bien" Roxas Yang of Asiaworld Plaza Hotel Taipei?
Bien Bien is a very, very humble and down-to-earth lady. She seldom smiles, only smiling right after I fix her hair. I'd also choose all her outfits, from Givenchy to Dior, Guy Laroche to Valentino.
When Bien Bien was featured in the popular US TV show Lifestyles of the Rich and Famous hosted by Robin Leach, I was her stylist for the whole program's shoot.
Asia's 1970s to 1980s movie goddess, Taiwan actress Lin Ching Hsia, was also your client?
Lin Ching Hsia was my good client, she was the superstar of Taiwan and Hong Kong before she retired. Once she was scheduled to shoot a Toyota TV commercial and I had then just moved to a new apartment in Taipei's posh Tun Hwa South Road, which is like the Avenue des Champs-Élysées of Paris.
When the agency contacted me to fix and style Lin Ching Hsia, I quoted them a ridiculously high price for two days of shooting in Keelung City in the bottom of Taiwan island. They told me they could afford my high rate.
I called Lin Ching Hsia, telling her: "Sister, I just moved into my new two-bedroom apartment and need to furnish it, so I quoted the agency a high rate." She said to me in Mandarin: "Mey-yow Kuan-si la." It means "No problem, I'll take care of it." She told the agency that if they didn't get Leo to style her, then she wouldn't shoot the commercial. True enough, after the shoot, my new apartment was fully furnished! (Laughs)
You were close to your client the late billionaire Consuelo "Chito" Madrigal Collantes?
Yes, Tita Chito was the one responsible for me to come back to the Philippines from Taiwan, because her husband Tito Manny was then Minister of Foreign Affairs and my father was a diplomat. They were both called "Batman," because "Batangas man" sila.
Your memories of Chito?
Learned a lot from her. The first time I came back, she threw a party for me in her Forbes Park home and introduced me to society here. Chito was very practical, a no-nonsense woman.
Every time I fixed her hair, her alalay (helper) Encarnacion would bring out trays of jewelry from Van Cleef to Cartier, Bulgari, etc., then I'd choose what she would wear for the occasion, including her clothes.
It was also Tita Chito who gave me a break in doing houses. Her grandniece Tabbie Ortigas Duarte was planning to build a house in Ayala Alabang and they were talking to top architects and interior designers. Tita Chito said: "Kayang kaya mo 'yan, ikaw na gumawa (You can do it, you do it). I only want one thing, it has to be chic." So I went to do it, not just the interior design, but the whole house from the ground up.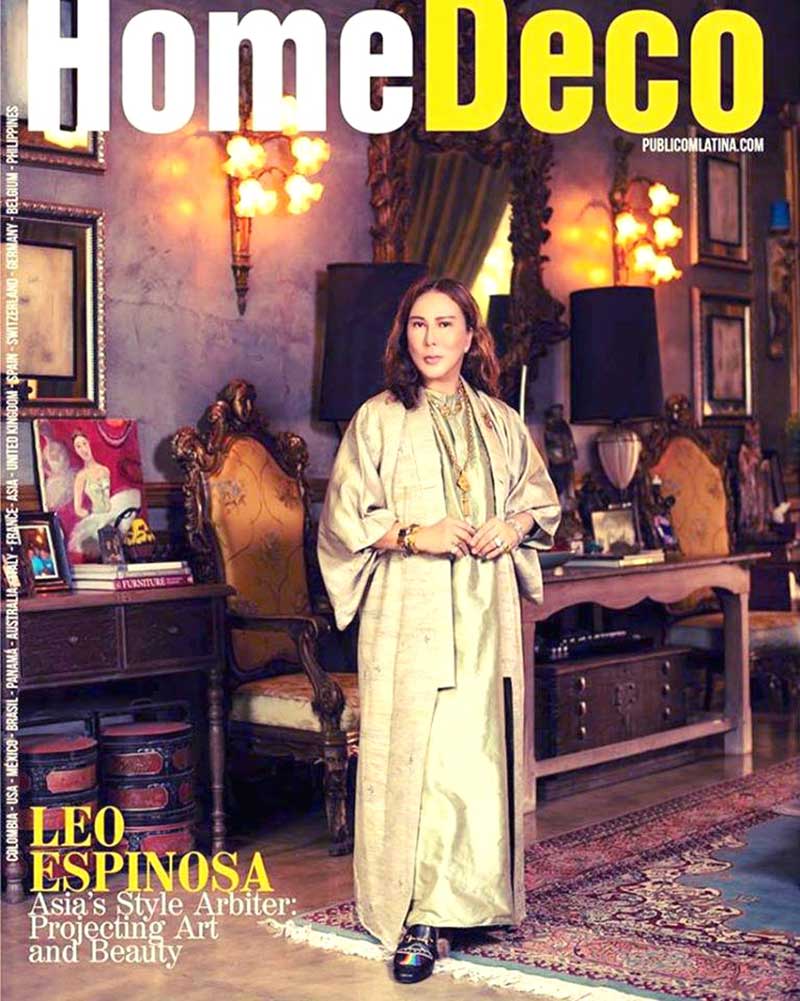 Isn't Tabbie the daughter of Chito's niece Susana "Susie" Madrigal Bayot-Ortigas, who had a very public quarrel with her former husband ex-ambassador Francisco "Pacqui" Ortigas III? She even sued him for alleged concubinage involving her then best friend Ma. Antonia "Marian" Legarda (Marian)? Your comments on that conflict?
For delicadeza, no comment. They're all my friends… Pacqui used to fly me in his helicopter to go to his private island in Batangas. While Suzie, she's a very good cook. That's all I can say, because they're both my friends. In fact, their granddaughter Isabela Duarte is my hijada (goddaughter). I think she's around 10 now, she's very beautiful and studying in Canada.
I heard one of your top clients was the late Luz Puyat Martel?
When I first arrived back and had a salon at the Manila Peninsula Hotel called "Strand" with Evelyn Lim Forbes, the whole of Manila came to me. One of my good clients, the late Luz Puyat Martel, she'd come to the salon with four nurses and three bodyguards. Each nurse carried a basket — one basket had adobo pandesal sandwiches, one basket had Coke and one basket had her own glass.
I heard from Tita Liding Oledan that Luz Puyat Martel owned the best jewelry collection, that her jewelry was legendary, so the first time she arrived at the salon, I told her: "Luz, is it possible for you to come here and never repeat your jewelry? Because I love jewelry." She gave me a big laugh and said, "No problem!" True enough, 'til the day she died, she really never repeated what she wore as jewelry! She became my BFF. I receive my first Christmas gift from her every year on Dec. 1.
Your comment on the hair of Governor Imee Marcos?
Her look is okay, long and layered hair, she looks comfortable and smart, it fits her.
How's the hairdo of Senator Cynthia Villar?
She looks okay, it fits her. She's very simple. We used to be neighbors many years ago in Las Piñas. She was already daughter of then Mayor Filemon Aguilar, but she was just taking the jeepneys, that's why she has always been simple. I knew her and her family since my youth.
What about the hair of Senator Grace Poe?
Her hair is okay, it's often tied, a very neat look.
How's the hair or look of Kris Aquino?
No comment!
Jinkee Pacquiao?
I admire her, she's my friend. Jinkee is not a social climber, because she sticks to her sisters, relatives and cousins.
What about the look of Presidential Spokesperson Sal Panelo?
He has a unique style of his own. He's a very fun-loving person.
The hair of Bataan Congresswoman Geraldine Roman?
I think her hair should be a bit longer, because she's a tall woman. Her cut is so abrupt, it has to be at least shoulder length, to be more proportionate.
The look of your friend Ching Cruz?
She's down-to-earth and classy.
Your friend Jullie Yap Daza?
I really respect this journalist. She is not mapagsamantala (a user), she is very nice and her mind's very quick.
Your comment on President Duterte's wife Honeylet Avanceña?
Honeylet is very nice, lady-like, very simple and low-key which I admire.
How's the look of President Duterte?
I've met him several times up close; once I heard him talk for three hours at the wake of Secretary Sal Panelo's son. Duterte is very charming, his look fits his image. He's charismatic and he's sexy! He is God-given to the Filipino people, he is really what people need now.
Whose looks, among celebrities in the Philippines, do you admire most?
Catriona Gray. I'm not a beauty contest fanatic, but when I saw her, wow, she's perfect! Whoever her design team is, they're doing a good job.
Whose looks or hair, among our leaders or celebrities, would you like to change?
The late Haydee Yorac, if she were alive, I'd love to give her a new image! (Laughs)
Apart from your talent as a stylist, what is your secret in making a lot of powerful and society women come to you?
I make them laugh!
* * *
Thanks for your feedback at willsoonflourish@gmail.com! Follow @wilsonleeflores on Instagram, Twitter, Facebook. Buy PhilSTAR's Tagalog tabloid "Pilipino STAR Ngayon" every Friday and read my column "Kuwentong Panadero." Read alsohttps://investment.fwd.com.ph/experts/real-life-lessons-from-forbes-top-10-richest-filipino-billionaires